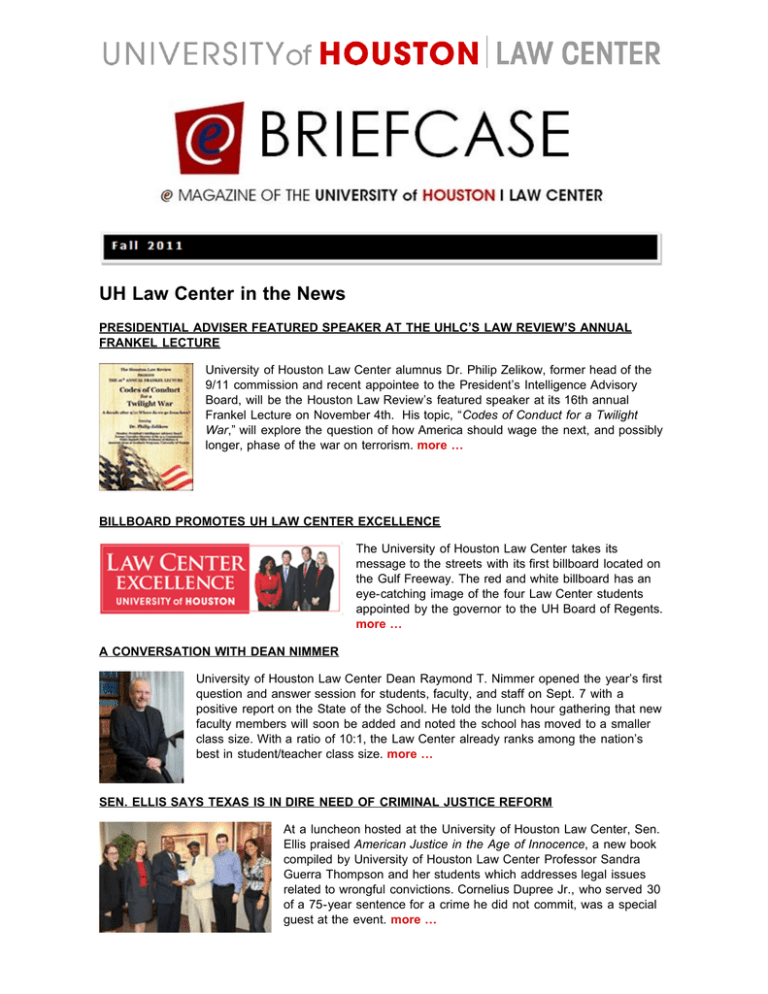 UH Law Center in the News
PRESIDENTIAL ADVISER FEATURED SPEAKER AT THE UHLC'S LAW REVIEW'S ANNUAL
FRANKEL LECTURE
University of Houston Law Center alumnus Dr. Philip Zelikow, former head of the
9/11 commission and recent appointee to the President's Intelligence Advisory
Board, will be the Houston Law Review's featured speaker at its 16th annual
Frankel Lecture on November 4th. His topic, "Codes of Conduct for a Twilight
War," will explore the question of how America should wage the next, and possibly
longer, phase of the war on terrorism. more …
BILLBOARD PROMOTES UH LAW CENTER EXCELLENCE
The University of Houston Law Center takes its
message to the streets with its first billboard located on
the Gulf Freeway. The red and white billboard has an
eye-catching image of the four Law Center students
appointed by the governor to the UH Board of Regents.
more … A CONVERSATION WITH DEAN NIMMER
University of Houston Law Center Dean Raymond T. Nimmer opened the year's first
question and answer session for students, faculty, and staff on Sept. 7 with a
positive report on the State of the School. He told the lunch hour gathering that new
faculty members will soon be added and noted the school has moved to a smaller
class size. With a ratio of 10:1, the Law Center already ranks among the nation's
best in student/teacher class size. more …
SEN. ELLIS SAYS TEXAS IS IN DIRE NEED OF CRIMINAL JUSTICE REFORM
At a luncheon hosted at the University of Houston Law Center, Sen.
Ellis praised American Justice in the Age of Innocence, a new book
compiled by University of Houston Law Center Professor Sandra
Guerra Thompson and her students which addresses legal issues
related to wrongful convictions. Cornelius Dupree Jr., who served 30
of a 75-year sentence for a crime he did not commit, was a special
guest at the event. more …
UH LAW CENTER CITED AS 'BEST VALUE'
The University of Houston Law Center is among 60 law schools cited by preLaw Magazine for its 2011
"Best Value" honor roll. The magazine's selection process weighs cost vs. benefit in ranking the
nation's law schools, and takes into account in-state tuition, debt, the percent of graduates employed
nine months after graduation, and bar passage rate. more …
UH LAW CENTER CLINIC WINS PAROLE FOR IRAQI REFUGEE
The University of Houston Law Center Immigration Clinic won "humanitarian parole" for a young Iraqi
man in August, clearing the way for him to join his family in Houston and seek asylum. The refugee
was represented by Yolande Ditewig, an LL.M. student from the Netherlands, and recent graduate
Xiao Chen, then a third-year student. more …
UH Law Center Alumni in the News
UH LAW CENTER ALUMNA NAMED FIRST FEMALE CHIEF JUSTICE OF APPEALS COURT (pdf)
University of Houston Law Center graduate Justice Ann Crawford McClure has been appointed Chief
Justice of the Texas Eighth Court of Appeals in El Paso effective October 12. She will become the first
female chief justice and will serve as the 14th chief justice in the court's 100 year history. In 1979, she
received her Juris Doctor degree from Law Center. more … (pdf)
FIVE UH LAW CENTER ALUMNI HONORED BY 2011 BEST CORPORATE COUNSEL AWARDS
The Houston Business Journal named the winners of its 2011 Best Corporate Counsel awards. Two
University of Houston Law Center alumni received top awards, and three others were named as
finalists. more …
UH LAW CENTER ALUMNUS ZELIKOW RECEIVES PRESIDENTIAL APPOINTMENT
President Barack Obama has appointed University of Houston Law Center alumnus
Dr. Philip Zelikow to the President's Intelligence Advisory Board, an independent
panel that advises the President on the effectiveness of the nation's intelligence
agencies and their preparedness for the future. Zelikow was Executive Director of
the 9/11 Commission from 2003 to 2004. Zelikow is a member of the Law Center's
class of 1979. more…
UH LAW ALUMNA GREER NAMED RECIPIENT OF PRO BONO AND LEGAL SERVICES AWARD
University of Houston Law Center alumna Marcy Greer, an attorney dedicated to helping the state's
foster and at-risk youth, has been named a 2011 Frank J. Scurlock Award recipient. Presented by the
State Bar of Texas, the accolade recognizes dedicated attorneys for their pro bono work providing
legal services to the poor. Greer earned his J.D. from the Law Center in 1990. more …
UH LAW ALUMNUS COOK HONORED WITH WASHINGTON MEDAL
University of Houston Law Center alumnus and former Texas Supreme Court Justice
Eugene A. Cook has been awarded the George Washington Honor Medal by the
Freedoms Foundation. The Freedoms Foundation honors Americans who go above
and beyond in their efforts to educate their communities about the values of good
citizenship. Cook earned his J.D. from the Law Center in 1966. more …
Click here for more Alumni in the News.
UH Law Center Faculty News
UHLC'S THOMPSON CITED AS 'TEXAS PRIMERA'
University of Houston Law Center Professor Sandra Guerra Thompson has been honored as a "Texas
Primera" by the Hispanic National Bar Association for being the first Latina tenured law professor in
the state. Thompson, University of Houston Law Foundation Professor of Law and Director of the
Criminal Justice Institute at the Law Center, was honored at a luncheon during the group's annual
meeting in Dallas on Sept. 1. more…
DOW NAMED 'CHAMPION OF JUSTICE'
University of Houston Law Center Professor David Dow will be honored as a "Champion of Justice" by
the Texas Coalition to Abolish the Death Penalty for his tireless efforts on behalf of death row inmates.
Dow, a University Distinguished Professor, is the founder of the Texas Innocence Network and the
Litigation Director at the Texas Defender Service. more …
HAWKINS BACKS RENT-TO-OWN BILL
University of Houston Law Center Professor Jim Hawkins
testified before a U.S. House subcommittee in favor of a bill
that would provide added protections for consumers under
rent-to-own agreements. Testifying before the House
Financial Services Subcommittee on Financial Institutions
and Consumer Credit, Hawkins said HR 1588 clearly defines
disclosure requirements so consumers can be better
informed and protects the industry from capricious judicial
decisions. more …
BURKE MOVES UP AT INTERIOR DEPT.
University of Houston Law Center Associate Professor Marcilynn Burke has
been named acting Assistant Secretary for Land and Minerals Management at
the Department of the Interior. In her new position, she will help establish
Interior policies and provide oversight to the Bureau of Land Management,
Bureau of Ocean Energy Management, Regulation and Enforcement, and the
Office of Surface Mining Reclamation and Enforcement. more …
CHANDLER DEBUTS IN ON-LINE MAGAZINE
University of Houston Law Center Professor Seth Chandler made his debut
on Academic Minute, a brief audio feature in the on-line magazine Inside
Higher Ed, explaining how computers can change the way laws are written
as well as how law is practiced. Listen here.
Alumni Association News and Events
UH LAW CENTER WELCOMES NEW DIRECTOR OF ALUMNI RELATIONS
Hope Morales Young joined the University of Houston Law Center Office of External Affairs this Spring
as the Director of Alumni Relations. In her new position, Young is working with the UH Law Alumni
Association Board to implement programs which strategically engage alumni. "I am thrilled to be a part
of such a dynamic community," she said. "I look forward to connecting with all UHLC alums to advance
the vision of the Law Center."
UH LAW ALUMNI ASSOCIATION CO-HOSTS REUNION WEEKEND
The Law Alumni Association is co-hosting Reunion Weekend 2011 on Nov. 18-19. Classes that end in
1 and 6 from 1951 through 2006 will be honored.
For more event-related information contact Hope Young, Director of Alumni Relations at
[email protected]
Development
UH LAW ALUMNI ASSOCIATION'S 100% CHALLENGE IS A SUCCESS (pdf)
For the fiscal year 2010/2011, 104 separate organizations participated in the UH Law Center's Alumni
Association 100% Challenge to raise a total of $425,509.00 in gifts, matching gifts, and matching
claims. Of the 104 participating organizations, 39 met the 100% Challenge—which brings together UH
Law Center alumni at law firms, corporations and other organizations for a common purpose:
maintaining excellence in legal education. The challenge is to achieve 100 percent participation in
giving by UH Law Alumni at those organizations that employ five or more alumni. Click here to give to
the UH Law Center. more … (pdf)
UH Law Center Home: http://www.law.uh.edu/
Have some news? Send it to us! Carrie Criado, Executive Director of Communications and
Marketing, 713-743-2184, [email protected]; or John Kling, Communications Manager,
713-743-8298, [email protected]
Add you to the eBriefcase subscription list? Click here.
To donate to the Law Center click here.