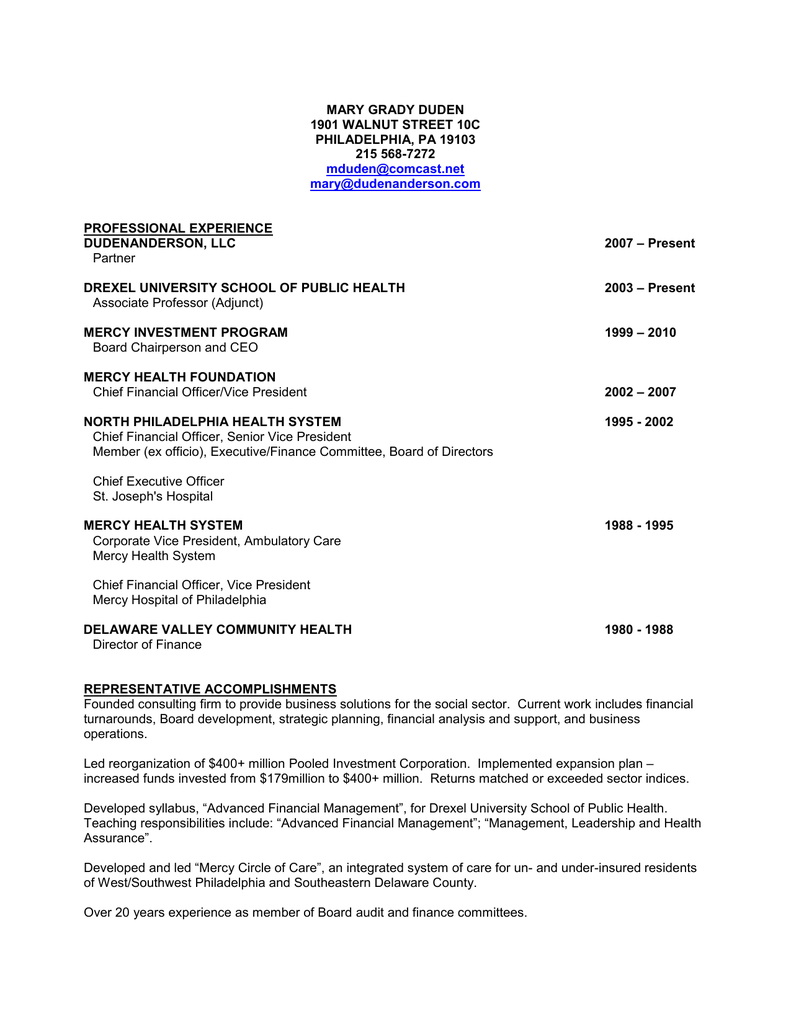 MARY GRADY DUDEN
1901 WALNUT STREET 10C
PHILADELPHIA, PA 19103
215 568-7272
[email protected]
[email protected]
PROFESSIONAL EXPERIENCE
DUDENANDERSON, LLC
Partner
2007 – Present
DREXEL UNIVERSITY SCHOOL OF PUBLIC HEALTH
Associate Professor (Adjunct)
2003 – Present
MERCY INVESTMENT PROGRAM
Board Chairperson and CEO
1999 – 2010
MERCY HEALTH FOUNDATION
Chief Financial Officer/Vice President
NORTH PHILADELPHIA HEALTH SYSTEM
Chief Financial Officer, Senior Vice President
Member (ex officio), Executive/Finance Committee, Board of Directors
2002 – 2007
1995 - 2002
Chief Executive Officer
St. Joseph's Hospital
MERCY HEALTH SYSTEM
Corporate Vice President, Ambulatory Care
Mercy Health System
1988 - 1995
Chief Financial Officer, Vice President
Mercy Hospital of Philadelphia
DELAWARE VALLEY COMMUNITY HEALTH
Director of Finance
1980 - 1988
REPRESENTATIVE ACCOMPLISHMENTS
Founded consulting firm to provide business solutions for the social sector. Current work includes financial
turnarounds, Board development, strategic planning, financial analysis and support, and business
operations.
Led reorganization of $400+ million Pooled Investment Corporation. Implemented expansion plan –
increased funds invested from $179million to $400+ million. Returns matched or exceeded sector indices.
Developed syllabus, "Advanced Financial Management", for Drexel University School of Public Health.
Teaching responsibilities include: "Advanced Financial Management"; "Management, Leadership and Health
Assurance".
Developed and led "Mercy Circle of Care", an integrated system of care for un- and under-insured residents
of West/Southwest Philadelphia and Southeastern Delaware County.
Over 20 years experience as member of Board audit and finance committees.
Completed $38M balance sheet restructuring plan – HUD 242 mortgage backed AAA bonds.
Responsible for fiscal, risk management and MIS operations; initiated and directed major modifications to
services; improved quality and increased profitability. Developed and implemented financial policies.
Initiated and directed formal fiscal education program for management and employees: consistent
improvement in financial management at all levels of the organization.
Integrated cost accounting with financial evaluation models. Expanded use of metric accountability
throughout healthcare system.
Led and directed five-year strategic financial planning processes.
Developed and led multi-team approach for problem solving across organizations.
Led a culturally - diverse ambulatory care organization (FQHC) through an eight year period of growth from
18,000 to 110,000 visits per year.
Financed, purchased sites, designed and constructed three comprehensive ambulatory (FQHC) centers
(1980 - 1985) winning the Rudy Bruner Award for Excellence in the Urban Environment.
Negotiated, implemented and managed ambulatory care contracts with city, state and federal governments.
Worked directly with City and State Departments of Health and the Department of Health and Human
Services to coordinate and integrate ambulatory services for women and children, and the mentally ill.
PAPERS AND PRESENTATIONS
"Stewardship", presented to Sisters of Mercy Leadership Conference, Summit, NJ.
"The Wellness Place: An Ambulatory Care Center for the 21st Century." American Hospital Association,
Society for Ambulatory Care Professionals, St. Louis, MO. April 1997.
"Career Paths and Opportunities for Women", presented to Boeing Defense & Space Group Mentor Program
at Helicopter Division, Philadelphia, PA
"Finance as Mission", presented to the Sponsorship Committee of the Board of Directors, Catholic Health
East.
"Capital Formation", presented for the U. S. Department of Health and Human Services at the Regionally
Coordinated Training Center, Pittsburgh, PA and the Region III Conference, Virginia Beach, VA.
"Racism in Health Care: A Financial Viewpoint": presented at the Fourth Annual Edward V. Sparer Public
Interest Law Conference, University of Pennsylvania Law School, Philadelphia, PA.
"Budgeting for Primary Care Services", presented for the U. S. Department of Health and Human Services at
the Region III Conference, Virginia Beach, VA.
"Financial Management of Ambulatory Care", presented for the U. S. Department of Health and Human
Services at the Region III Conference, Virginia Beach, VA.
"Programmatic and Financial Data Collection and Analysis", presented for the U. S. Department of Health
and Human Services to the National Health Service Corps, Philadelphia, PA.
Sonja Krause, Allan L. Smith & Mary G. Duden. "Polymer Mixtures Including Random Copolymers. Zeroth
Approximation." The Journal of Chemical Physics. September 15, 1965: 2144-2145
EDUCATION
Master of Business Administration
Accounting & Finance
Drexel University, Philadelphia, PA
Bachelor of Arts
Rosemont College, Rosemont, PA
BOARD/COMMUNITY/VOLUNTEER AFFILIATIONS
Healthy Philadelphia
Founding Board Member
Drexel University, School of Public Health
Chair, Dean's Advisory Board
Delaware Valley Community Health
Vice-Chairperson
Chair, Finance & Audit Committee
Cranaleith Spiritual Center
Chair, Finance & Audit Committee
AWARDS
Medicaid Health Plans of America
Joy Wheeler Leadership Award, 2008
Mercy Neighborhood Ministries
Trocaire Award, 2008
Drexel University
Service to Community Award, 2007
Follmer Bronze Merit Award
The 1987 Rudy Bruner Award for Excellence in the Urban Environment
PRIOR BOARD MEMBERSHIP
Mercy Investment Program
Maternity Care Coalition
Project H.O.M.E.
Philadelphia Society for Services to Children
Mercy Neighborhood Ministries
Greater Philadelphia Urban Affairs Coalition
Rittenhouse Plaza, Inc.