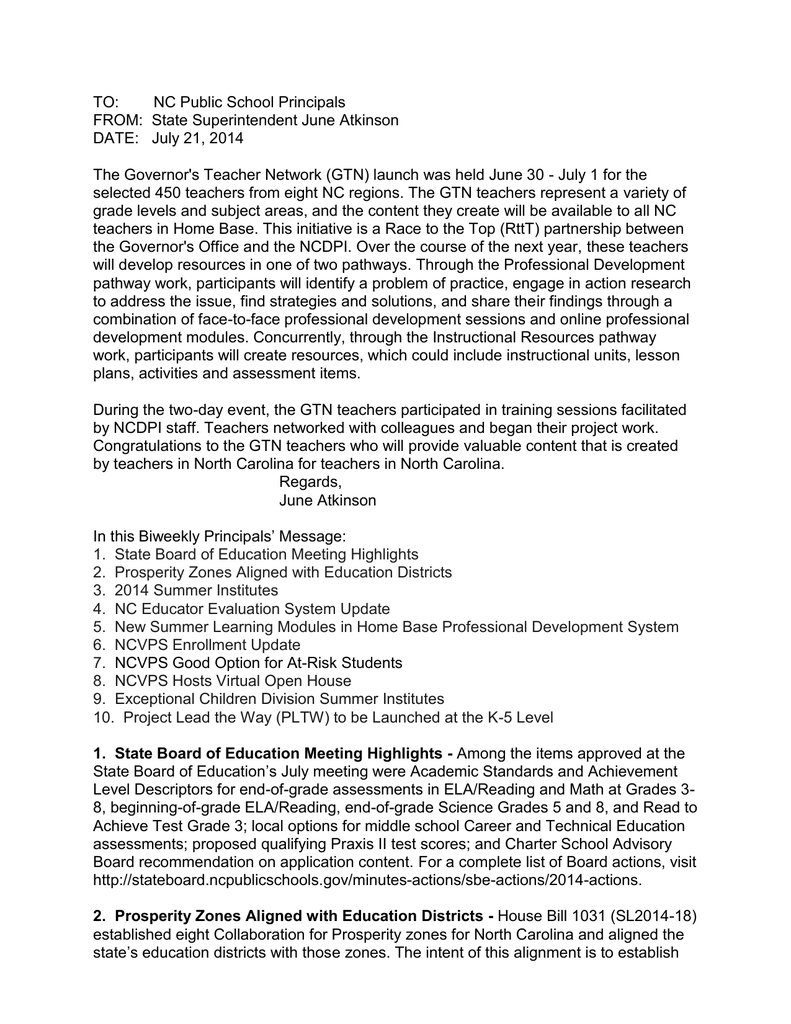 TO:
NC Public School Principals
FROM: State Superintendent June Atkinson
DATE: July 21, 2014
The Governor's Teacher Network (GTN) launch was held June 30 - July 1 for the
selected 450 teachers from eight NC regions. The GTN teachers represent a variety of
grade levels and subject areas, and the content they create will be available to all NC
teachers in Home Base. This initiative is a Race to the Top (RttT) partnership between
the Governor's Office and the NCDPI. Over the course of the next year, these teachers
will develop resources in one of two pathways. Through the Professional Development
pathway work, participants will identify a problem of practice, engage in action research
to address the issue, find strategies and solutions, and share their findings through a
combination of face-to-face professional development sessions and online professional
development modules. Concurrently, through the Instructional Resources pathway
work, participants will create resources, which could include instructional units, lesson
plans, activities and assessment items.
During the two-day event, the GTN teachers participated in training sessions facilitated
by NCDPI staff. Teachers networked with colleagues and began their project work.
Congratulations to the GTN teachers who will provide valuable content that is created
by teachers in North Carolina for teachers in North Carolina.
Regards,
June Atkinson
In this Biweekly Principals' Message:
1. State Board of Education Meeting Highlights
2. Prosperity Zones Aligned with Education Districts
3. 2014 Summer Institutes
4. NC Educator Evaluation System Update
5. New Summer Learning Modules in Home Base Professional Development System
6. NCVPS Enrollment Update
7. NCVPS Good Option for At-Risk Students
8. NCVPS Hosts Virtual Open House
9. Exceptional Children Division Summer Institutes
10. Project Lead the Way (PLTW) to be Launched at the K-5 Level
1. State Board of Education Meeting Highlights - Among the items approved at the
State Board of Education's July meeting were Academic Standards and Achievement
Level Descriptors for end-of-grade assessments in ELA/Reading and Math at Grades 38, beginning-of-grade ELA/Reading, end-of-grade Science Grades 5 and 8, and Read to
Achieve Test Grade 3; local options for middle school Career and Technical Education
assessments; proposed qualifying Praxis II test scores; and Charter School Advisory
Board recommendation on application content. For a complete list of Board actions, visit
http://stateboard.ncpublicschools.gov/minutes-actions/sbe-actions/2014-actions.
2. Prosperity Zones Aligned with Education Districts - House Bill 1031 (SL2014-18)
established eight Collaboration for Prosperity zones for North Carolina and aligned the
state's education districts with those zones. The intent of this alignment is to establish
and enhance collaboration between public schools, the economic development regions
and other state government agencies to enhance planning, use of resources and
efficiency. The legislation shifts 17 counties into different education districts. The
attached document shows the counties that comprise the eight districts under the new
law.
3. 2014 Summer Institutes - Summer Institutes 2014 were held July 7-11 in all eight
regions of the state. Each institute featured sessions created and presented by districts
and charters. These "Implementation Innovation" sessions included authentic practices
from the field that have proven to be successful in moving districts or charters forward in
building local leadership capacity. Implementation topics included analyzing data,
curriculum content, instructional practices for student differentiation, Home Base
resources for classroom instruction, and local professional development planning time
for the year. This institute series launches the yearly professional development calendar
in partnership with our RESAs.
4. NC Educator Evaluation System Update - Last month, principals were informed
that changes based upon district feedback would be made to the online evaluation
tool. After July 14, sessions will be held to review the changes and assist with any
questions. The following enhancements will be made to the system between June 30 –
July 14:
- Enabling the "Share" button on the observation scoring screen for all observations.
- Adding a notification to alert the plan owner that the observation has been shared.
- Pre-populating the observation date so it will appear in the post-observation
conference step.
- Enforcing evaluators to share an observation before finalizing it.
- Utilizing a new locking function to help ensure that the sequence of activities is
completed appropriately.
- Simplifying the view of evaluation steps by grouping containers into separate tabs
instead of displaying all containers on one page.
- Allowing for full and abbreviated rubric to be used as needed within the same plan
type.
- Adding five support staff plans: School Psychologist, School Counselor, School
Library Media Coordinator, Instructional Technology Facilitator and School Social
Worker.
5. New Summer Learning Modules in Home Base Professional Development
System - Ten mini-modules and seven full-length modules have been added to the
professional development catalog in Home Base. Mini-modules are self-paced and
require one to three hours of study. While these modules provide just-in-time
professional development for educators, your district may use these in conjunction with
face-to-face training and/or other virtual plans of study. These modules are designed to
provide educators with quick, targeted learning on specific topics such as Professional
Learning Communities and Networks, instructional differentiation, setting learning
targets/goals for learning and data teams. We hope educators take advantage of
summer learning at their own pace, on their own schedule!
6. NCVPS Enrollment Update - NCVPS has over 20,000 students enrolled for the
2014-15 school year. Enrollment is still open for yearlong classes, fall 2014 block
classes, and spring 2015 block classes. Here are the enrollment dates:
- Summer 2014 enrollment closed on June 20.
- Fall 2014 block and 2014-15 yearlong enrollment closes on Sept. 9.
- Spring 2015 block enrollment closes on Feb. 2, 2015.
If your e-learning advisors need assistance, please have them visit our Virtual Support
Center at http://www.help.ncvps.org.
7. NCVPS Good Option for At-Risk Students - Do you have students who have
become disengaged with school? The NCVPS has some really great success stories in
engaging at-risk students. If you have a student who is on the verge of dropping out of
school, see if NCVPS can engage him or her in its online classes. You might even let
the student take the course from a non-traditional setting. Let it be a win for the student
and school and a loss for the dropout rate. If you have students who are low performing,
under performing, or at risk for any reason in their online courses, NCVPS also has a
number of intervention strategies for districts and schools to follow. Please check out
the list online at www.ncvps.org/index.php/ncvps-intervention-strategies/.
8. NCVPS Hosts Virtual Open House - Please join the North Carolina Virtual Public
School for our Virtual Open House! This online event will be held on July 30 from 6-7
pm and is open to parents, students, educators and others interested in online learning.
Join us to learn about NCVPS courses, meet with teachers and students, hear about
support initiatives, and get all your questions answered about teaching and learning with
NCVPS! To register, please visit http://conta.cc/1oGlpJ0. If you have questions, please
contact Mia Murphy at [email protected] or 919/513-8550.
9. Exceptional Children Division Summer Institutes - NCDPI's Exceptional Children
Division hosts the EC Summer Institutes each year to provide opportunities for teachers
and administrators to access high quality, affordable professional development for
teacher renewal credit while networking with colleagues from across the state. This year
50 sessions will be offered on an array of topics in a variety of locations. The majority of
these will be held at UNC-Greensboro's Elliott Student Center the week of July 28 –
Aug. 1. Details including session choices, registration, and hotel information are online
at http://ec.ncpublicschools.gov/conferencesprofdev/summer-institutes. Hotels will fill
quickly as we anticipate there will be approximately 2,200 participants during that week.
For more information, please contact Paula Crawford at [email protected] or
919/807-3993.
10. Project Lead the Way (PLTW) to be Launched at the K-5 Level - The new PLTW
K-5 STEM program will be launched this school year. The first two modules for each
grade level (K-5) were piloted in more than 40 elementary schools across the nation this
past year. One of the pilot schools was Roebuck Elementary in Spartanburg, SC.
Spartanburg Superintendent Dr. Owens released a You Tube video about the success
of the program (www.youtube.com/watch?v=CCfGyyzz3vE). PLTW also has released a
You Tube video that provides an overview of the program at
https://www.youtube.com/watch?v=jEiBf33RM3s&list=PLcCTPHulP75L40B5bdEiFmry
WewqxbXRT
Duke University has scheduled lead teacher training for PLTW launch on Sept. 57. Only one lead teacher for each school is required to attend the 2-½ day training. The
lead teacher can train all other teachers in their school using the learning management
system (Canvas) at no cost. This will give schools the flexibility to provide professional
development for every teacher in the school early in the year before introducing the
modules.
Attached are a brochure on PLTW and a FAQ on the launch. If you have any
questions, please contact Ken Verburg, director of School Engagement, East Region, at
[email protected] or 843.312.2668.