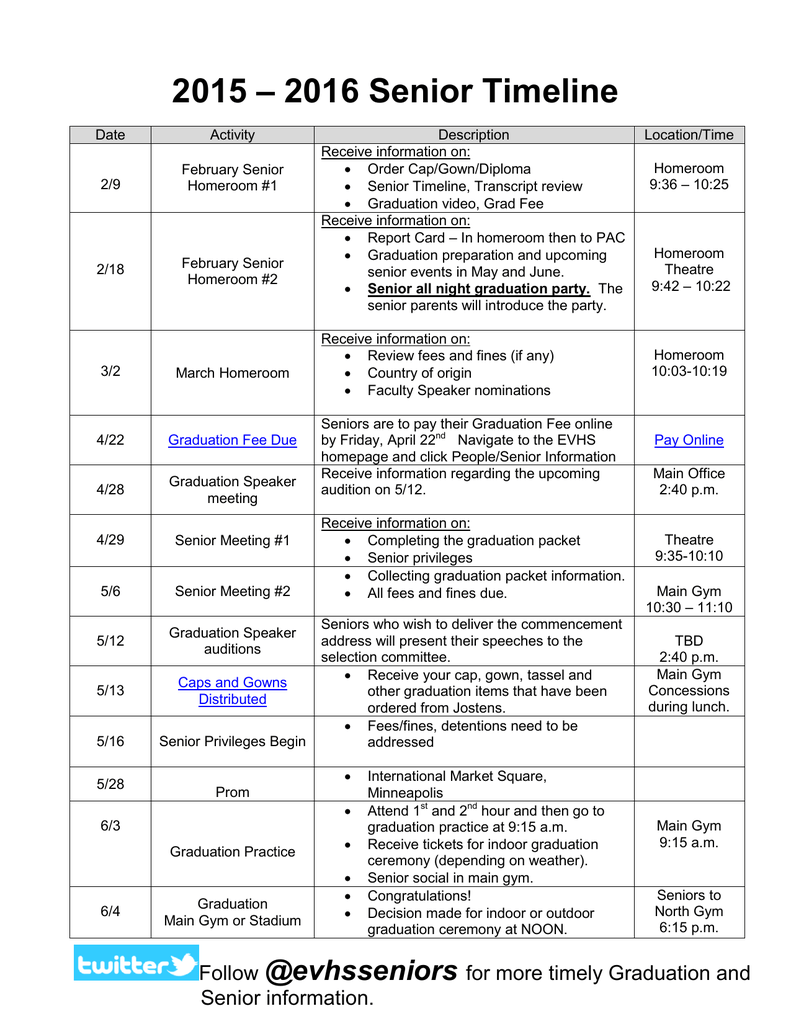 2015 – 2016 Senior Timeline
Date
Activity
2/9
February Senior
Homeroom #1
2/18
February Senior
Homeroom #2
3/2
March Homeroom
4/22
Graduation Fee Due
4/28
Graduation Speaker
meeting
4/29
Senior Meeting #1
5/6
Senior Meeting #2
5/12
Graduation Speaker
auditions
5/13
Caps and Gowns
Distributed
5/16
Senior Privileges Begin
5/28
Description
Receive information on:
 Order Cap/Gown/Diploma
 Senior Timeline, Transcript review
 Graduation video, Grad Fee
Receive information on:
 Report Card – In homeroom then to PAC
 Graduation preparation and upcoming
senior events in May and June.
 Senior all night graduation party. The
senior parents will introduce the party.
Receive information on:
 Review fees and fines (if any)
 Country of origin
 Faculty Speaker nominations
Seniors are to pay their Graduation Fee online
by Friday, April 22nd Navigate to the EVHS
homepage and click People/Senior Information
Receive information regarding the upcoming
audition on 5/12.
Receive information on:
 Completing the graduation packet
 Senior privileges
 Collecting graduation packet information.
 All fees and fines due.
Seniors who wish to deliver the commencement
address will present their speeches to the
selection committee.
 Receive your cap, gown, tassel and
other graduation items that have been
ordered from Jostens.
 Fees/fines, detentions need to be
addressed

Prom

6/3
Graduation Practice
6/4
Graduation
Main Gym or Stadium




International Market Square,
Minneapolis
Attend 1st and 2nd hour and then go to
graduation practice at 9:15 a.m.
Receive tickets for indoor graduation
ceremony (depending on weather).
Senior social in main gym.
Congratulations!
Decision made for indoor or outdoor
graduation ceremony at NOON.
Location/Time
Homeroom
9:36 – 10:25
Homeroom
Theatre
9:42 – 10:22
Homeroom
10:03-10:19
Pay Online
Main Office
2:40 p.m.
Theatre
9:35-10:10
Main Gym
10:30 – 11:10
TBD
2:40 p.m.
Main Gym
Concessions
during lunch.
Main Gym
9:15 a.m.
Seniors to
North Gym
6:15 p.m.
Follow @evhsseniors for more timely Graduation and
Senior information.