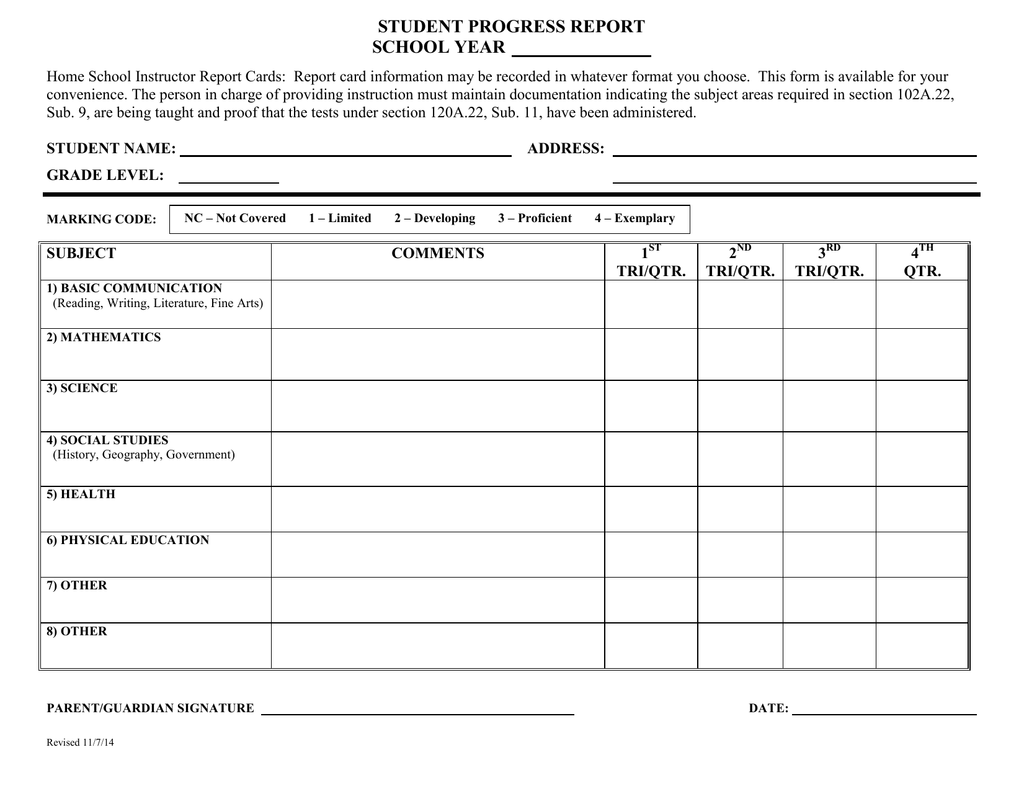 STUDENT PROGRESS REPORT
SCHOOL YEAR
Home School Instructor Report Cards: Report card information may be recorded in whatever format you choose. This form is available for your
convenience. The person in charge of providing instruction must maintain documentation indicating the subject areas required in section 102A.22,
Sub. 9, are being taught and proof that the tests under section 120A.22, Sub. 11, have been administered.
STUDENT NAME:
ADDRESS:
GRADE LEVEL:
MARKING CODE:
NC – Not Covered
SUBJECT
1 – Limited
2 – Developing
COMMENTS
3 – Proficient
4 – Exemplary
1ST
TRI/QTR.
2ND
TRI/QTR.
1) BASIC COMMUNICATION
(Reading, Writing, Literature, Fine Arts)
2) MATHEMATICS
3) SCIENCE
4) SOCIAL STUDIES
(History, Geography, Government)
5) HEALTH
6) PHYSICAL EDUCATION
7) OTHER
8) OTHER
PARENT/GUARDIAN SIGNATURE
Revised 11/7/14
DATE:
3RD
TRI/QTR.
4TH
QTR.