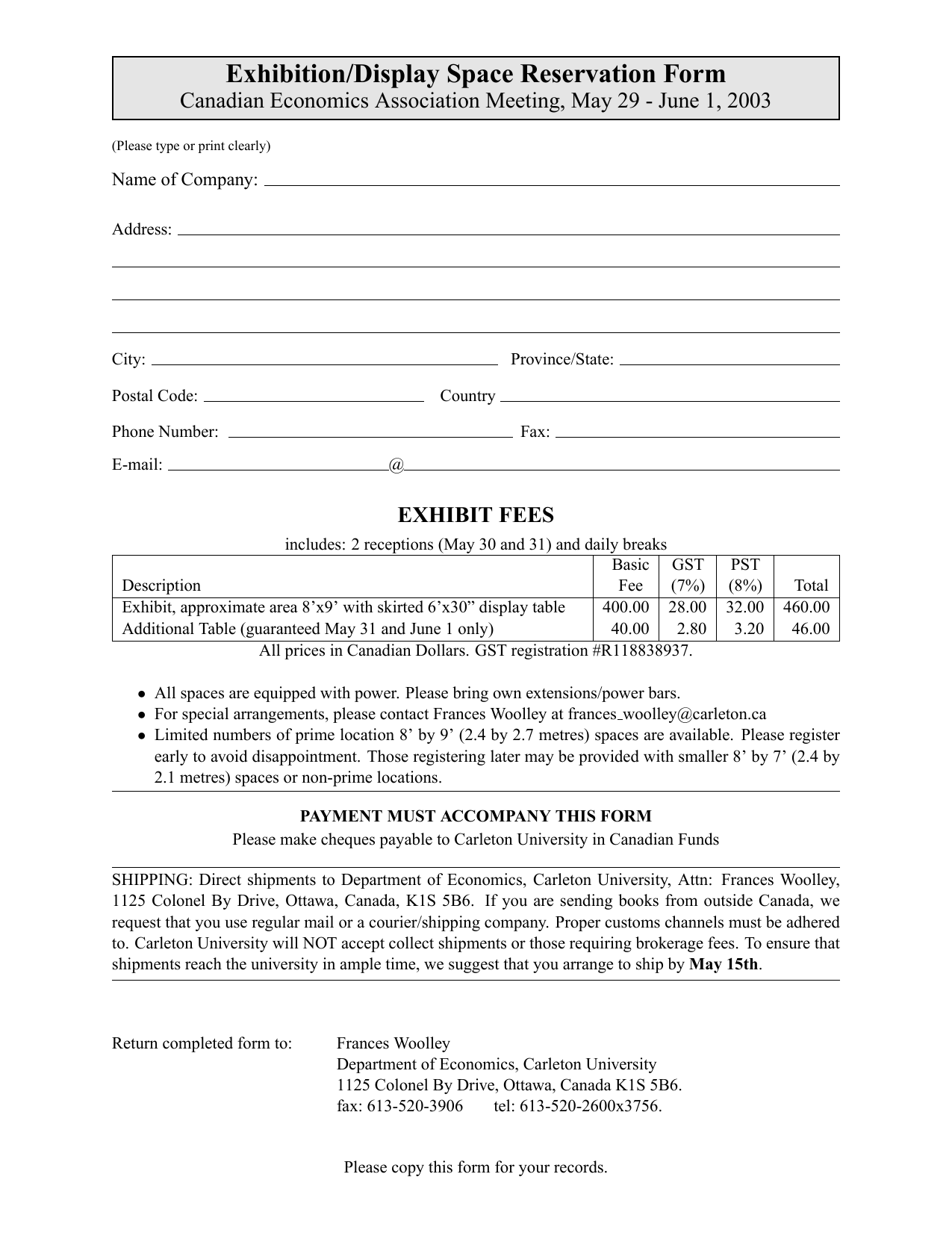 Exhibition/Display Space Reservation Form
Canadian Economics Association Meeting, May 29 - June 1, 2003
(Please type or print clearly)
Name of Company:
Address:
City:
Province/State:
Postal Code:
Country
Phone Number:
Fax:
E-mail:
@
EXHIBIT FEES
includes: 2 receptions (May 30 and 31) and daily breaks
Basic GST
Description
Fee
(7%)
Exhibit, approximate area 8'x9' with skirted 6'x30" display table
400.00 28.00
Additional Table (guaranteed May 31 and June 1 only)
40.00
2.80
All prices in Canadian Dollars. GST registration #R118838937.
PST
(8%)
32.00
3.20
Total
460.00
46.00
• All spaces are equipped with power. Please bring own extensions/power bars.
• For special arrangements, please contact Frances Woolley at frances [email protected]
• Limited numbers of prime location 8' by 9' (2.4 by 2.7 metres) spaces are available. Please register
early to avoid disappointment. Those registering later may be provided with smaller 8' by 7' (2.4 by
2.1 metres) spaces or non-prime locations.
PAYMENT MUST ACCOMPANY THIS FORM
Please make cheques payable to Carleton University in Canadian Funds
SHIPPING: Direct shipments to Department of Economics, Carleton University, Attn: Frances Woolley,
1125 Colonel By Drive, Ottawa, Canada, K1S 5B6. If you are sending books from outside Canada, we
request that you use regular mail or a courier/shipping company. Proper customs channels must be adhered
to. Carleton University will NOT accept collect shipments or those requiring brokerage fees. To ensure that
shipments reach the university in ample time, we suggest that you arrange to ship by May 15th.
Return completed form to:
Frances Woolley
Department of Economics, Carleton University
1125 Colonel By Drive, Ottawa, Canada K1S 5B6.
fax: 613-520-3906
tel: 613-520-2600x3756.
Please copy this form for your records.