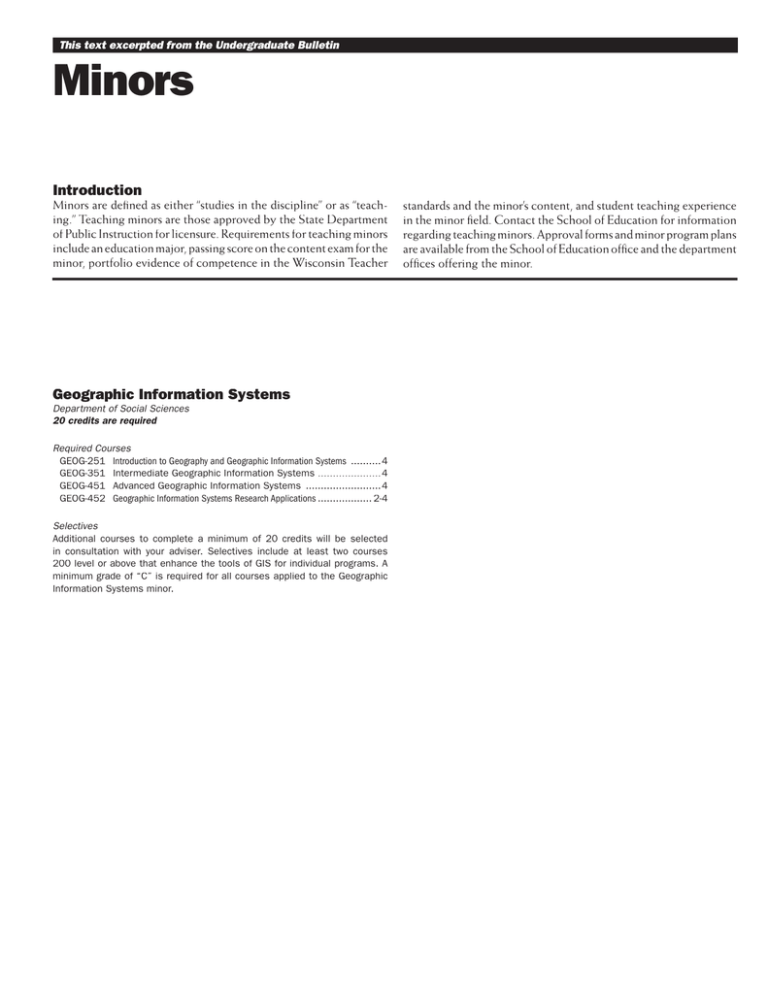 This text excerpted from the Undergraduate Bulletin
Minors
Introduction
Minors are defined as either "studies in the discipline" or as "teaching." Teaching minors are those approved by the State Department
of Public Instruction for licensure. Requirements for teaching minors
include an education major, passing score on the content exam for the
minor, portfolio evidence of competence in the Wisconsin Teacher
Geographic Information Systems
Department of Social Sciences
20 credits are required
Required Courses
GEOG-251 Introduction to Geography and Geographic Information Systems ..........4
GEOG-351 Intermediate Geographic Information Systems .....................4
GEOG-451 Advanced Geographic Information Systems .........................4
GEOG-452 Geographic Information Systems Research Applications .................. 2-4
Selectives
Additional courses to complete a minimum of 20 credits will be selected
in consultation with your adviser. Selectives include at least two courses
200 level or above that enhance the tools of GIS for individual programs. A
minimum grade of "C" is required for all courses applied to the Geographic
Information Systems minor.
standards and the minor's content, and student teaching experience
in the minor field. Contact the School of Education for information
regarding teaching minors. Approval forms and minor program plans
are available from the School of Education office and the department
offices offering the minor.