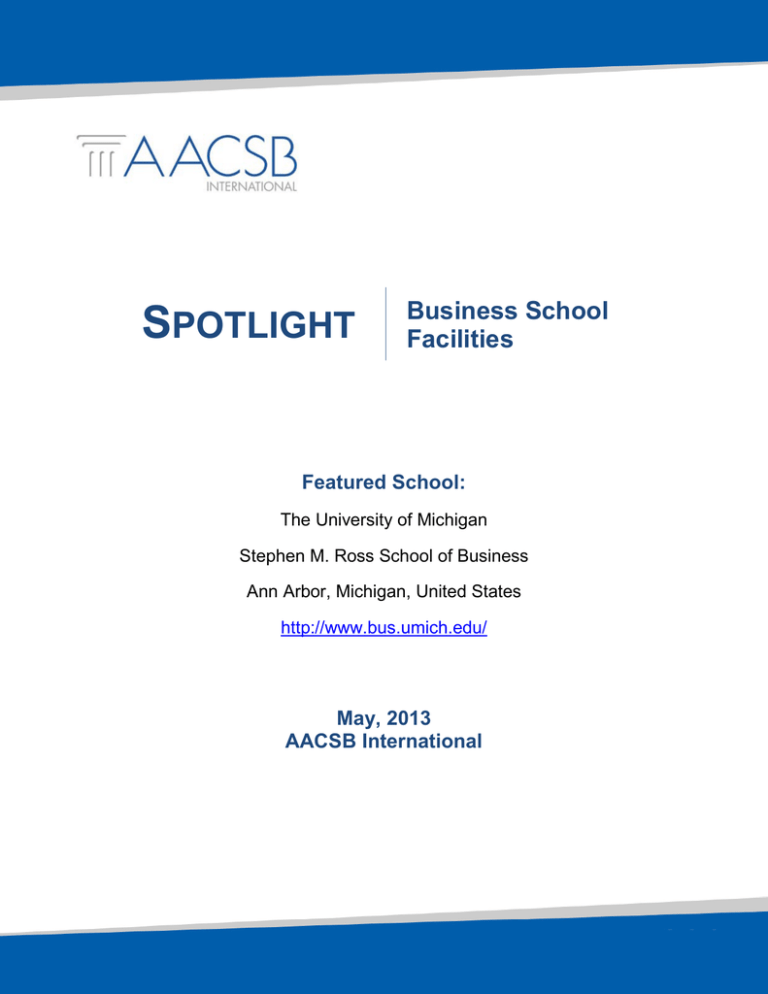 SPOTLIGHT
Business School
Facilities
Featured School:
The University of Michigan
Stephen M. Ross School of Business
Ann Arbor, Michigan, United States
http://www.bus.umich.edu/
May, 2013
AACSB International
SPOTLIGHT | Business School Facilities
The University of Michigan | 2
Stephen M. Ross School of Business
Construction Began: October 2006
Open for Business: January 2009
Size: 274,000 gross square feet
Floors: 6, plus 1 below grade
Cost: 145 million USD
Architectural Firm: Kohn, Pederson & Fox, New York, NY
Construction Firm: Gilbane / Clark
More Information: http://www.bus.umich.edu/learningcommunity/
Features:
•
Offices: 190 faculty and faculty support offices
•
Classrooms: 16 classrooms, comprising 12 tiered and 4 flat. There are 24 break out/group study
rooms and a 500 seat auditorium.
•
Other: Other features include a large winter garden, 250 seat colloquium and video conference
room employing Cisco's TelePresence technology.
Background:
A business school committed to leadership and innovation requires a distinctive home that fosters such a
dynamic approach. In January 2009, the Ross School's new 270,000-square-foot building opened for
classes. The facility is a 21st-century structure designed to help catalyze business education by
supporting the school's commitment to action-based learning. It is a place built to nurture ideas that
shape—and people who lead—complex, global organizations.
The facility has enabled the school to bring
together many elements to improve both the
classroom experience for students and faculty,
as well as creating a better Ross "campus" feel
for the entire community. In addition to
providing an up-to-date classroom experience
with new tiered and flat classrooms allowing for
better student and team interaction along with
enhanced group study meeting rooms,
activities at the school are now centered
around the massive Winter Garden (pictured to
the right), an atrium that has become the hub
of the school. In one space, there is now a
welcoming entrance and gathering spot for the
school where hundreds of students, faculty and
staff mingle together day and evening for
meals, studying, project work, and informal
gatherings.
The facility is equipped to be sustainable. It
incorporates many architecturally innovative and environmentally responsible features, designed to meet
the requirements for the Energy and Environmental Design (LEED) Green Building Rating System. The
facility has earned the U.S. Green Building Council's LEED Silver Certification. Some of these features
include high-efficiency lighting and daylight-dimming systems. If there is a significant amount of light
© AACSB International. All Rights Reserved.
SPOTLIGHT | Business School Facilities
The University of Michigan | 3
entering the building, the energy consumed decreases due to the dimming of lights. To capitalize on this
further, the building utilizes large skylights to bring light into offices and teaching spaces without having to
rely solely on electric lightning. Faculty offices are also equipped with a sensor to detect when rooms
have been vacant for a period of time. After a certain threshold, the room's temperature is lowered to
conserve power. The facility is also equipped with a green roof that filters rainfall. Called a "living roof,"
this roof helps to insulate the building, reducing the costs for heating and cooling. An additional benefit to
the roof is the improved air quality through the trapping of airborne particles. This kind of roofing is also
expected to last two to three times longer than standard roofing. Finally, the building utilizes many
features throughout focused on environmental sustainability. A sampling of these features include cork
1
flooring (a renewable resource), drip irrigation, low-flush toilets, and automatic faucets.
Below are two images, demonstrating the natural light that the facility is able to draw in:
© AACSB International. All Rights Reserved.
SPOTLIGHT | Business School Facilities
The University of Michigan | 4
More than just a learning facility, the building reflects the values of the Ross community. In form and
function, it supports the collaborative culture, embodies the commitment to environmental sustainability,
and reflects the importance of incorporating creativity in business.
1
University of Michigan, Stephen M. Ross School of Business (2012). Our Learning Community Sustainable
webpage, http://www.bus.umich.edu/learningcommunity/sustainable.htm, accessed on May 13, 2013.
Acknowledgements: AACSB International is grateful for the assistance of Charles E. Amyx, Jr., Director of
Operations and Valerie Y. Suslow, Associate Dean, Graduate Programs, Stephen M. Ross School of
Business, The University of Michigan
© AACSB International. All Rights Reserved.