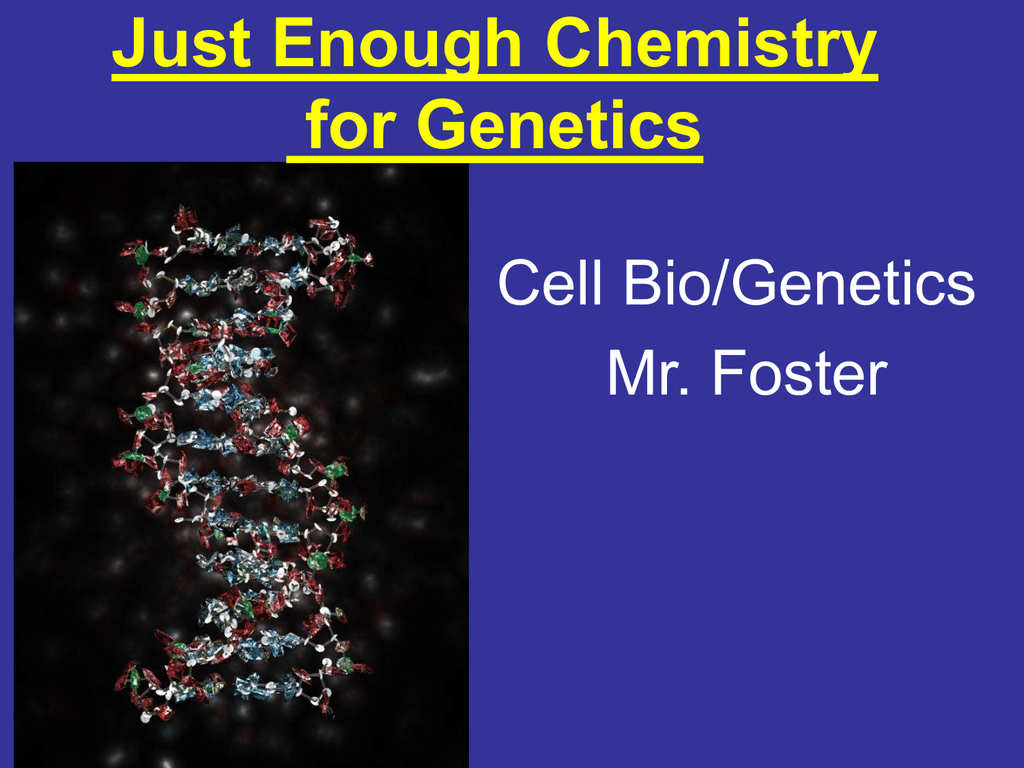 Just Enough Chemistry
for Genetics
Cell Bio/Genetics
Mr. Foster
Types of Bonds
• Ionic Bond–Ion - atom that has gained or lost
electrons (e-'s)
–Transfer of e-'s b/t 2 atoms
–Metals and nonmetals (ex. NaCl)
• Covalent Bond–Share e-'s equally
–Nonmetal and nonmetal (ex. H2O)
Covalent Bond
Types of Bonds (cont.)
• Polar Covalent Bond– e-'s are shared unevenly
– One atom holds e-'s closer (electronegativity)
– H2O
O
• Hydrogen Bond-
H
H
– A slightly +H of a polar cov. bond in one
molecule is attracted to a slightly neg.
atom of another molecule (WEAK)
– Ex. H with O, F, N
Compounds of Life
• Organic- contain carbon
VERY IMPORTANT
• Inorganic- usually do not
contain carbon
Organic
• Form chains or rings
Benzene
• Form strong stable bonds
• Form 4 bonds
Methane
Compounds of Life (cont.)
1. Water
– Most abundant compound in
living organisms
– Uneven distribution of electrons
•
•
-
Polar molecule
Give water unique characteristics
– Wide range of temp. is liquid
– Good solvent- dissolves many substances
O
H
H
+
Compounds of Life (cont.)
2. Carbohydrates
– C, H and O
– Sugar & Starches
(Glucose) (Glycogen)
– Functions
• Provide energy
• Contribute to cellular structure
– Hydroxyl functional group (R-OH)
Compounds of Life (cont.)
3. Lipids
– C, H, O
– Fats, oils, Waxes
– Carboxyl group
– (COOH)
OH
R
?
Compounds of Life (cont.)
4. Proteins
–
–
–
–
C,H,O and N
Amino acids- building blocks
Functional group – amine group
Functions
•
•
Structure
Enzymesbiological catalysts
Enzymes
Substrate- (X) reactants effected by
enzyme
Enzymes are very
Enzyme
Active Site
specific
Enzymes are
sensitive to
temperature and pH
Compounds of Life (cont.)
5. Nucleic Acids (DNA, RNA)
–C, H, O, N, P
–Building blocks Nucleotide
–Functional Group- phosphate group
–Functions
• Store genetic info.
• Transmit genetic info.