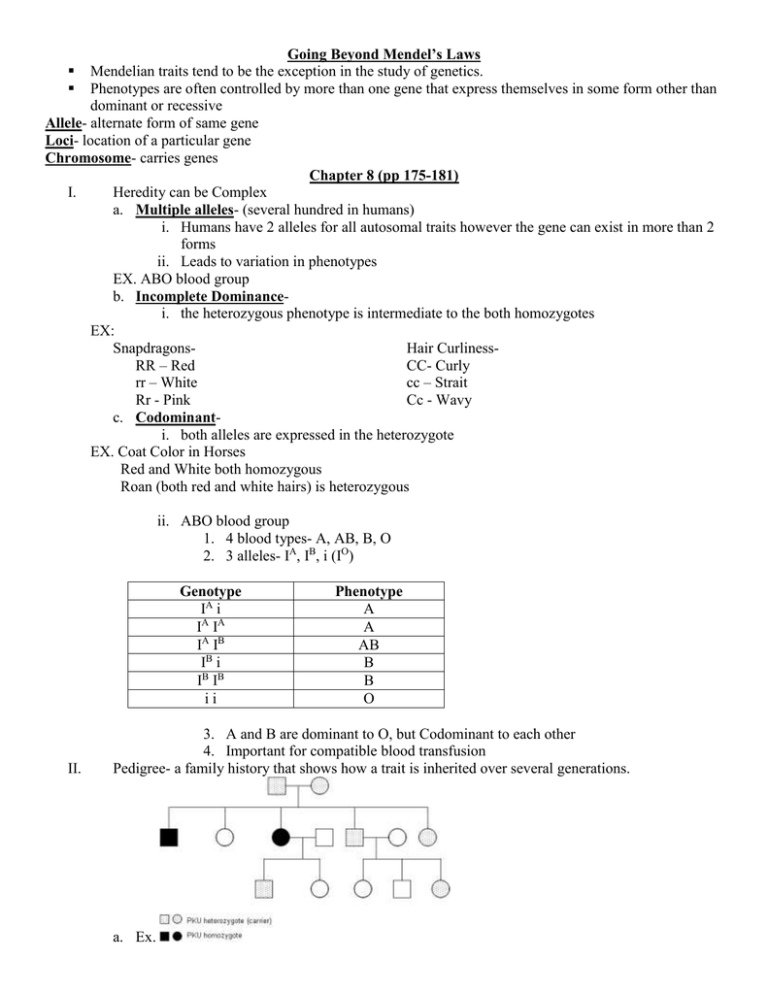 Going Beyond Mendel's Laws
 Mendelian traits tend to be the exception in the study of genetics.
 Phenotypes are often controlled by more than one gene that express themselves in some form other than
dominant or recessive
Allele- alternate form of same gene
Loci- location of a particular gene
Chromosome- carries genes
Chapter 8 (pp 175-181)
I.
Heredity can be Complex
a. Multiple alleles- (several hundred in humans)
i. Humans have 2 alleles for all autosomal traits however the gene can exist in more than 2
forms
ii. Leads to variation in phenotypes
EX. ABO blood group
b. Incomplete Dominancei. the heterozygous phenotype is intermediate to the both homozygotes
EX:
SnapdragonsHair CurlinessRR – Red
CC- Curly
rr – White
cc – Strait
Rr - Pink
Cc - Wavy
c. Codominanti. both alleles are expressed in the heterozygote
EX. Coat Color in Horses
Red and White both homozygous
Roan (both red and white hairs) is heterozygous
ii. ABO blood group
1. 4 blood types- A, AB, B, O
2. 3 alleles- IA, IB, i (IO)
Genotype
IA i
IA IA
IA IB
IB i
IB IB
ii
II.
Phenotype
A
A
AB
B
B
O
3. A and B are dominant to O, but Codominant to each other
4. Important for compatible blood transfusion
Pedigree- a family history that shows how a trait is inherited over several generations.
a. Ex.