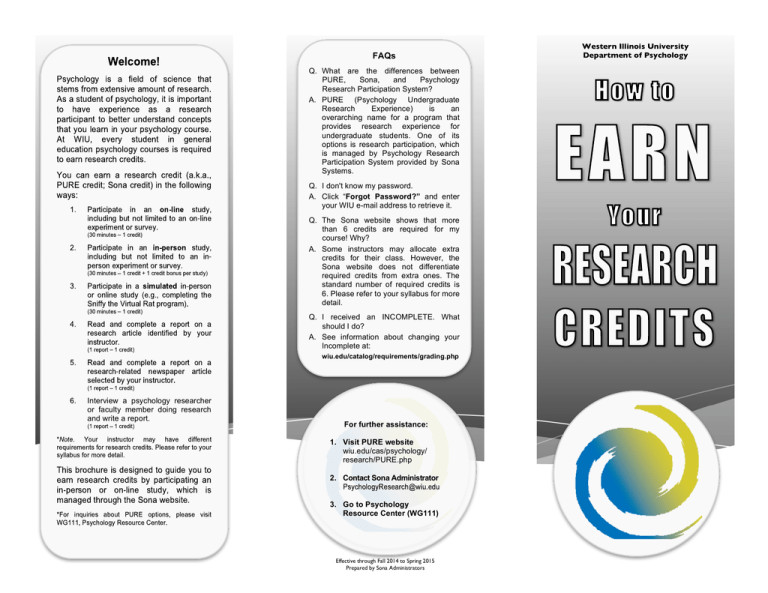 FAQs
Q. What are the differences between
PURE,
Sona,
and
Psychology
Research Participation System?
A. PURE (Psychology Undergraduate
Research
Experience)
is
an
overarching name for a program that
provides research experience for
undergraduate students. One of its
options is research participation, which
is managed by Psychology Research
Participation System provided by Sona
Systems.
Q. I don't know my password.
A. Click "Forgot Password?" and enter
your WIU e-mail address to retrieve it.
Q. The Sona website shows that more
than 6 credits are required for my
course! Why?
A. Some instructors may allocate extra
credits for their class. However, the
Sona website does not differentiate
required credits from extra ones. The
standard number of required credits is
6. Please refer to your syllabus for more
detail.
Q. I received an INCOMPLETE. What
should I do?
A. See information about changing your
Incomplete at:
wiu.edu/catalog/requirements/grading.php
Interview a psychology researcher
or faculty member doing research
and write a report.
For further assistance:
1. Visit PURE website
wiu.edu/cas/psychology/
research/PURE.php
2. Contact Sona Administrator
3. Go to Psychology
Resource Center (WG111)
Effective through Fall 2014 to Spring 2015
Prepared by Sona Administrators
Western Illinois University
Department of Psychology
Step 1.
Step 2.
Go to the Sona website.
Log in to Your Sona
Account using your User ID
and Sona password.
Ψ
For example, if your WIU e-mail
address is JS-Smith@wiu.edu,
your User ID will be JS-Smith.
Tip: "Sona Mobile" app is also
available on Apple App Store and
Google Play.
You may have received an email containing your password
from the Sona Administrator at
the beginning of the semester. If
not, click "Forgot Password?"
and enter your WIU e-mail
address to have your new Sona
Password sent to your WIU email inbox.
Step 3.
Step 4.
Complete the Prescreen.
START EARNING your research credits by
If it is your first time to log in to
the Sona website, you will be
asked to complete the prescreen
questionnaire. Please be as
honest as possible in answering!
participating in in-person and on-line studies.
You must earn 6 credits per General Education Psychology
course in which you are enrolled. For example, if you are
enrolled in PSY 250 and PSY 251, you must earn a total of 12
credits (6 per course). If you are enrolled in multiple General
Education Psychology courses, you may designate which
course you would like to assign a credit to.
Note!
PURE credits must be
completed by the 14th
Friday of the semester
or you will receive an
INCOMPLETE in the
course.