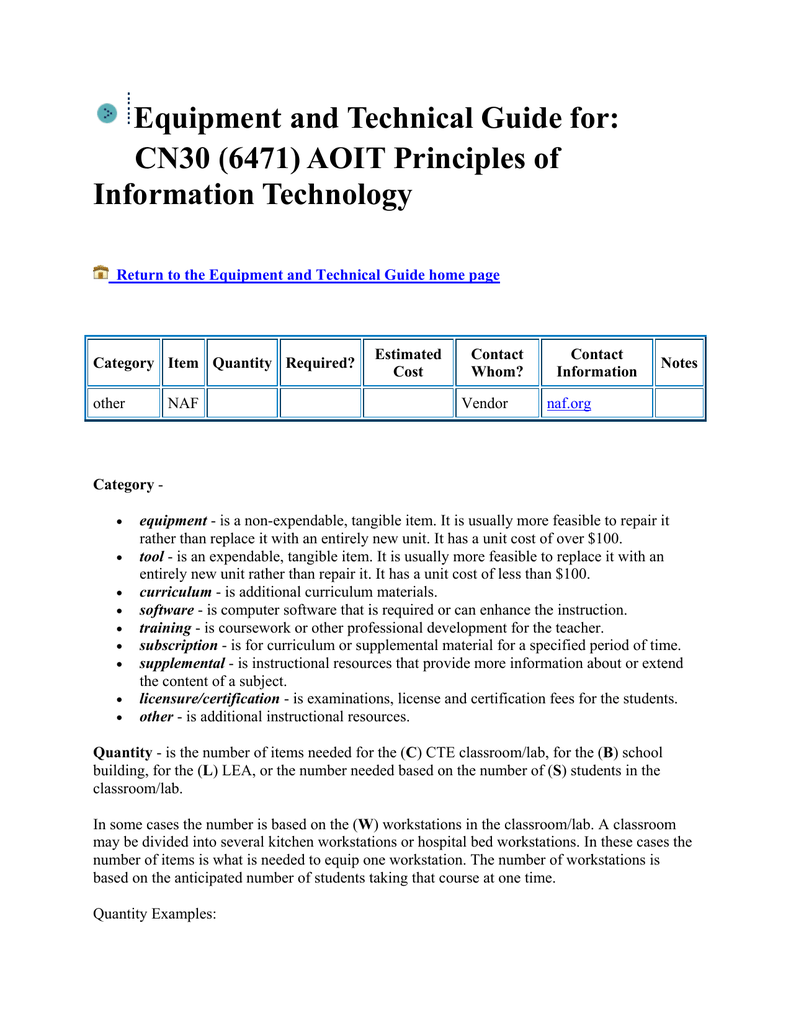 Equipm
E
ment and
a Teechniccal Gu
uide foor:
C
CN30
(6471)
(
) AOIT
T Prin
ncipless of
Informatiion Tecchnoloogy
Return to the Eq
quipment an
nd Technicaal Guide hoome page
Categoryy Item Quantity
Q
R
Required?
other
NAF
Estimated
Cost
Contacct
Whom??
Vendor
ntact
Con
Information
N
Notes
naf.org
Categoryy •
•
•
•
•
•
•
•
•
eqquipment - is
i a non-expendable, tanngible item. It
I is usually more
m
feasiblle to repair it
raather than reeplace it withh an entirely new unit. Itt has a unit cost of over $100.
$
toool - is an ex
xpendable, taangible item. It is usuallyy more feasiible to replacce it with an
enntirely new unit
u rather thhan repair it.. It has a uniit cost of lesss than $100.
cu
urriculum - is additionaal curriculum
m materials.
sooftware - is computer
c
sooftware that is
i required or
o can enhance the instruuction.
trraining - is coursework
c
o other proffessional devvelopment for
or
fo the teacheer.
su
ubscription - is for curriiculum or suupplemental material
m
for a specified period
p
of tim
me.
su
upplementall - is instructtional resourrces that provide more innformation about
a
or exteend
thhe content off a subject.
liicensure/cerrtification - is
i examinatioons, license and certificaation fees for the studentts.
otther - is add
ditional instruuctional resoources.
Quantityy - is the num
mber of item
ms needed forr the (C) CT
TE classroom
m/lab, for thee (B) school
building,, for the (L) LEA, or the number neeeded based on
o the numbeer of (S) studdents in the
classroom
m/lab.
In some cases
c
the num
mber is baseed on the (W
W) workstatioons in the claassroom/lab. A classroom
m
may be divided
d
into several
s
kitchhen workstattions or hosppital bed worrkstations. Inn these casess the
number of
o items is what
w is needeed to equip one
o workstatiion. The num
mber of workkstations is
based on the anticipaated number of students taking
t
that course
c
at onee time.
Quantity Examples:
•
•
•
•
•
•
•
1S = one of these items for each student in the classroom/lab
1S, 1C = one of these items for each student in the classroom/lab and an additional one in
the classroom for the teacher
1:4S = one item for every four students in the classroom/lab
1B = one of these items per school building.
1L = one of these items per LEA (school district).
2C = two of these items per CTE classroom/lab.
3W-kitchen = three of these items per kitchen workstation in the classroom/lab.
Required?
•
•
yes = This is required to teach the course.
no = This is not required to teach the course.
Estimated Cost - This is the estimated cost of this item.
Contact Whom? - Should you contact the DPI Consultant or contact the vendor directly?