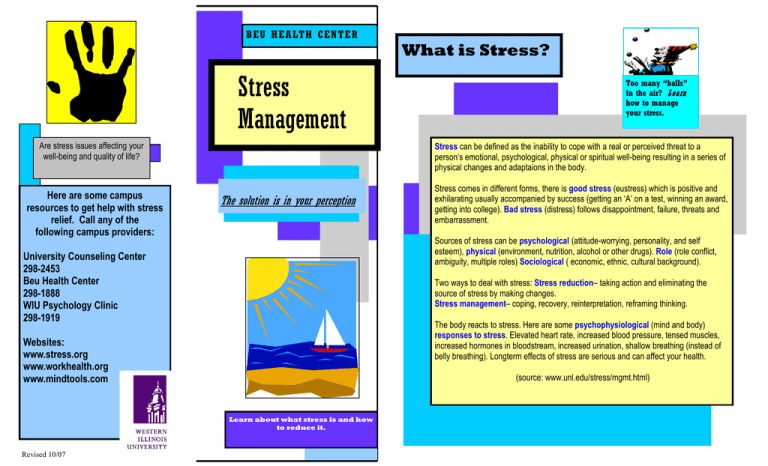 B E U H E A LT H C E N T E R
Stress
Management
Are stress issues affecting your
well-being and quality of life?
Here are some campus
resources to get help with stress
relief. Call any of the
following campus providers:
Too many "balls"
in the air? L ea rn
how to manage
your stress.
Stress can be defined as the inability to cope with a real or perceived threat to a
person's emotional, psychological, physical or spiritual well-being resulting in a series of
physical changes and adaptaions in the body.
The solution is in your perception
Stress comes in different forms, there is good stress (eustress) which is positive and
exhilarating usually accompanied by success (getting an 'A' on a test, winning an award,
getting into college). Bad stress (distress) follows disappointment, failure, threats and
embarrassment.
Sources of stress can be psychological (attitude-worrying, personality, and self
esteem), physical (environment, nutrition, alcohol or other drugs). Role (role conflict,
ambiguity, multiple roles) Sociological ( economic, ethnic, cultural background).
University Counseling Center
298-2453
Beu Health Center
298-1888
WIU Psychology Clinic
298-1919
Two ways to deal with stress: Stress reduction– taking action and eliminating the
source of stress by making changes.
Stress management– coping, recovery, reinterpretation, reframing thinking.
The body reacts to stress. Here are some psychophysiological (mind and body)
responses to stress. Elevated heart rate, increased blood pressure, tensed muscles,
increased hormones in bloodstream, increased urination, shallow breathing (instead of
belly breathing). Longterm effects of stress are serious and can affect your health.
Websites:
www.stress.org
www.workhealth.org
www.mindtools.com
(source: www.unl.edu/stress/mgmt.html)
Learn about what stress is and how
to reduce it.
Revised 10/07
What is Stress?
Stress
Signs of Stress
Physical: Sweaty palms Uneven or
shallow breathingChange in sleep
patternsUpset stomachTension
headachesTension and muscle soreness in
neck and shoulders Change in appetite
Cold hands and feet Generally feeling
unwell
Emotional: IrritabilityAnxiousness or
Why should I
manage my stress?
4 methods of relaxation you can try:
you are 'stressed out' you may be an
Diaphramatic Breathing (belly
breathing). (Breathing to expand the
lungs fully and expel 'stale' air from the
lungs)
unpleasant person to be around, which can
affect your relationships with friends and family.
*Did you know that stress can affect your
decision making? When your body is
experiencing stress you tend to focus on the
here and now. That means when you are
making important decisions you aren't
considering future consequences.
*Stress can also contribute to illness. Migraine
cryingHostile behaviorLack of
and tension headaches, ulcers, and colds can
confidenceHelplessnessDecreased
be caused by stress. Life threatening illnesses
such as stroke, coronary heart disease, and
Behavioral: Poor judgment
hypertension can be attributed in part to the
AbsenteeismInability to concentrateLoss
amount of stress over time a person endures.
of sense of humor Postponing difficult
decisions Increased alcohol and other drug
useIncreased smokingAccident
Relaxation
*Stress can affect you in many ways. When
nervousnessEmotional outbursts and
enthusiasmDepressionLack of motivation.
Strategies to Tackle your
*Not managing your stress can get in the
way of your success. The good news is there
proneovereatingacting
are many methods to manage stress.
impulsivelygrinding teeth
Which ones work for you?
Imagery (visualizing relaxing scenes, often
in nature)
Autogenic Training (a type of selfhypnosis that encourages the
redirection of blood flow by imagining
parts of your body feeling warm and
heavy)
Progressive Muscular Relaxation
(tensing and relaxing muscle
groups, and focusing on the
relaxation of the muscles)
If your mind can
create stress it can
also undo it.
"mind over matter"
"it's all in your head"
" don't worry be
happy"
Make yourself aware of stress:
 When you're studying could you relax
your forehead? Jaw? Shoulders?
Back? Stomach? Legs? Tension is
a sign of stress.
 Take a couple deep breaths that inflate
your belly, keep your shoulders
relaxed. Notice how this makes you
feel.
Stress
Learn time managementfinding balance between school life, and
social life will make you feel good about
using your time well.
Overcome procrastination–
understanding how to get started on
projects early will help you from
experiencing that rushed last minute
feeling.
Find a support system-
Everyone needs someone who will listen
to them. Have at least one person you
can count on-parent, sibling, friend,
partner, advisor or counselor.
Get enough sleep every
night, eat a healthy diet and
exercise daily.