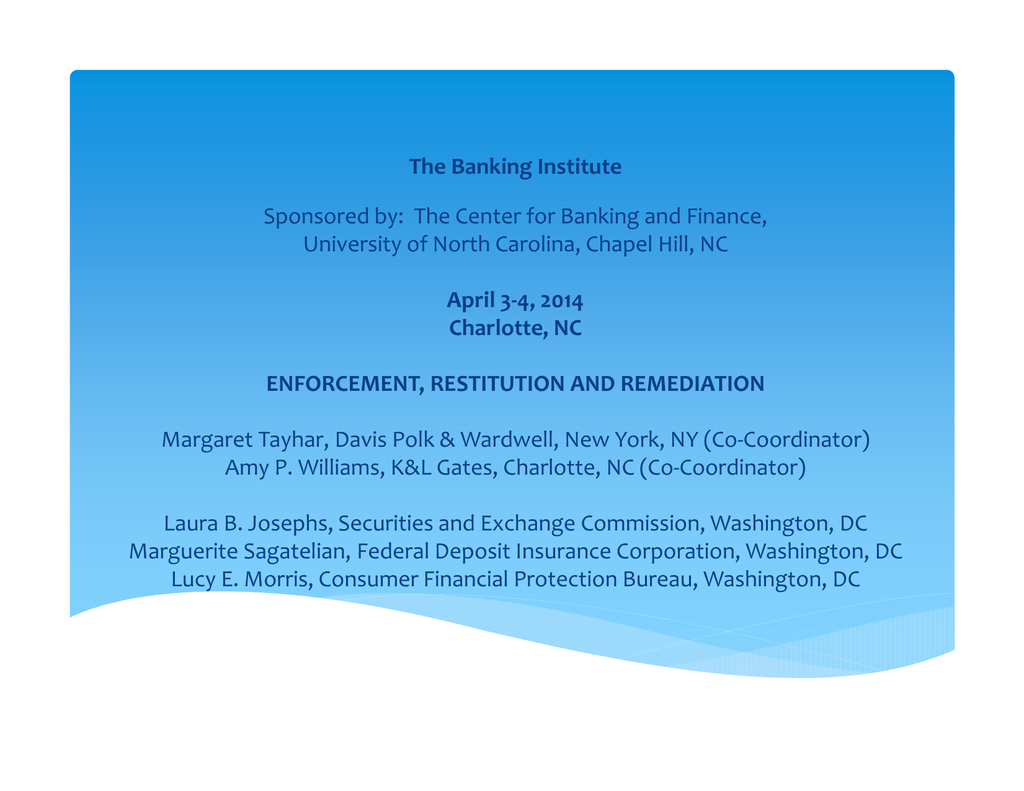 The Banking Institute
Sponsored by: The Center for Banking and Finance,
University of North Carolina, Chapel Hill, NC
April 3‐4, 2014
Charlotte, NC
ENFORCEMENT, RESTITUTION AND REMEDIATION
Margaret Tayhar, Davis Polk & Wardwell, New York, NY (Co‐Coordinator)
Amy P. Williams, K&L Gates, Charlotte, NC (Co‐Coordinator)
Laura B. Josephs, Securities and Exchange Commission, Washington, DC
Marguerite Sagatelian, Federal Deposit Insurance Corporation, Washington, DC
Lucy E. Morris, Consumer Financial Protection Bureau, Washington, DC
The Banking Institute
Materials Index
 Understanding the CFPB Office of Enforcement (PowerPoint)
 CFPB Bulletin 2013‐06, "Responsible Business Conduct: Self Policing, Self Reporting, Remediation and Cooperation"
 FDIC FIL‐44‐2008, "Guidance for Managing Third Party Risk"
 FDIC FIL‐26‐2004, "Unfair or Deceptive Acts or Practices"
 Year‐by‐Year SEC Enforcement Statistics
 A New SEC Enforcement Direction for 2014 (Morrison & Foerster LLP Client Alert, March 26, 2014)
Materials compiled by Donald C. Lampe, Morrison & Foerster LLP, Washington, DC
2
The Consumer Financial
Protection Bureau:
Understanding the CFPB and Office of Enforcement
Note: This document was used in support of a live discussion. As such, it does not necessarily
express the entirety of that discussion nor the relative emphasis of topics therein.
CFPB's Structure
Director
Richard Cordray
Deputy Director
Ombudsman
OPERATIONS
"CEE"
"SEFL"
Administrative Law
Judge
Chief of Staff
"RMR"
EXTERNAL
AFFAIRS
LEGAL
DIVISION
Offices:
Offices:
Offices:
Offices:
Offices:
Offices:
• Administrative
Operations
• Consumer
Engagement
• Supervision
Policy
• Regulations
• Communications
• Community Affairs
• CFO
• Human Capital
• Financial
Education
• Financial
Empowerment
• Consumer
Response
• Older
Americans
• Credit
Information,
Collections, &
Deposits
Markets
• Financial
Institutions
• Technology &
Innovation
• Supervision
Examinations
and
Operations
• Cards Markets
• General Law
& Ethics
• Minority &
Women
Inclusion
• Servicemember
Affairs
• Installment &
Liquidity
Lending
Markets
• Intergovernmental
Affairs
• Procurement
• Equal
Opportunity
Employment
• Students
• Enforcement
• Fair Lending &
Equal
Opportunity
• Consumer
Advisory Board &
Councils
• Legislative Affairs
• Mortgage
Markets
• Research
CEE = Consumer Education & Engagement
SEFL = Supervision, Enforcement, & Fair Lending
RMR = Research, Markets, & Regulations
• Oversight,
Litigation &
Enforcement
Support
• Law & Policy
CFPB's Office of Enforcement
 $20 trillion consumer finance marketplace
 Subjects:
•
Depository institutions and credit unions with
assets over $10 billion, as well as affiliates and
service providers (less than 200); and
•
Non-bank providers of consumer financial
products and services (more than 80,000)
CFPB's Office of Enforcement
Markets Touched
 Mortgage origination
 Mortgage servicing
 Student loans
 Auto loans
 Payday lending
 Debt collection
 Debt relief and credit
counseling





Credit cards
Prepaid cards
Electronic fund transfers
Consumer credit reporting
Bank accounts and deposit
products
CFPB's Office of Enforcement
Federal Consumer Financial Laws

Alternative Mortgage Transaction
Parity Act (AMTPA)

Home Mortgage Disclosure Act
(HMDA)

Consumer Financial Protection Act
(Title X of Dodd-Frank)

Home Owners Protection Act
(HOPA)


Consumer Leasing Act (CLA)

Equal Credit Opportunity Act
(ECOA)
Home Ownership and Equity
Protection Act (HOEPA)




Fair Credit Billing Act (FCBA)
Interstate Land Sales Full
Disclosure Act (ILSA)


Omnibus Appropriations Act, 2009

Federal Deposit Insurance Act
(FDIA)
S.A.F.E. Mortgage Licensing Act

Gramm-Leach-Bliley Act



Fair Credit Reporting Act (FCRA)
Fair Debt Collection Practices Act
(FDCPA)
Real Estate Settlement Procedures
Act (RESPA)
Truth in Lending Act (TILA)
Truth in Savings Act (TISA)
CFPB's Office of Enforcement
 Choice of Fora
• Administrative proceedings; or
• Federal courts
 Remedies Available
•
•
•
•
•
•
Injunctive relief
Asset freezes
Disgorgement of profits
Monetary restitution and damages
Rescission of contracts
Civil money penalties
QUESTIONS?