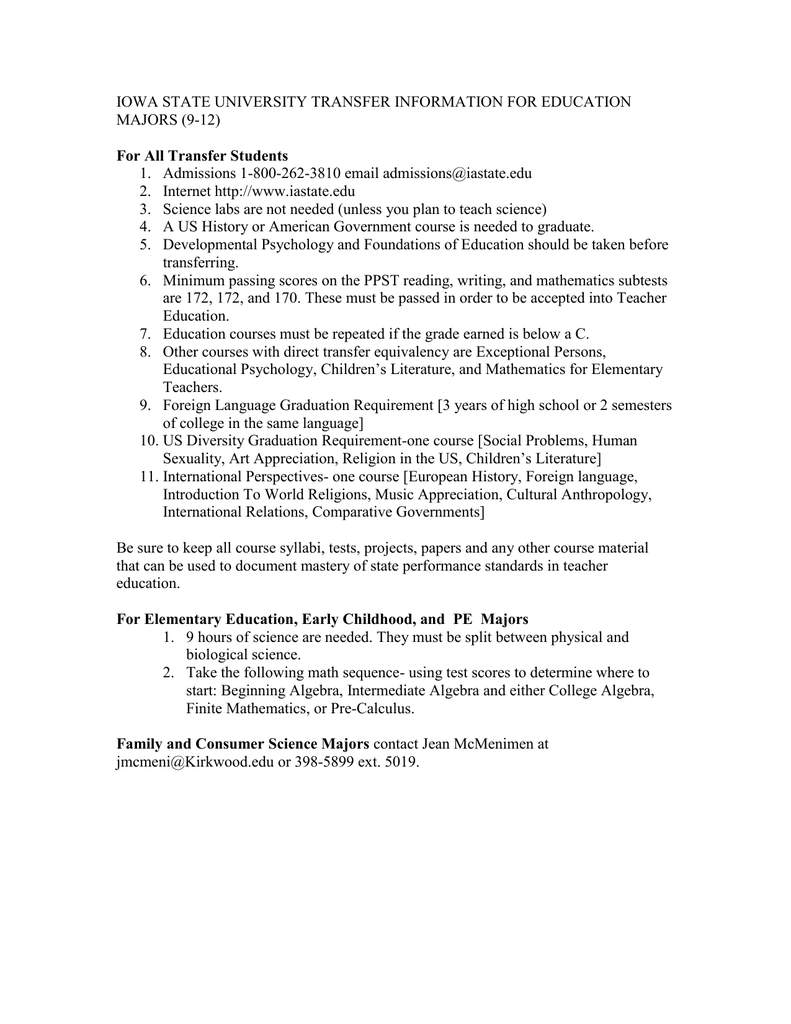 IOWA STATE UNIVERSITY TRANSFER INFORMATION FOR EDUCATION
MAJORS (9-12)
For All Transfer Students
1. Admissions 1-800-262-3810 email [email protected]
2. Internet http://www.iastate.edu
3. Science labs are not needed (unless you plan to teach science)
4. A US History or American Government course is needed to graduate.
5. Developmental Psychology and Foundations of Education should be taken before
transferring.
6. Minimum passing scores on the PPST reading, writing, and mathematics subtests
are 172, 172, and 170. These must be passed in order to be accepted into Teacher
Education.
7. Education courses must be repeated if the grade earned is below a C.
8. Other courses with direct transfer equivalency are Exceptional Persons,
Educational Psychology, Children's Literature, and Mathematics for Elementary
Teachers.
9. Foreign Language Graduation Requirement [3 years of high school or 2 semesters
of college in the same language]
10. US Diversity Graduation Requirement-one course [Social Problems, Human
Sexuality, Art Appreciation, Religion in the US, Children's Literature]
11. International Perspectives- one course [European History, Foreign language,
Introduction To World Religions, Music Appreciation, Cultural Anthropology,
International Relations, Comparative Governments]
Be sure to keep all course syllabi, tests, projects, papers and any other course material
that can be used to document mastery of state performance standards in teacher
education.
For Elementary Education, Early Childhood, and PE Majors
1. 9 hours of science are needed. They must be split between physical and
biological science.
2. Take the following math sequence- using test scores to determine where to
start: Beginning Algebra, Intermediate Algebra and either College Algebra,
Finite Mathematics, or Pre-Calculus.
Family and Consumer Science Majors contact Jean McMenimen at
[email protected] or 398-5899 ext. 5019.