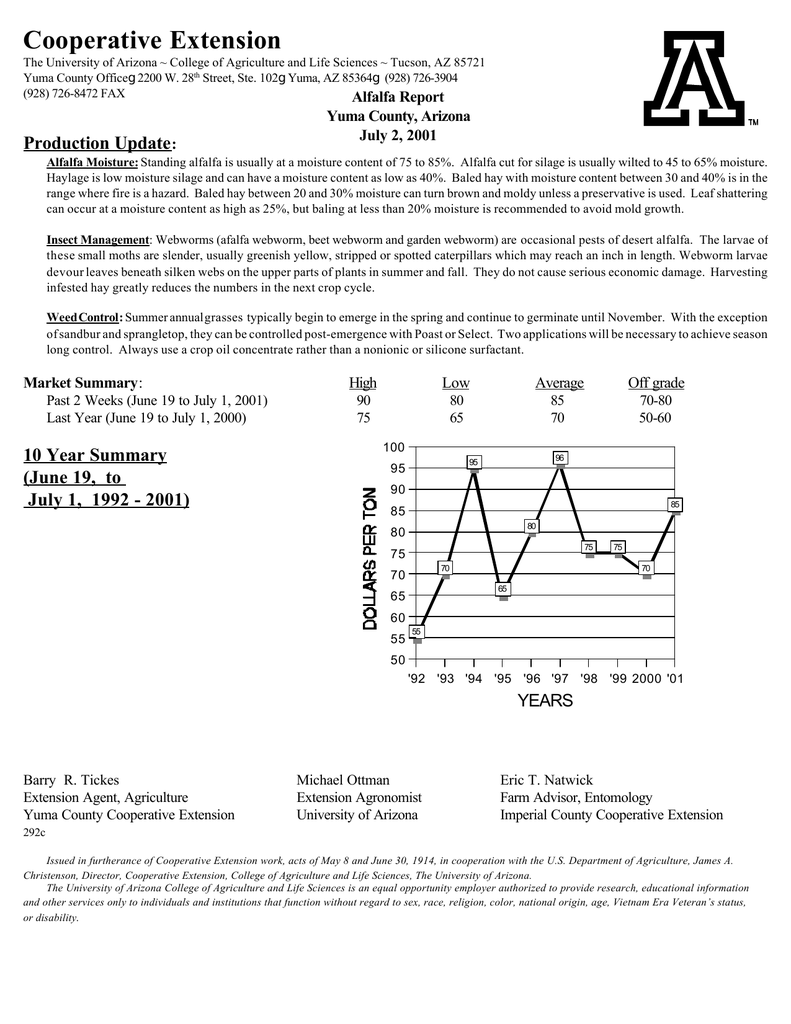 Cooperative Extension
The University of Arizona ~ College of Agriculture and Life Sciences ~ Tucson, AZ 85721
Yuma County Officeg2200 W. 28th Street, Ste. 102gYuma, AZ 85364g (928) 726-3904
(928) 726-8472 FAX
Alfalfa Report
Production Update :
Yuma County, Arizona
July 2, 2001
Alfalfa Moisture: Standing alfalfa is usually at a moisture content of 75 to 85%. Alfalfa cut for silage is usually wilted to 45 to 65% moisture.
Haylage is low moisture silage and can have a moisture content as low as 40%. Baled hay with moisture content between 30 and 40% is in the
range where fire is a hazard. Baled hay between 20 and 30% moisture can turn brown and moldy unless a preservative is used. Leaf shattering
can occur at a moisture content as high as 25%, but baling at less than 20% moisture is recommended to avoid mold growth.
Insect Management: Webworms (afalfa webworm, beet webworm and garden webworm) are occasional pests of desert alfalfa. The larvae of
these small moths are slender, usually greenish yellow, stripped or spotted caterpillars which may reach an inch in length. Webworm larvae
devour leaves beneath silken webs on the upper parts of plants in summer and fall. They do not cause serious economic damage. Harvesting
infested hay greatly reduces the numbers in the next crop cycle.
Weed Control: Summer annual grasses typically begin to emerge in the spring and continue to germinate until November. With the exception
of sandbur and sprangletop, they can be controlled post-emergence with Poast or Select. Two applications will be necessary to achieve season
long control. Always use a crop oil concentrate rather than a nonionic or silicone surfactant.
Market Summary:
Past 2 Weeks (June 19 to July 1, 2001)
Last Year (June 19 to July 1, 2000)
10 Year Summary
(June 19, to
July 1, 1992 - 2001)
High
Low
Average
Off grade
90
75
80
65
85
70
70-80
50-60
100
96
95
95
90
85
85
80
80
75
75
70
70
75
70
65
65
60
55
55
50
'92 '93 '94 '95 '96 '97 '98 '99 2000 '01
YEARS
Barry R. Tickes
Extension Agent, Agriculture
Yuma County Cooperative Extension
Michael Ottman
Extension Agronomist
University of Arizona
Eric T. Natwick
Farm Advisor, Entomology
Imperial County Cooperative Extension
292c
Issued in furtherance of Cooperative Extension work, acts of May 8 and June 30, 1914, in cooperation with the U.S. Department of Agriculture, James A.
Christenson, Director, Cooperative Extension, College of Agriculture and Life Sciences, The University of Arizona.
The University of Arizona College of Agriculture and Life Sciences is an equal opportunity employer authorized to provide research, educational information
and other services only to individuals and institutions that function without regard to sex, race, religion, color, national origin, age, Vietnam Era Veteran's status,
or disability.