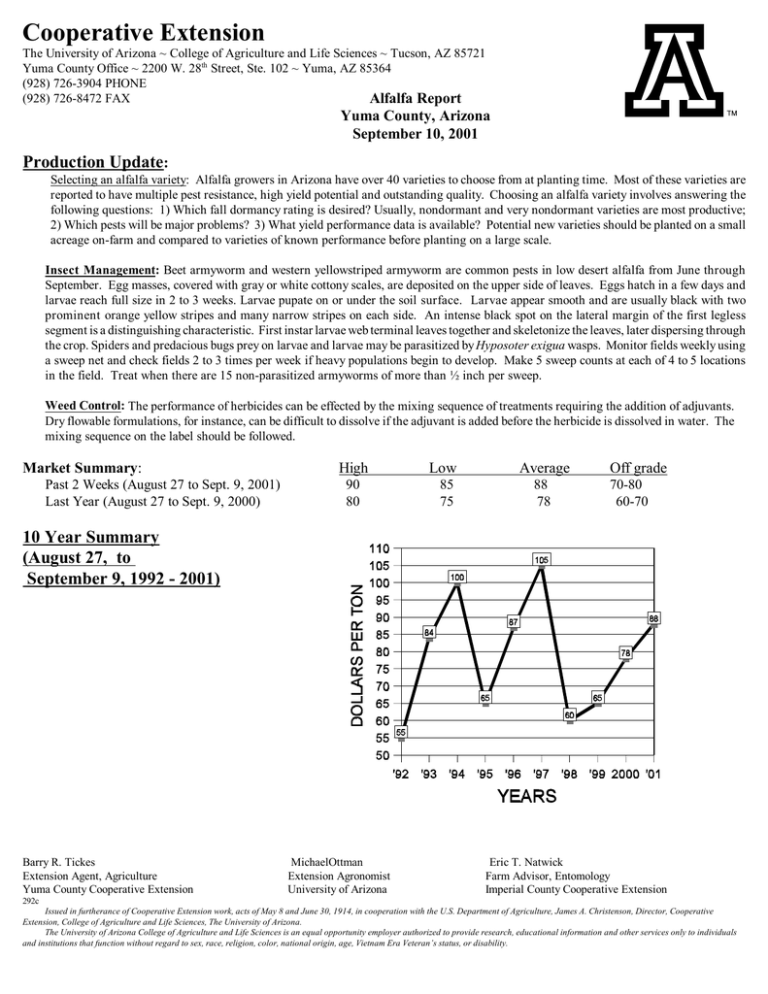 Cooperative Extension
The University of Arizona ~ College of Agriculture and Life Sciences ~ Tucson, AZ 85721
Yuma County Office ~ 2200 W. 28th Street, Ste. 102 ~ Yuma, AZ 85364
(928) 726-3904 PHONE
(928) 726-8472 FAX
Alfalfa Report
Yuma County, Arizona
September 10, 2001
Production Update:
Selecting an alfalfa variety: Alfalfa growers in Arizona have over 40 varieties to choose from at planting time. Most of these varieties are
reported to have multiple pest resistance, high yield potential and outstanding quality. Choosing an alfalfa variety involves answering the
following questions: 1) Which fall dormancy rating is desired? Usually, nondormant and very nondormant varieties are most productive;
2) Which pests will be major problems? 3) What yield performance data is available? Potential new varieties should be planted on a small
acreage on-farm and compared to varieties of known performance before planting on a large scale.
Insect Management: Beet armyworm and western yellowstriped armyworm are common pests in low desert alfalfa from June through
September. Egg masses, covered with gray or white cottony scales, are deposited on the upper side of leaves. Eggs hatch in a few days and
larvae reach full size in 2 to 3 weeks. Larvae pupate on or under the soil surface. Larvae appear smooth and are usually black with two
prominent orange yellow stripes and many narrow stripes on each side. An intense black spot on the lateral margin of the first legless
segment is a distinguishing characteristic. First instar larvae web terminal leaves together and skeletonize the leaves, later dispersing through
the crop. Spiders and predacious bugs prey on larvae and larvae may be parasitized by Hyposoter exigua wasps. Monitor fields weekly using
a sweep net and check fields 2 to 3 times per week if heavy populations begin to develop. Make 5 sweep counts at each of 4 to 5 locations
in the field. Treat when there are 15 non-parasitized armyworms of more than ½ inch per sweep.
Weed Control: The performance of herbicides can be effected by the mixing sequence of treatments requiring the addition of adjuvants.
Dry flowable formulations, for instance, can be difficult to dissolve if the adjuvant is added before the herbicide is dissolved in water. The
mixing sequence on the label should be followed.
Market Summary:
Past 2 Weeks (August 27 to Sept. 9, 2001)
Last Year (August 27 to Sept. 9, 2000)
High
Low
Average
90
80
85
75
88
78
Off grade
70-80
60-70
10 Year Summary
(August 27, to
September 9, 1992 - 2001)
Barry R. Tickes
Extension Agent, Agriculture
Yuma County Cooperative Extension
MichaelOttman
Extension Agronomist
University of Arizona
Eric T. Natwick
Farm Advisor, Entomology
Imperial County Cooperative Extension
292c
Issued in furtherance of Cooperative Extension work, acts of May 8 and June 30, 1914, in cooperation with the U.S. Department of Agriculture, James A. Christenson, Director, Cooperative
Extension, College of Agriculture and Life Sciences, The University of Arizona.
The University of Arizona College of Agriculture and Life Sciences is an equal opportunity employer authorized to provide research, educational information and other services only to individuals
and institutions that function without regard to sex, race, religion, color, national origin, age, Vietnam Era Veteran's status, or disability.