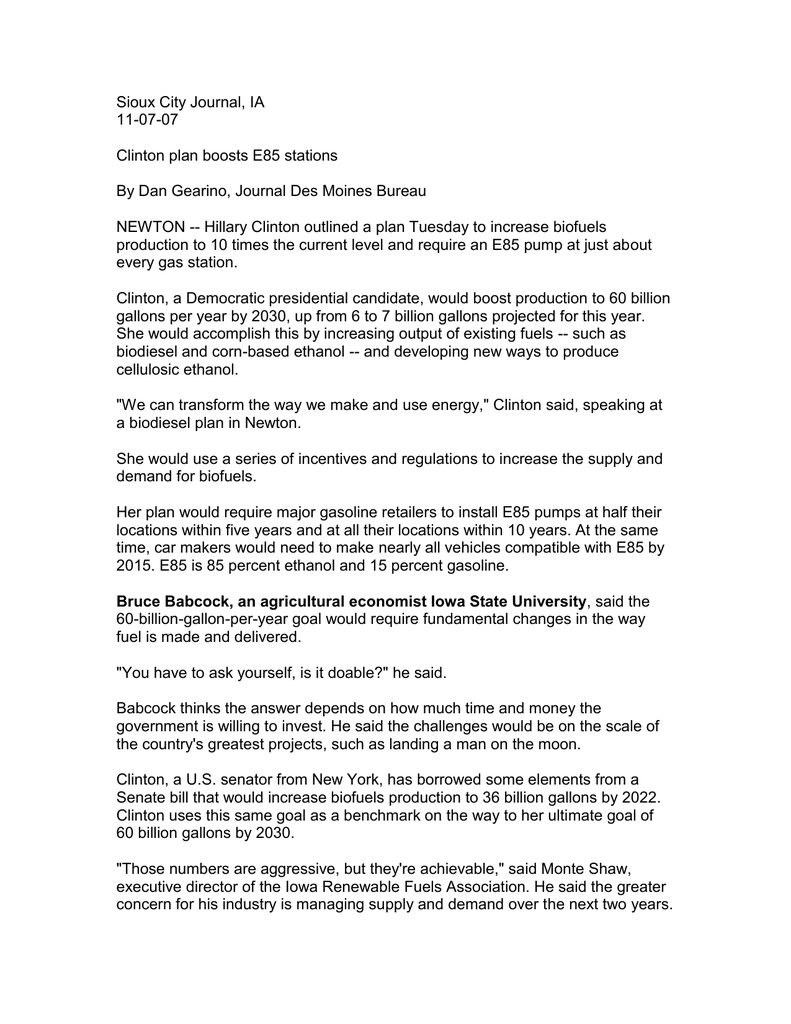 Sioux City Journal, IA
11-07-07
Clinton plan boosts E85 stations
By Dan Gearino, Journal Des Moines Bureau
NEWTON -- Hillary Clinton outlined a plan Tuesday to increase biofuels
production to 10 times the current level and require an E85 pump at just about
every gas station.
Clinton, a Democratic presidential candidate, would boost production to 60 billion
gallons per year by 2030, up from 6 to 7 billion gallons projected for this year.
She would accomplish this by increasing output of existing fuels -- such as
biodiesel and corn-based ethanol -- and developing new ways to produce
cellulosic ethanol.
"We can transform the way we make and use energy," Clinton said, speaking at
a biodiesel plan in Newton.
She would use a series of incentives and regulations to increase the supply and
demand for biofuels.
Her plan would require major gasoline retailers to install E85 pumps at half their
locations within five years and at all their locations within 10 years. At the same
time, car makers would need to make nearly all vehicles compatible with E85 by
2015. E85 is 85 percent ethanol and 15 percent gasoline.
Bruce Babcock, an agricultural economist Iowa State University, said the
60-billion-gallon-per-year goal would require fundamental changes in the way
fuel is made and delivered.
"You have to ask yourself, is it doable?" he said.
Babcock thinks the answer depends on how much time and money the
government is willing to invest. He said the challenges would be on the scale of
the country's greatest projects, such as landing a man on the moon.
Clinton, a U.S. senator from New York, has borrowed some elements from a
Senate bill that would increase biofuels production to 36 billion gallons by 2022.
Clinton uses this same goal as a benchmark on the way to her ultimate goal of
60 billion gallons by 2030.
"Those numbers are aggressive, but they're achievable," said Monte Shaw,
executive director of the Iowa Renewable Fuels Association. He said the greater
concern for his industry is managing supply and demand over the next two years.
The renewable fuels industry has seen falling profits this year because of high
corn prices and other unfavorable conditions. This is a sharp turnabout from two
years ago when President Bush signed a measure setting a 7.5-billion-gallonper-year goal by 2012, ensuring a continued demand growth.
Clinton's plan, with its much higher goal, would dramatically improve the fortunes
of the renewable fuels industry.