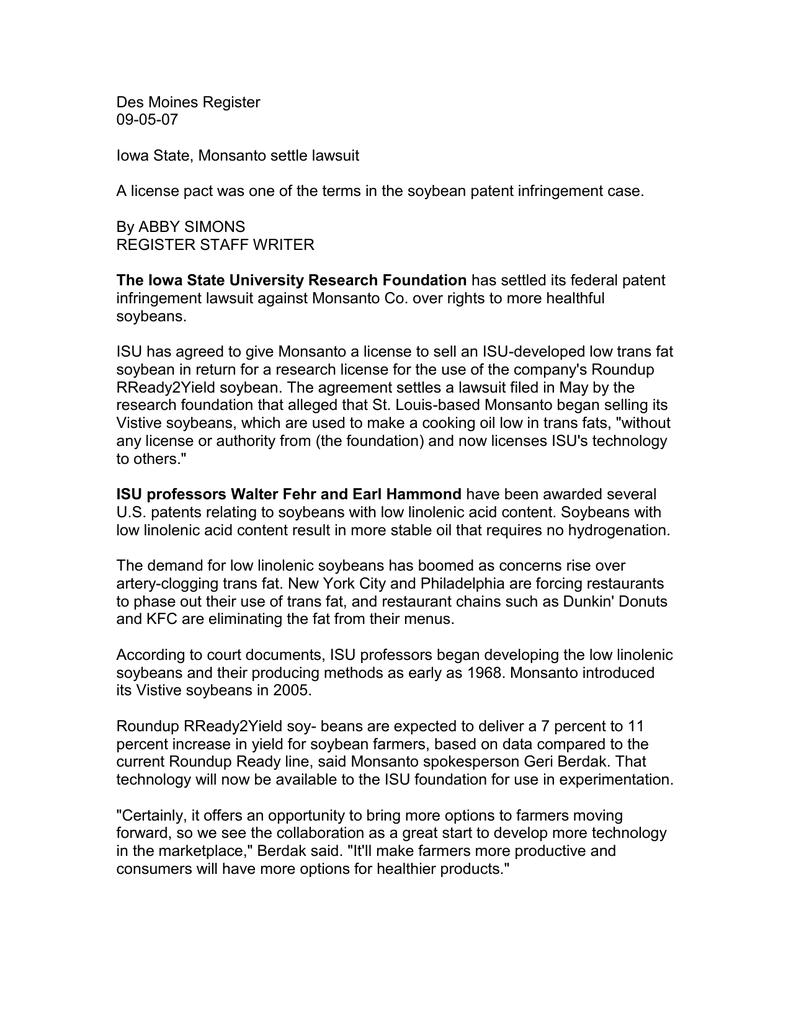 Des Moines Register
09-05-07
Iowa State, Monsanto settle lawsuit
A license pact was one of the terms in the soybean patent infringement case.
By ABBY SIMONS
REGISTER STAFF WRITER
The Iowa State University Research Foundation has settled its federal patent
infringement lawsuit against Monsanto Co. over rights to more healthful
soybeans.
ISU has agreed to give Monsanto a license to sell an ISU-developed low trans fat
soybean in return for a research license for the use of the company's Roundup
RReady2Yield soybean. The agreement settles a lawsuit filed in May by the
research foundation that alleged that St. Louis-based Monsanto began selling its
Vistive soybeans, which are used to make a cooking oil low in trans fats, "without
any license or authority from (the foundation) and now licenses ISU's technology
to others."
ISU professors Walter Fehr and Earl Hammond have been awarded several
U.S. patents relating to soybeans with low linolenic acid content. Soybeans with
low linolenic acid content result in more stable oil that requires no hydrogenation.
The demand for low linolenic soybeans has boomed as concerns rise over
artery-clogging trans fat. New York City and Philadelphia are forcing restaurants
to phase out their use of trans fat, and restaurant chains such as Dunkin' Donuts
and KFC are eliminating the fat from their menus.
According to court documents, ISU professors began developing the low linolenic
soybeans and their producing methods as early as 1968. Monsanto introduced
its Vistive soybeans in 2005.
Roundup RReady2Yield soy- beans are expected to deliver a 7 percent to 11
percent increase in yield for soybean farmers, based on data compared to the
current Roundup Ready line, said Monsanto spokesperson Geri Berdak. That
technology will now be available to the ISU foundation for use in experimentation.
"Certainly, it offers an opportunity to bring more options to farmers moving
forward, so we see the collaboration as a great start to develop more technology
in the marketplace," Berdak said. "It'll make farmers more productive and
consumers will have more options for healthier products."
Neither Berdak or Kenneth Kirdland, executive director of the research
foundation, would discuss other terms of the settlement.