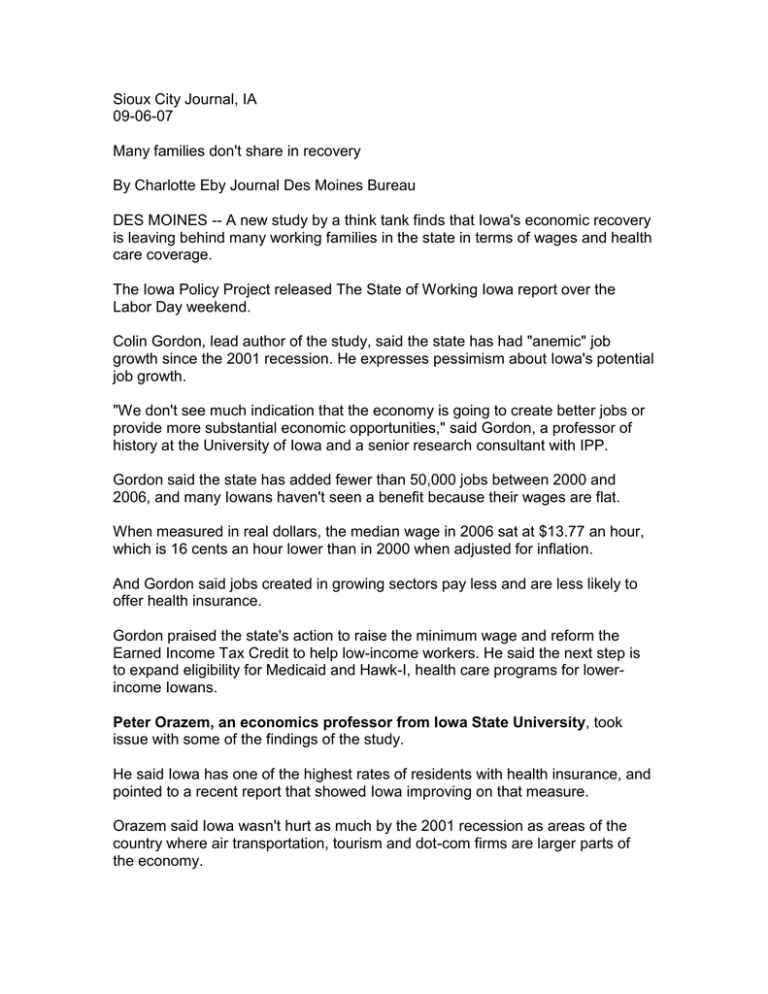 Sioux City Journal, IA
09-06-07
Many families don't share in recovery
By Charlotte Eby Journal Des Moines Bureau
DES MOINES -- A new study by a think tank finds that Iowa's economic recovery
is leaving behind many working families in the state in terms of wages and health
care coverage.
The Iowa Policy Project released The State of Working Iowa report over the
Labor Day weekend.
Colin Gordon, lead author of the study, said the state has had "anemic" job
growth since the 2001 recession. He expresses pessimism about Iowa's potential
job growth.
"We don't see much indication that the economy is going to create better jobs or
provide more substantial economic opportunities," said Gordon, a professor of
history at the University of Iowa and a senior research consultant with IPP.
Gordon said the state has added fewer than 50,000 jobs between 2000 and
2006, and many Iowans haven't seen a benefit because their wages are flat.
When measured in real dollars, the median wage in 2006 sat at $13.77 an hour,
which is 16 cents an hour lower than in 2000 when adjusted for inflation.
And Gordon said jobs created in growing sectors pay less and are less likely to
offer health insurance.
Gordon praised the state's action to raise the minimum wage and reform the
Earned Income Tax Credit to help low-income workers. He said the next step is
to expand eligibility for Medicaid and Hawk-I, health care programs for lowerincome Iowans.
Peter Orazem, an economics professor from Iowa State University, took
issue with some of the findings of the study.
He said Iowa has one of the highest rates of residents with health insurance, and
pointed to a recent report that showed Iowa improving on that measure.
Orazem said Iowa wasn't hurt as much by the 2001 recession as areas of the
country where air transportation, tourism and dot-com firms are larger parts of
the economy.
The slow population growth in Iowa has put a constraint on how rapidly the state
can expand employment, Orazem said. And he said wage trends in Iowa have
followed national trends.
"Real wages have tended to grow relatively slowly; they're not necessarily
stagnant," Orazem said. He cites a growing expense for employers trying to keep
up with the cost of health insurance for their employees.
"Firms that are trying to maintain health insurance find it expensive, and one of
the ways to make sure that they have enough money for health insurance is to
hold back on wage increases," Orazem said.
Charlotte Eby can be reached at (515) 243-0138 or chareby@aol.com.