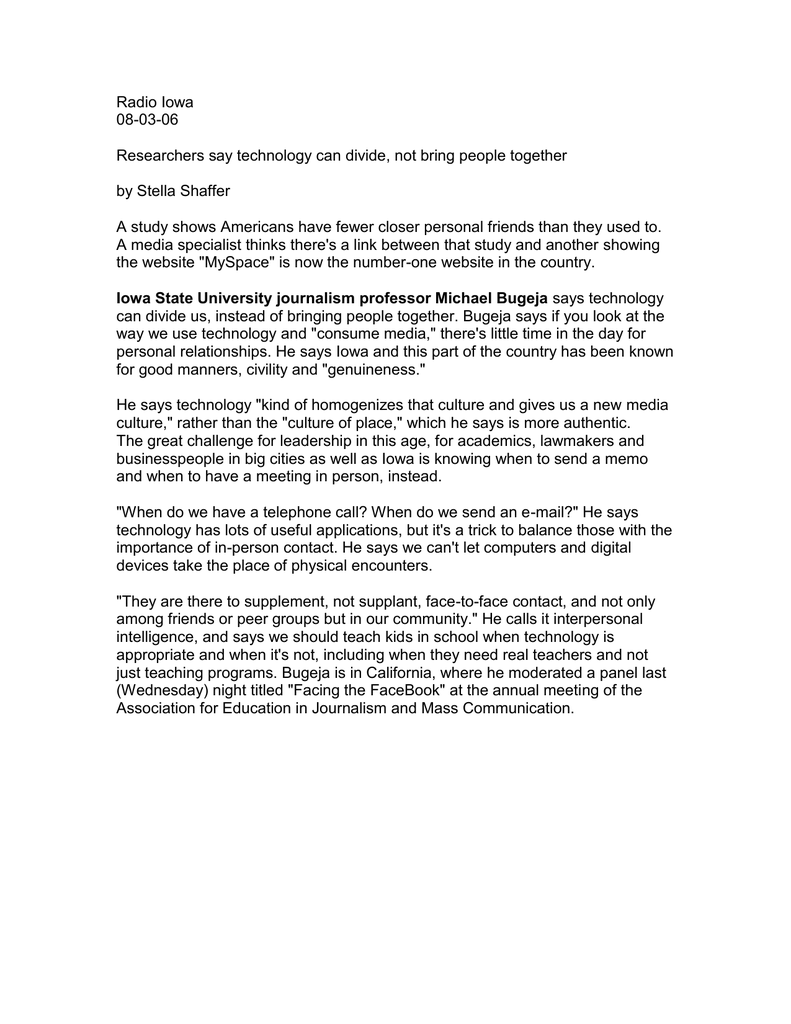 Radio Iowa
08-03-06
Researchers say technology can divide, not bring people together
by Stella Shaffer
A study shows Americans have fewer closer personal friends than they used to.
A media specialist thinks there's a link between that study and another showing
the website "MySpace" is now the number-one website in the country.
Iowa State University journalism professor Michael Bugeja says technology
can divide us, instead of bringing people together. Bugeja says if you look at the
way we use technology and "consume media," there's little time in the day for
personal relationships. He says Iowa and this part of the country has been known
for good manners, civility and "genuineness."
He says technology "kind of homogenizes that culture and gives us a new media
culture," rather than the "culture of place," which he says is more authentic.
The great challenge for leadership in this age, for academics, lawmakers and
businesspeople in big cities as well as Iowa is knowing when to send a memo
and when to have a meeting in person, instead.
"When do we have a telephone call? When do we send an e-mail?" He says
technology has lots of useful applications, but it's a trick to balance those with the
importance of in-person contact. He says we can't let computers and digital
devices take the place of physical encounters.
"They are there to supplement, not supplant, face-to-face contact, and not only
among friends or peer groups but in our community." He calls it interpersonal
intelligence, and says we should teach kids in school when technology is
appropriate and when it's not, including when they need real teachers and not
just teaching programs. Bugeja is in California, where he moderated a panel last
(Wednesday) night titled "Facing the FaceBook" at the annual meeting of the
Association for Education in Journalism and Mass Communication.