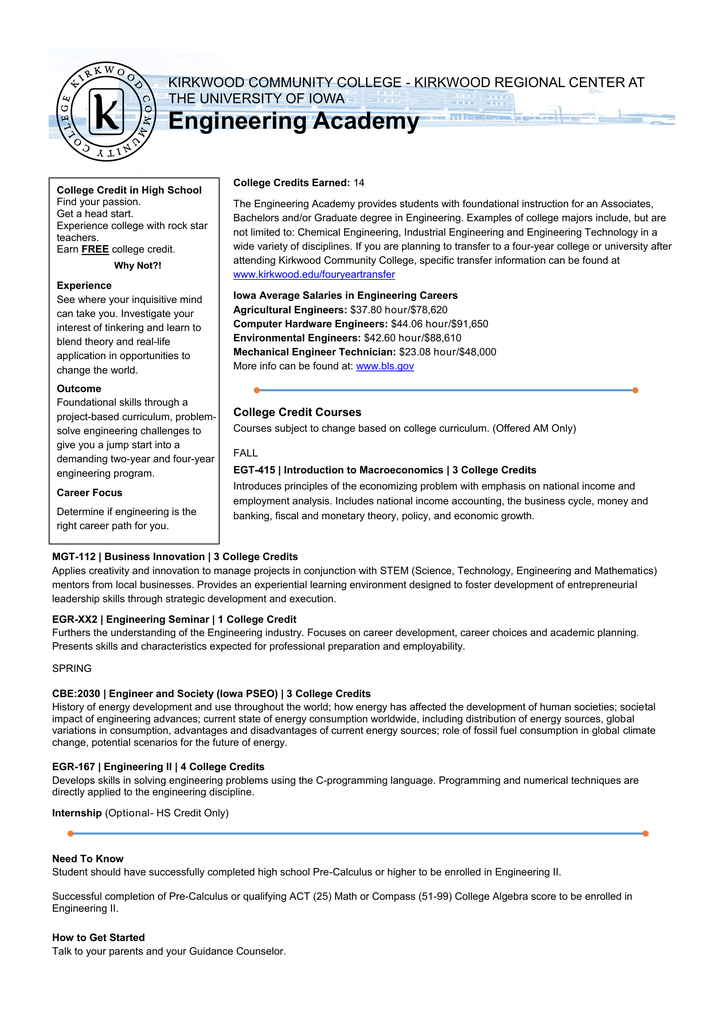 KIRKWOOD COMMUNITY COLLEGE - KIRKWOOD REGIONAL CENTER AT
THE UNIVERSITY OF IOWA
Engineering Academy
College Credit in High School
Find your passion.
Get a head start.
Experience college with rock star
teachers.
Earn FREE college credit.
Why Not?!
Experience
See where your inquisitive mind
can take you. Investigate your
interest of tinkering and learn to
blend theory and real-life
application in opportunities to
change the world.
Outcome
Foundational skills through a
project-based curriculum, problemsolve engineering challenges to
give you a jump start into a
demanding two-year and four-year
engineering program.
Career Focus
Determine if engineering is the
right career path for you.
College Credits Earned: 14
The Engineering Academy provides students with foundational instruction for an Associates,
Bachelors and/or Graduate degree in Engineering. Examples of college majors include, but are
not limited to: Chemical Engineering, Industrial Engineering and Engineering Technology in a
wide variety of disciplines. If you are planning to transfer to a four-year college or university after
attending Kirkwood Community College, specific transfer information can be found at
www.kirkwood.edu/fouryeartransfer
Iowa Average Salaries in Engineering Careers
Agricultural Engineers: $37.80 hour/$78,620
Computer Hardware Engineers: $44.06 hour/$91,650
Environmental Engineers: $42.60 hour/$88,610
Mechanical Engineer Technician: $23.08 hour/$48,000
More info can be found at: www.bls.gov
College Credit Courses
Courses subject to change based on college curriculum. (Offered AM Only)
FALL
EGT-415 | Introduction to Macroeconomics | 3 College Credits
Introduces principles of the economizing problem with emphasis on national income and
employment analysis. Includes national income accounting, the business cycle, money and
banking, fiscal and monetary theory, policy, and economic growth.
MGT-112 | Business Innovation | 3 College Credits
Applies creativity and innovation to manage projects in conjunction with STEM (Science, Technology, Engineering and Mathematics)
mentors from local businesses. Provides an experiential learning environment designed to foster development of entrepreneurial
leadership skills through strategic development and execution.
EGR-XX2 | Engineering Seminar | 1 College Credit
Furthers the understanding of the Engineering industry. Focuses on career development, career choices and academic planning.
Presents skills and characteristics expected for professional preparation and employability.
SPRING
CBE:2030 | Engineer and Society (Iowa PSEO) | 3 College Credits
History of energy development and use throughout the world; how energy has affected the development of human societies; societal
impact of engineering advances; current state of energy consumption worldwide, including distribution of energy sources, global
variations in consumption, advantages and disadvantages of current energy sources; role of fossil fuel consumption in global climate
change, potential scenarios for the future of energy.
EGR-167 | Engineering II | 4 College Credits
Develops skills in solving engineering problems using the C-programming language. Programming and numerical techniques are
directly applied to the engineering discipline.
Internship (Optional- HS Credit Only)
Need To Know
Student should have successfully completed high school Pre-Calculus or higher to be enrolled in Engineering II.
Successful completion of Pre-Calculus or qualifying ACT (25) Math or Compass (51-99) College Algebra score to be enrolled in
Engineering II.
How to Get Started
Talk to your parents and your Guidance Counselor.