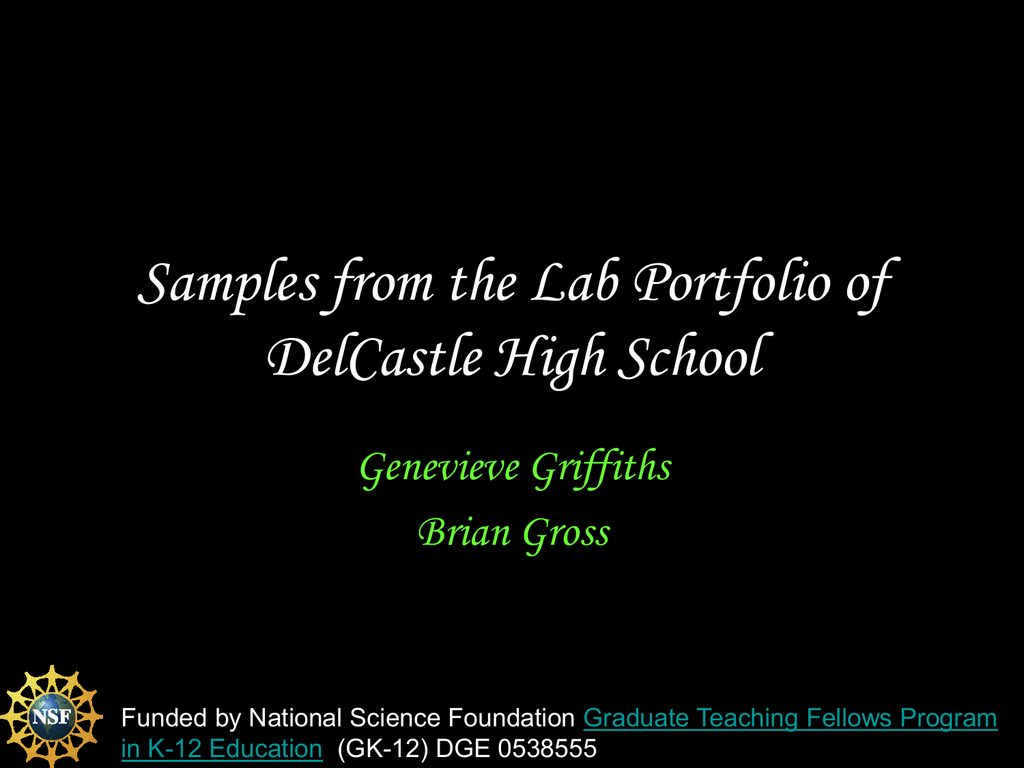 Samples from the Lab Portfolio of
DelCastle High School
Genevieve Griffiths
Brian Gross
Funded by National Science Foundation Graduate Teaching Fellows Program
in K-12 Education (GK-12) DGE 0538555
GOALS
• Bring "real world" science into the
classroom.
• Demonstrate that science is fun, practical
and important.
• Engage students in hands on science.
The OSMOSIS Lab
Objective: Demonstrate osmosis by weighing decalcified eggs
after submersion in varying concentrations of sucrose
PHOTOSYNTHESIS/CELLULAR
RESPIRATION
Objective: Measure CO2 levels in a beaker with plants and/or
animals in it, demonstrating gas exchange
WHAT'S IN AN EGG?
Objective: Run tests determining the lipid, protein and
carbohydrate levels in various parts of an egg
The ZYGOTE Lab
Objective: Dissect Fertilized chicken eggs and monitor embryonic
development. Use caffeine to see the effect of drugs on heart rate.
DNA Extraction Lab
Objective: Use H2O, NaCl, EtOH, and meat tenderizer to
extract DNA from cheek cells.
The MR.POTATO HEAD Lab
Objective: Use "alleles" corresponding to features to create
unique Mr. Potato Head characters
P-GLO
Reflections
• Teenagers are a difficult audience,
heightened appreciation for high school
teachers.
• Processing knowledge is unique to each
student and individualized learning is very
difficult to incorporate into a larger
classroom.
• A little encouragement goes a long way!