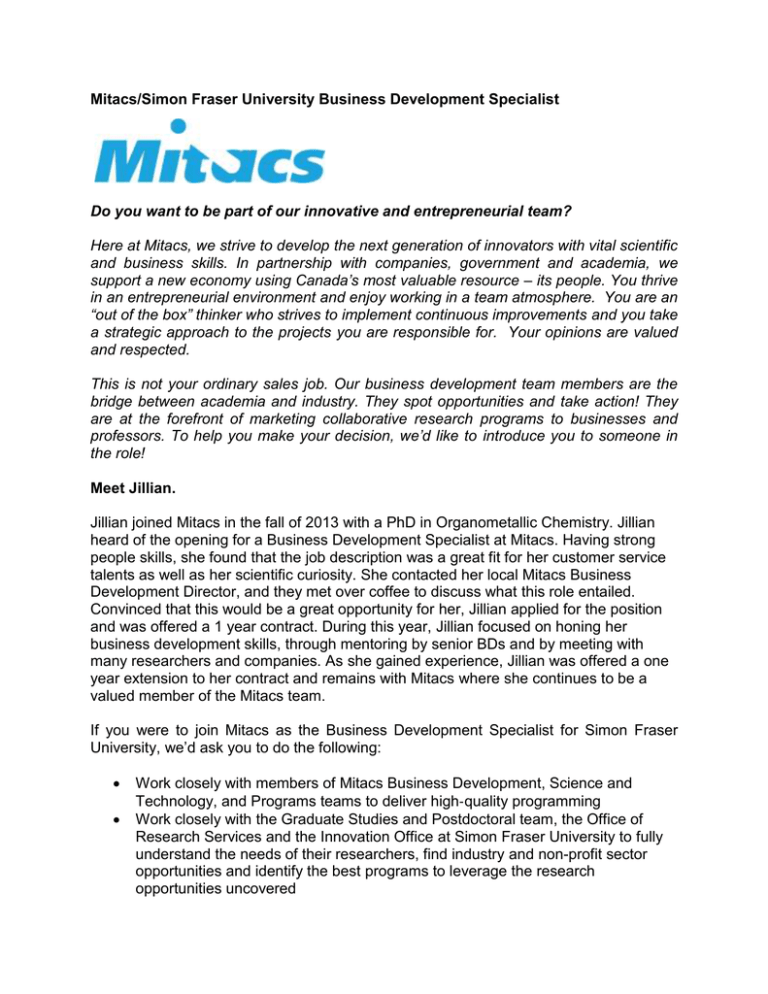 Mitacs/Simon Fraser University Business Development Specialist
Do you want to be part of our innovative and entrepreneurial team?
Here at Mitacs, we strive to develop the next generation of innovators with vital scientific
and business skills. In partnership with companies, government and academia, we
support a new economy using Canada's most valuable resource – its people. You thrive
in an entrepreneurial environment and enjoy working in a team atmosphere. You are an
"out of the box" thinker who strives to implement continuous improvements and you take
a strategic approach to the projects you are responsible for. Your opinions are valued
and respected.
This is not your ordinary sales job. Our business development team members are the
bridge between academia and industry. They spot opportunities and take action! They
are at the forefront of marketing collaborative research programs to businesses and
professors. To help you make your decision, we'd like to introduce you to someone in
the role!
Meet Jillian.
Jillian joined Mitacs in the fall of 2013 with a PhD in Organometallic Chemistry. Jillian
heard of the opening for a Business Development Specialist at Mitacs. Having strong
people skills, she found that the job description was a great fit for her customer service
talents as well as her scientific curiosity. She contacted her local Mitacs Business
Development Director, and they met over coffee to discuss what this role entailed.
Convinced that this would be a great opportunity for her, Jillian applied for the position
and was offered a 1 year contract. During this year, Jillian focused on honing her
business development skills, through mentoring by senior BDs and by meeting with
many researchers and companies. As she gained experience, Jillian was offered a one
year extension to her contract and remains with Mitacs where she continues to be a
valued member of the Mitacs team.
If you were to join Mitacs as the Business Development Specialist for Simon Fraser
University, we'd ask you to do the following:


Work closely with members of Mitacs Business Development, Science and
Technology, and Programs teams to deliver high‐quality programming
Work closely with the Graduate Studies and Postdoctoral team, the Office of
Research Services and the Innovation Office at Simon Fraser University to fully
understand the needs of their researchers, find industry and non-profit sector
opportunities and identify the best programs to leverage the research
opportunities uncovered








Create and maintain a network of partners/clients in industry and at Simon Fraser
University
Introduce companies to various Mitacs events and programs
Introduce companies to various Simon Fraser University researchers
Collaborate with Mitacs staff and/or Simon Fraser University staff to organize
events including aspects related to networking with clients, planning, logistics,
and funding
Providing support to the Business Development Team as needed
Providing business development support to all Mitacs programs as needed
Providing business development support to the Office of Graduate Studies and
Postdoctoral Fellows at Simon Fraser University with an emphasis on social
sciences and humanities business opportunities.
Organizing industry‐academic networking events specific to Simon Fraser
University
This sounds quite exciting and challenging, right? Let's hope so, because if it does,
there's a good chance this job is right for you. Here's what you will have already that will
help you to handle these challenges:







Recent PhD (within 1‐2 years), ideally, from Simon Fraser University
Excellent communication skills
Excellent presentation skills
Enthusiastic and high‐energy self‐starter
Team player
Ability to think creatively and try new things
Desire to pursue a career outside of research and academia
* Please note that this position is available only at Simon Fraser University*
At Mitacs, we foster a culture where creativity and innovation is valued and encouraged.
We offer a comprehensive benefits package and a team based work environment.
APPLY NOW:
All applications are required to be submitted online. Visit our careers page
at http://www.mitacs.ca/en/careers to learn more about this or other opportunities
available at Mitacs. For specific questions about our opportunities, please contact
Andrea Bailey, HR Generalist abailey@mitacs.ca or call directly at 647-478-5903.
Applications must include both a CV and cover letter in word or pdf format. We thank all
applicants but only those considered for an interview will be contacted.
Mitacs values the contributions of a diverse workforce and is an Equal Employment
Opportunity employer.