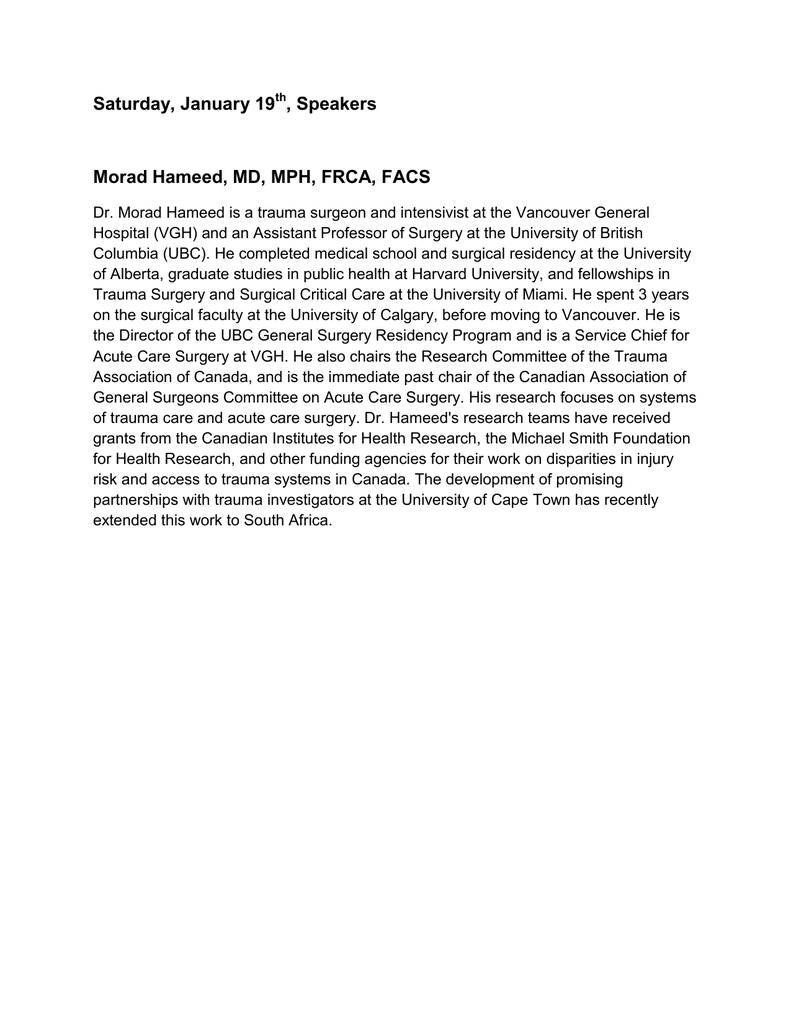 Saturday, January 19th, Speakers
Morad Hameed, MD, MPH, FRCA, FACS
Dr. Morad Hameed is a trauma surgeon and intensivist at the Vancouver General
Hospital (VGH) and an Assistant Professor of Surgery at the University of British
Columbia (UBC). He completed medical school and surgical residency at the University
of Alberta, graduate studies in public health at Harvard University, and fellowships in
Trauma Surgery and Surgical Critical Care at the University of Miami. He spent 3 years
on the surgical faculty at the University of Calgary, before moving to Vancouver. He is
the Director of the UBC General Surgery Residency Program and is a Service Chief for
Acute Care Surgery at VGH. He also chairs the Research Committee of the Trauma
Association of Canada, and is the immediate past chair of the Canadian Association of
General Surgeons Committee on Acute Care Surgery. His research focuses on systems
of trauma care and acute care surgery. Dr. Hameed's research teams have received
grants from the Canadian Institutes for Health Research, the Michael Smith Foundation
for Health Research, and other funding agencies for their work on disparities in injury
risk and access to trauma systems in Canada. The development of promising
partnerships with trauma investigators at the University of Cape Town has recently
extended this work to South Africa.