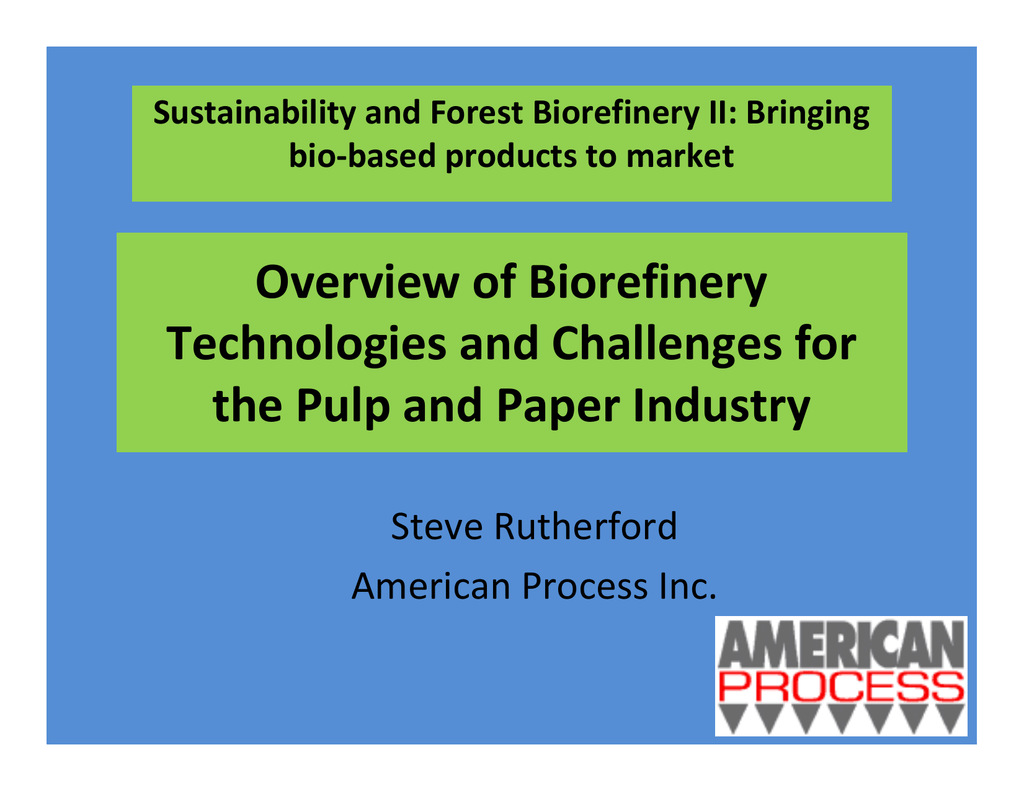 Sustainability and Forest Biorefinery II: Bringing bio‐based products to market
Overview of Biorefinery
Technologies and Challenges for the Pulp and Paper Industry
Steve Rutherford
American Process Inc.
Pulp and Paper Industry Status
Paper industry mantra during the 20th century:
SCALE – PRODUCTIVITY – FOCUS … has been halted by energy cost, market contraction
Could reinvent with vision for the 21st century:
INNOVATION – BIOPRODUCTS – FLEXIBILITY
…to reposition itself by technological breakthroughs and matching the market needs
Questions for the Industry
•
•
•
•
•
•
•
•
•
•
Should pulp and paper production remain?
How sustainable is the market for bioproducts?
What products provide the best return?
How can we quantify the market?
Who are potential competitors or substitutes?
How will the USA and EU energy and environmental policies be enforced? Will subsidies remain?
What will happen to the emerging bioproducts market if oil falls below $80 per barrel? What technologies are available for specific sites? How to align distribution channels for multiple products?
Biomass Value Chain – A Missing Link?
Billion of Dollars per year (2002)
Value of Production by U.S. Manufacturing Section and Growth
Source: U.S. Bureau of the Census, Annual Survey of Manufacturers, Statistics for
Industry Groups and Industries, 2001 and 2004.
Megatrends Leading to Bioproducts
• Population Growth
– Global spread of wealth and consumption
• Limited Arable Land
– Displacement of cotton and other crops • Peak Oil – Oil based feedstock substitution
• New Requirements for Efficiency
– Super strong lightweight materials
Why Pulp Mill Biorefinery?
• The Pulp and Paper Industry is the largest handler of forest residues
• The mills have highly skilled technical personnel, necessary for running biorefineries
• Co‐production of pulp (paper) with proper process integration reduces per unit production costs
• Incremental Investments will not make aging mills competitive in the maturing markets. • Existing infrastructure and permits reduces the total capital cost and time to implementation • Paper products still remains the largest and most value added commodity product in the wood based biorefinery
A pulp mill is the natural home for a forest biorefinery
8
Energy Independence and Security Act of 2007 (H.R.6), signed 12/19/07
SEC. 202. RENEWABLE FUEL STANDARD:
e) Waivers‐ Whenever the Administrator reduces the minimum cellulosic biofuel
volume under this subparagraph, the Administrator shall make available for sale cellulosic biofuel credits at the higher of $0.25 per gallon or the amount by which $3.00 per gallon exceeds the average wholesale price of a gallon of gasoline in the United States. Such amounts shall be adjusted for inflation by the Administrator for years after 2008
SEC. 207. GRANTS FOR PRODUCTION OF ADVANCED BIOFUELS
c) Authorization of Appropriations‐ There is authorized to be appropriated to carry out this section $500,000,000 for the period of fiscal years 2008 through 2015.
Cellulosic ethanol mandate
Year
million gpy
2010
100
2011
250
2012
500
2013
1,000
2014
1,750
2015
3,000
2016
4,250
2017
5,500
2018
7,000
2019
8,500
2020
10,500
2021
13,500
2022
16,000
Break‐even of cellulose vs. ethanol
Assumptions:
HWD upper end of ethanol yield ~90 USG/BDT
Market pulp yield is 0.42 BDT cellulose/BDT wood
Traditional Pulp Mill Balance
PURCHASED
ENERGY
PULPWOOD
PULP MILL
PULP
BARK
HEAT RECOVERY
LOSSES
Co‐Production in the Pulp Mill Biorefinery
PURCHASED
ENERGY
Biofuel
PULPWOOD
BARK
PULP MILL BASED
BIOREFINERY
PULP
RESIDUALS
Bioproduct
HEAT RECOVERY
LOSSES
Process Steps
Unit operations and process integration
Feedstock Preparation Transformation Process
Final Product Converting
Process Steps
Distillation
Challenges – energy use – feed concentration
Membranes
Challenges – correct choice – fouling – robustness –
selectivity
Pervaporation – promising – still lab scale
Traditional pulp and paper equipment
How to best redeploy?
Emerging Products ‐ Cellulose Emerging Products ‐ Hemicelluloses Thermal
Processes
Chemical
Processes
Biochemical
Processes
Emerging Products ‐ Lignin Refinery
Feedstock
Transportation
Industry
Consumer
Products
Challenges for New Technologies
•
•
•
•
•
•
•
•
Optimal use of raw materials
High purity of products
Energy efficiency
Chemical/material selection
Waste minimization
Environmental impact
Reasonable capital cost
Development of markets
Product Yield
• Maximum theoretical yield is defined by the energy content and chemical composition of wood • Depending on the final product, either energy or mass recovery is more important • The practical yield depends on process efficiency and integration
Energy and Mass Yield from Wood
Technology
Practical Yield / BDT
Actual Yield‡ / BDT
Theoretical Yield * / Product or equivalent BDT
Value
Unit
%Mass
% Energy
Value
Unit
Gasification
Natural Gas
16.8
mcf
20
56
9.4
mcf
Pyrolysis
Crude Oil
145
gals
23
44
63
gals
Acid Hydrolysis
Ethanol
115
gals
29
43
84
gals
Enzyme Hydrolysis
Ethanol
115
gals
24
36
70
gals
Kraft Pulping
Pulp
0.65
tons
46
37
0.46
tons
Sulfite Pulping
Pulp, lignin, EtOH
0.85
tons
75
80
0.75
tons
Biomass Power Plant
Electricity
4.92
MWh
NA
28
1.37
MWh
*Based complete conversion from applicable feedstock fraction
(45% celluloses, 20% hemicelluloses, 30% lignin, 5% others)
‡Assumes 50% moisture in feedstock
Possible schemes of biorefineries in pulp and paper mills
• Co‐production with paper
– Small scale biorefinery products
• Waste streams as biorefinery feedstock
• Pre‐extraction
• Black liquor lignin extraction
– Medium to large scale biorefinery products
•
•
•
•
Black liquor gasification
Waste biomass gasification
Cellulose hydrolysis to biofuels
Retrofit acid based pulping + hemicelluloses hydrolysis
Possible schemes of biorefineries in pulp and paper mills
• Production of non‐paper products
– Biomass hydrolysis
• Enzymes, acid, acid + enzyme
– Biomass gasification
• Gasification, pyrolysis
• Optimum route process will be different for each location
Considerations for optimum process
• Existing paper / pulp products market and forecast – strategic long term planning
– e.g. newsprint / fluff / printing papers
• Fiber supply
– Softwood, hardwood, seasonal crops, low cost waste biomass
• Capital availability
– New alliances
• Risk tolerance
– Technology development status
– Few if any technology warrantees
• Energy sources
– Electrical export markets Optimum process design must consider all factors NOT just technology choice
AND
Use process integration to maximize inherent fit to existing infrastructure
AND
Maximize flexibility while reducing capital risk
Technology Considerations
• No off‐the‐shelf solution
• No process warranties for most technologies
• All solutions must be custom designed through the use of true process design and process integration
Winning Technologies
•
•
•
•
•
Create new products and markets Displace existing processes
Attract and reinvest capital
Are competitive and sustainable Take advantage of product mix flexibility
2010 ‐ Decision Time!
2020
2010
2000
OR?
Thank you!