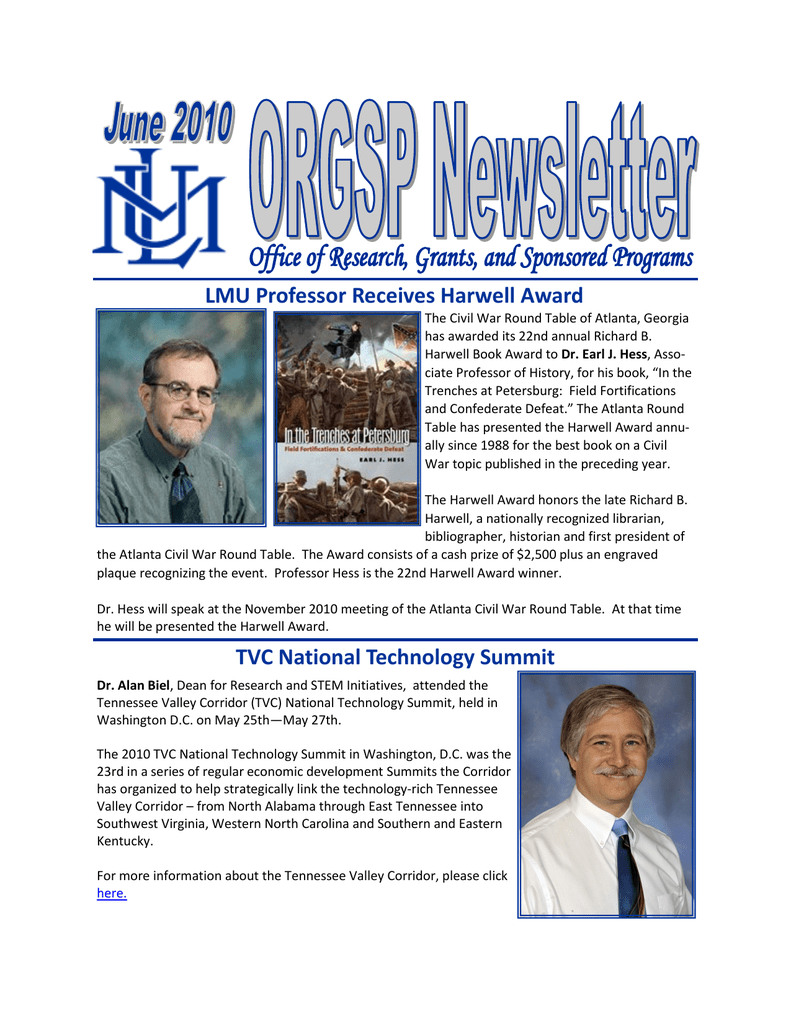 LMU Professor Receives Harwell Award
The Civil War Round Table of Atlanta, Georgia
has awarded its 22nd annual Richard B.
Harwell Book Award to Dr. Earl J. Hess, Associate Professor of History, for his book, "In the
Trenches at Petersburg: Field Fortifications
and Confederate Defeat." The Atlanta Round
Table has presented the Harwell Award annually since 1988 for the best book on a Civil
War topic published in the preceding year.
The Harwell Award honors the late Richard B.
Harwell, a nationally recognized librarian,
bibliographer, historian and first president of
the Atlanta Civil War Round Table. The Award consists of a cash prize of $2,500 plus an engraved
plaque recognizing the event. Professor Hess is the 22nd Harwell Award winner.
Dr. Hess will speak at the November 2010 meeting of the Atlanta Civil War Round Table. At that time
he will be presented the Harwell Award.
TVC National Technology Summit
Dr. Alan Biel, Dean for Research and STEM Initiatives, attended the
Tennessee Valley Corridor (TVC) National Technology Summit, held in
Washington D.C. on May 25th—May 27th.
The 2010 TVC National Technology Summit in Washington, D.C. was the
23rd in a series of regular economic development Summits the Corridor
has organized to help strategically link the technology-rich Tennessee
Valley Corridor – from North Alabama through East Tennessee into
Southwest Virginia, Western North Carolina and Southern and Eastern
Kentucky.
For more information about the Tennessee Valley Corridor, please click
here.
Recent Grant Submissions
Congratulations to those who recently put in the extra time and hard work it takes to submit a grant
application:
Elissa Graff, Assistant Professor of Art – National Endowment for the Arts (NEA) Fast-Track Grant for
project entitled "Winter in Appalachia- Traditional Arts & Crafts to Warm Hearth and Home"
Michelle Ganz, University Archivist and Cataloger – National Endowment for the Humanities (NEH) for
the Humanities Collections and Reference Resources Program.
Recent Grant Awards
The following are new grant awards that have been processed through the ORGSP. If your grant award
is not listed, please let us know.
Dr. Mary Anne Modrcin, Dean and Professor of Caylor School of Nursing — Health Resources and
Services Administration (HRSA) Advanced Education Nursing Traineeship $34,440.
Dr. Howard Teitelbaum, Professor of Preventative Medicine and Chair of Preventative and Community
Medicine, LMU-DCOM — Pfizer's Medical & Academic Partnerships (MAP) Health Literacy Visiting Professorship Award $7500.
Foundation Corner
Contributed by
Martha Scheidler, Director of Foundations
Last week I attended the Council for the Advancement and Support of
Education (CASE) conference for Corporate Foundation Relation Officers.
Here are a few thoughts that I brought back:
There is a growing emphasis on innovative research that is cross-discipline and impacts curriculum especially at the undergraduate level.
LMU is fortunate to have great people in ORGSP who work with all grant writers and faculty to
track, coordinate, communicate, educate and advance grant writing. Many universities struggle
with this coordination between grants and sponsored programs.
Foundations still value relationships, no matter how big they are. However, some are more
transactional and place more emphasis on process and return on investment (ROI).
Corporate relations are evolving into a comprehensive approach and holds great promise as a
strategic cross-campus relationship between the university and businesses.
There is a huge emphasis now on college accessibility and retention through "systemic" change,
removing barriers at all levels of the university experience to help students successfully navigate
through higher education institutions.
Congratulations to Dr. Jack McCann and the School of Business, and Dr. Cindy Skaruppa and the
Office of Student Services for their work with the Smithfield-Luter Foundation. The Foundation's
Learners to Leaders Program now has its first in-coming LMU Freshman, complete with new lap-top
and scholarship.
Thank you to the following people for their help with proposals:
Mr. Joshua Dodson: Google Grants
Dr. Toby Rogers: Lucille S. Thompson Foundation and The Sunrise Foundation
Dr. Jack McCann: Blackstone Charitable Foundation
Dr. Cindy Skaruppa: The Comcast Foundation, Lumina Foundation, Wal-Mart Foundation, and the
Coca-Cola Foundation
You can reach Martha at
(423) 869 6398, or
[email protected]
Recent Scholarly Activity
Dr. Ann Callahan, Assistant Professor of
Social Work, will present a poster for the
3rd Annual Meeting of the Society for
Spirituality, Theology & Health in
Durham, NC;
Callahan, A. M. (2010, June). A Qualitative Exploration of Spiritual Care
at the End-of-Life (Final Results).
Dean Jonathan Marcantel, Assistant
Dean of Assessment and Assistant Professor of the Duncan School of Law, has
had an article accepted for publication in
the Kansas Law Review, "Because Judges
are not Angels Either: Limiting Judicial
Discretion by Introducing Objectivity
into Piercing Doctrine."
Appalachian College Association
Call for Proposals
ACA Summit XIII 2010—Celebrating Success Across Appalachia: Strategies for Engaged Learning
October 22-23, 2010, in Abingdon, Virginia
For more information, please click here.
Proposals should be one to two pages, single spaced,
submitted electronically to the new ACA website by
Monday, June 28 for consideration.
Dr. Jack McCann, Dean
and Professor for the
School of Business, authored: "China's Textile
and Apparel Industry and
Dr. Jonathan Leo, Professor of Neurothe Global Market: Five
anatomy and Associate Dean of Students Competitive Forces,"
for DeBusk College of Osteopathic
accepted for publication
Medicine, has had an article published;
in a future issue of the
International Journal of
Lacasse J.R., Leo J. (2010) Ghostwriting at Sustainable Strategic
Elite Academic Medical Centers Management (IJSSM)
in the United States. PLoS Med 7 (Inderscience). Dr. McCann also presented the article at the
(2): e1000230. doi:10.1371/
Spring 2010 Society for the Advancement of Management
journal.pmed.1000230
International Conference at Arlington, VA.
Dr. Sandra McGuire, Assistant Dean and
Professor of Nursing, was reappointed to
AARP's National Policy Council (NPC). The
NPC is a 28 member, all volunteer, policy
analysis and advisory body to AARP's
Board of Directors. Dr. McGuire serves on
the NPC's Health and Long-Term Care
Committee. Her responsibilities include;
participating in national issue forums,
reviewing research, examining policy
trends and analyses, and making policy
recommendations to AARP's Board of
Directors.
Dr. Debra Salata, Assistant Professor of History, presented
a paper at the 45th International Congress on Medieval
Studies in Kalamazoo, MI entitled, "Commercial Relations
between Montpellier and Catalonia in the Fourteenth Century: Evidence from the Notarial Acta," on Friday, May 14,
2010.
From June 1-9, 2010, Dr. Debra Salata and Dr. Joanna Neilson, Assistant Professor of History, will be grading AP
World History exams at Colorado State University, Fort
Collins, CO.
Funding Opportunities
Details and deadlines for each opportunity can be found by clicking on
the corresponding links. This list , as well as a variety of public, private,
and institutional funding source databases, can also be found on the
ORGSP website under funding sources.
Fine Arts
Humanities
Sciences
Social Sciences
http://www.lmunet.edu/curstudents/ORGSP/funding-sources.shtml
Federal Registrar
Educational
International
Health Related
Unrestricted / Other
Minorities / Women
Dr. Alan Biel, Dean for Research and STEM Initiatives
[email protected]
or call (423) 869-6815
Pauline Lipscomb, Executive Director of the ORGSP
The ORGSP staff would like to
thank everyone for their
contributions to the newsletter!
[email protected]
or call (423) 869-6214
Carolyn Gulley, Post-Award Grants Manager
[email protected]
or call (423) 869-6291
As a reminder, all applications for
external funding must first begin by
contacting the ORGSP.
Stephanie Maiden, Administrative Assistant
[email protected]
or call (423) 869-6834
The ORGSP is located in
Duke, 304
http://www.lmunet.curstudents/ORGSP
If your grant award, application,
presentation, or publication has not
been mentioned in this edition,
please forward your information to
us using the contact information
listed on the left.