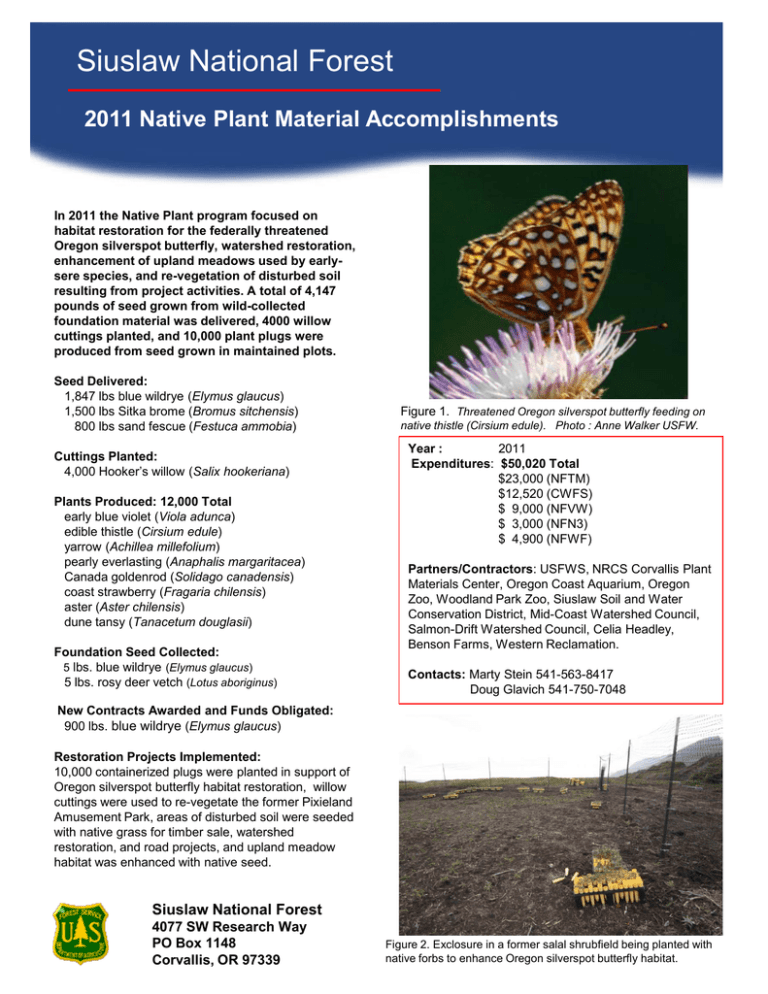 Siuslaw National Forest
Title text here
2011 Native Plant Material Accomplishments
In 2011 the Native Plant program focused on
habitat restoration for the federally threatened
Oregon silverspot butterfly, watershed restoration,
enhancement of upland meadows used by earlysere species, and re-vegetation of disturbed soil
resulting from project activities. A total of 4,147
pounds of seed grown from wild-collected
foundation material was delivered, 4000 willow
cuttings planted, and 10,000 plant plugs were
produced from seed grown in maintained plots.
Seed Delivered:
1,847 lbs blue wildrye (Elymus glaucus)
1,500 lbs Sitka brome (Bromus sitchensis)
800 lbs sand fescue (Festuca ammobia)
Cuttings Planted:
4,000 Hooker's willow (Salix hookeriana)
Plants Produced: 12,000 Total
early blue violet (Viola adunca)
edible thistle (Cirsium edule)
yarrow (Achillea millefolium)
pearly everlasting (Anaphalis margaritacea)
Canada goldenrod (Solidago canadensis)
coast strawberry (Fragaria chilensis)
aster (Aster chilensis)
dune tansy (Tanacetum douglasii)
Foundation Seed Collected:
5 lbs. blue wildrye (Elymus glaucus)
5 lbs. rosy deer vetch (Lotus aboriginus)
Figure 1. Threatened Oregon silverspot butterfly feeding on
native thistle (Cirsium edule). Photo : Anne Walker USFW.
Year :
2011
Expenditures: $50,020 Total
$23,000 (NFTM)
$12,520 (CWFS)
$ 9,000 (NFVW)
$ 3,000 (NFN3)
$ 4,900 (NFWF)
Partners/Contractors: USFWS, NRCS Corvallis Plant
Materials Center, Oregon Coast Aquarium, Oregon
Zoo, Woodland Park Zoo, Siuslaw Soil and Water
Conservation District, Mid-Coast Watershed Council,
Salmon-Drift Watershed Council, Celia Headley,
Benson Farms, Western Reclamation.
Contacts: Marty Stein 541-563-8417
Doug Glavich 541-750-7048
New Contracts Awarded and Funds Obligated:
900 lbs. blue wildrye (Elymus glaucus)
Restoration Projects Implemented:
10,000 containerized plugs were planted in support of
Oregon silverspot butterfly habitat restoration, willow
cuttings were used to re-vegetate the former Pixieland
Amusement Park, areas of disturbed soil were seeded
with native grass for timber sale, watershed
restoration, and road projects, and upland meadow
habitat was enhanced with native seed.
Siuslaw National Forest
4077 SW Research Way
PO Box 1148
Corvallis, OR 97339
Figure 2. Exclosure in a former salal shrubfield being planted with
native forbs to enhance Oregon silverspot butterfly habitat.