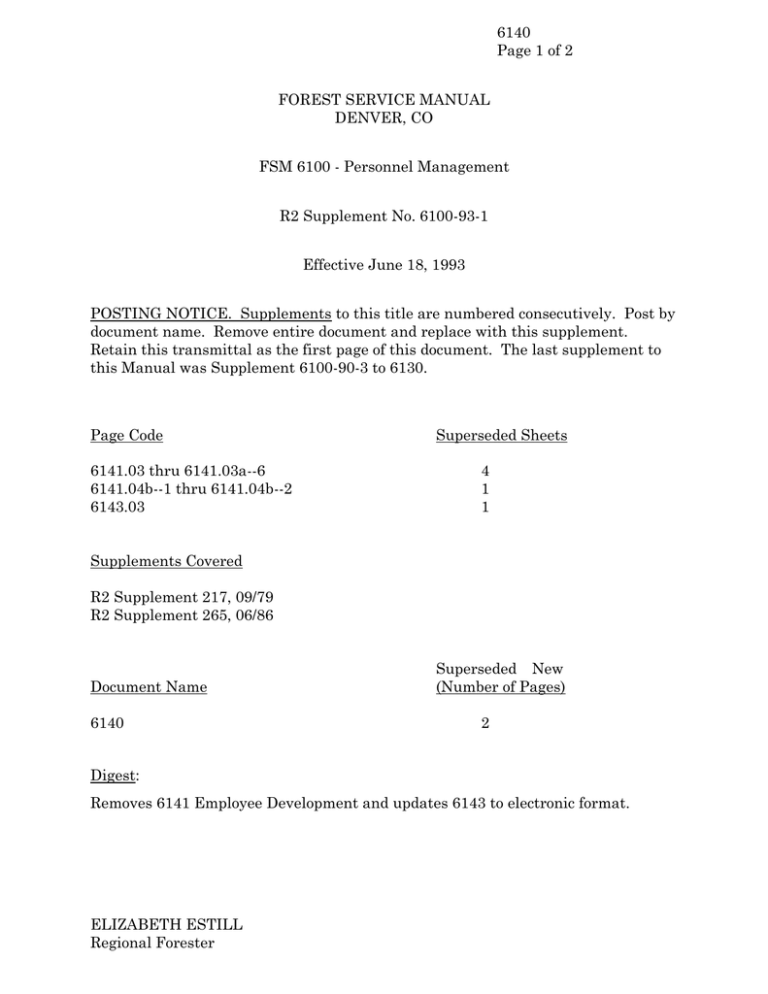 6140
Page 1 of 2
FOREST SERVICE MANUAL
DENVER, CO
FSM 6100 - Personnel Management
R2 Supplement No. 6100-93-1
Effective June 18, 1993
POSTING NOTICE. Supplements to this title are numbered consecutively. Post by
document name. Remove entire document and replace with this supplement.
Retain this transmittal as the first page of this document. The last supplement to
this Manual was Supplement 6100-90-3 to 6130.
Page Code
6141.03 thru 6141.03a--6
6141.04b--1 thru 6141.04b--2
6143.03
Superseded Sheets
4
1
1
Supplements Covered
R2 Supplement 217, 09/79
R2 Supplement 265, 06/86
Document Name
6140
Superseded New
(Number of Pages)
2
Digest:
Removes 6141 Employee Development and updates 6143 to electronic format.
ELIZABETH ESTILL
Regional Forester
R2 SUPPLEMENT 6100-93-1
EFFECTIVE 6/18/93
6140
Page 2 of 2
TITLE 6100 - PERSONNEL MANAGEMENT
6143 - EMPLOYEE ASSISTANCE PROGRAM.
6143.03 - Policy. Recognizing the benefits of preventative action, the Rocky
Mountain Region, as a part of its employee assistance program (CONCERN),
establishes an Employee Wellness Program (Life Style Modification Program).
It is understood and accepted that the Forest Service benefits and the general wellbeing and productivity of employees is enhanced when management provides and
supports a program of employee wellness.
It is policy that such a program will be established at the Regional and Forest level.
The Regional Forester will provide broad guidelines, technical assistance, oversight
and information to Forest Supervisors.
Local programs will complement the needs of local management, the employee and
families of employees.
1. Objective. The Rocky Mountain Region Life Style Modification program is
designed to provide an organizational culture which encourages and rewards
healthy employees, thereby enabling them to better cope with the variety of
pressures that affect the organization, the individual and the individual's family.
2. Consideration for Regional Action Plan
a. Each Forest will appoint a coordinator for the Employee Life Style
Modification Program. This could be the CONCERN, Safety or any other
person interested in and responsible for employee wellness.
b. Regional Coordinator will hold a training session on the Program.
c. Each Forest will prepare an Action Plan supplement to the R-2 Plan.
d. Develop an inventory of the Program components available to meet the
program objectives and distribute to Forests.
e. Regional Forester "Kick Off" program at the Regional Management
Team meeting.
f. Regional Coordinator develop video tape of the RF/RMT discussion of
the Program and distribute to Forests.