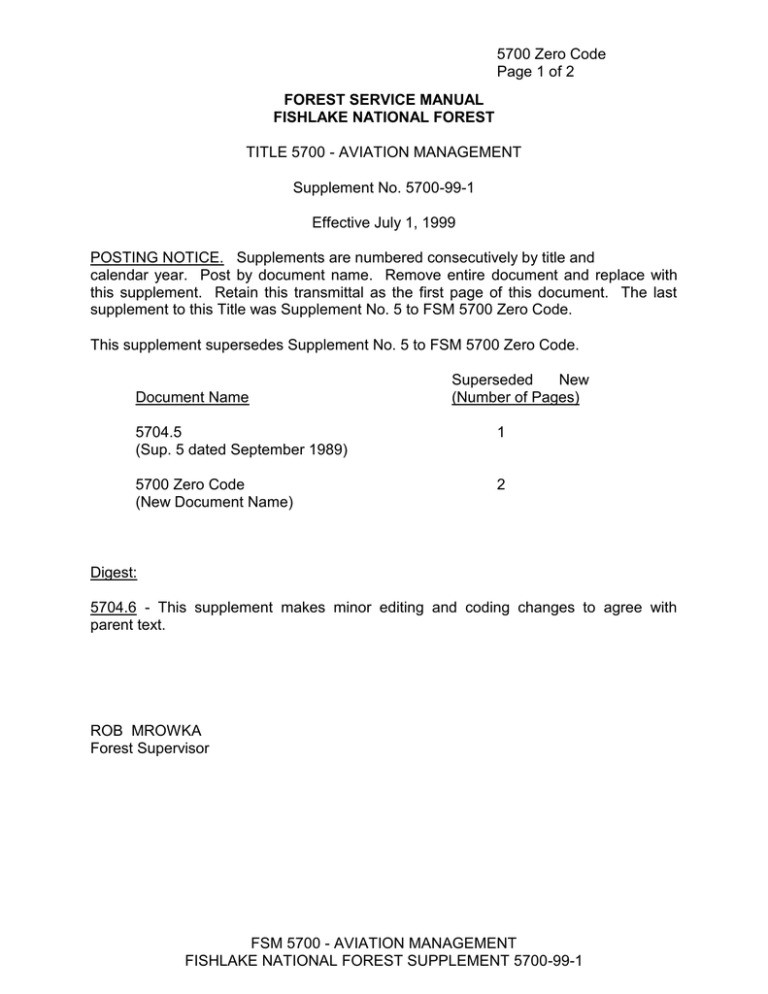 5700 Zero Code
Page 1 of 2
FOREST SERVICE MANUAL
FISHLAKE NATIONAL FOREST
TITLE 5700 - AVIATION MANAGEMENT
Supplement No. 5700-99-1
Effective July 1, 1999
POSTING NOTICE. Supplements are numbered consecutively by title and
calendar year. Post by document name. Remove entire document and replace with
this supplement. Retain this transmittal as the first page of this document. The last
supplement to this Title was Supplement No. 5 to FSM 5700 Zero Code.
This supplement supersedes Supplement No. 5 to FSM 5700 Zero Code.
Document Name
Superseded
New
(Number of Pages)
5704.5
(Sup. 5 dated September 1989)
1
5700 Zero Code
(New Document Name)
2
Digest:
5704.6 - This supplement makes minor editing and coding changes to agree with
parent text.
ROB MROWKA
Forest Supervisor
FSM 5700 - AVIATION MANAGEMENT
FISHLAKE NATIONAL FOREST SUPPLEMENT 5700-99-1
FNF SUPPLEMENT 5700-99-1
EFFECTIVE 7/1/99
5700 Zero Code
Page 2 of 2
EFFECTIVE 7/1/99
ZERO CODE
5704.6 - Forest Supervisors. The Project Fire Management Officer is designated the
Forest Aviation Officer for the Fishlake National Forest.