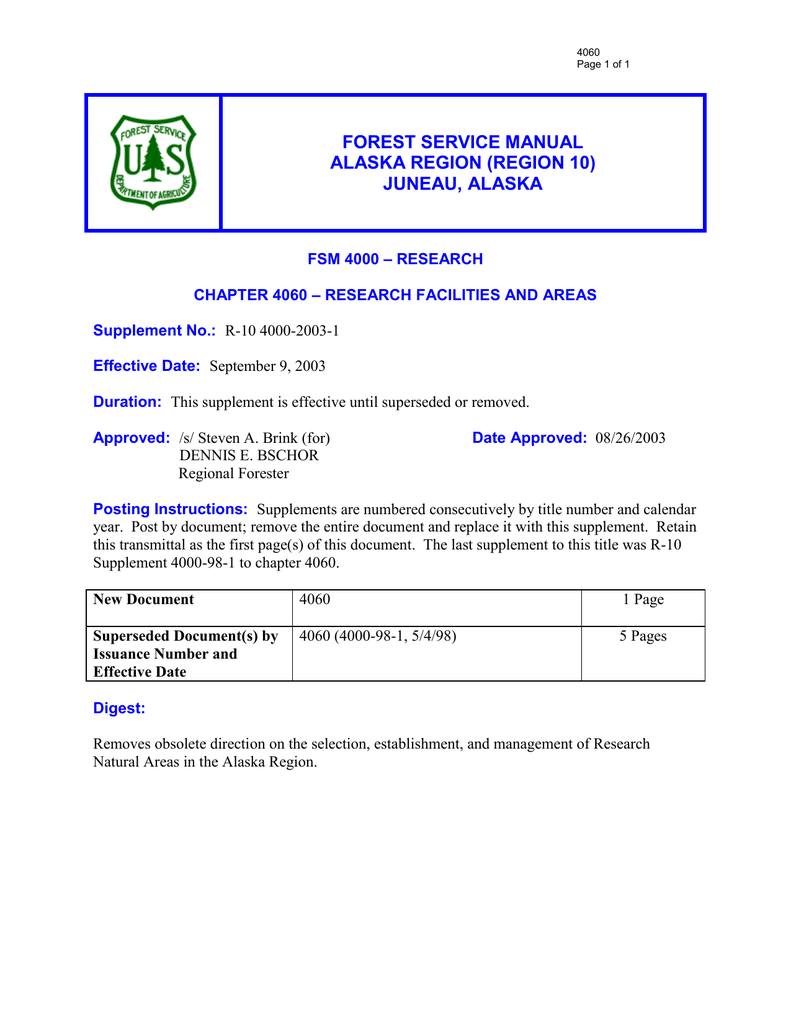 4060
Page 1 of 1
FOREST SERVICE MANUAL
ALASKA REGION (REGION 10)
JUNEAU, ALASKA
FSM 4000 – RESEARCH
CHAPTER 4060 – RESEARCH FACILITIES AND AREAS
Supplement No.: R-10 4000-2003-1
Effective Date: September 9, 2003
Duration: This supplement is effective until superseded or removed.
Approved: /s/ Steven A. Brink (for)
DENNIS E. BSCHOR
Regional Forester
Date Approved: 08/26/2003
Posting Instructions: Supplements are numbered consecutively by title number and calendar
year. Post by document; remove the entire document and replace it with this supplement. Retain
this transmittal as the first page(s) of this document. The last supplement to this title was R-10
Supplement 4000-98-1 to chapter 4060.
New Document
4060
1 Page
Superseded Document(s) by
Issuance Number and
Effective Date
4060 (4000-98-1, 5/4/98)
5 Pages
Digest:
Removes obsolete direction on the selection, establishment, and management of Research
Natural Areas in the Alaska Region.