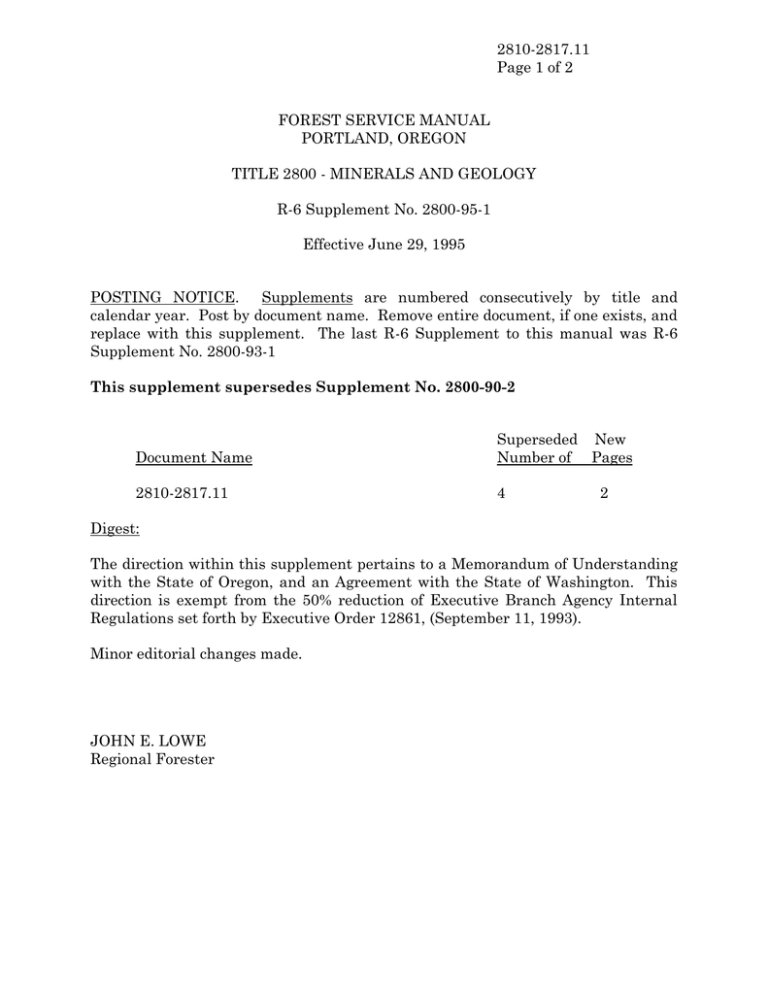 2810-2817.11
Page 1 of 2
FOREST SERVICE MANUAL
PORTLAND, OREGON
TITLE 2800 - MINERALS AND GEOLOGY
R-6 Supplement No. 2800-95-1
Effective June 29, 1995
POSTING NOTICE. Supplements are numbered consecutively by title and
calendar year. Post by document name. Remove entire document, if one exists, and
replace with this supplement. The last R-6 Supplement to this manual was R-6
Supplement No. 2800-93-1
This supplement supersedes Supplement No. 2800-90-2
Document Name
Superseded New
Number of Pages
2810-2817.11
4
2
Digest:
The direction within this supplement pertains to a Memorandum of Understanding
with the State of Oregon, and an Agreement with the State of Washington. This
direction is exempt from the 50% reduction of Executive Branch Agency Internal
Regulations set forth by Executive Order 12861, (September 11, 1993).
Minor editorial changes made.
JOHN E. LOWE
Regional Forester
R-6 SUPPLEMENT 2800-90-2
EFFECTIVE 8/1/90
2810-2817.11
Page 2 of 4
FSM 2800 - MINERALS AND GEOLOGY
R-6 SUPPLEMENT 2800-95-1
EFFECTIVE 6/29/95
CHAPTER 2810 - MINING CLAIMS
2817 - SURFACE MANAGEMENT PROCEDURES UNDER 36 CFR 228 SUBPART
A
2817.03 - Policy
1.
Oregon. Operating plans involving excavations in excess of 5,000 cubic
yards or over 1 acre of disturbance in any consecutive 12-month period will require
coordination with Oregon Department of Geology and Mineral Industries
(DOGAMI), pursuant to an interagency Memorandum of Understanding (FSM
2801.3 Exhibit 01).
2.
Washington. Operating plans involving disturbance of 2 or more acres
or the production of 10,000 or more tons of mineral, per year, will require
coordination with Washington Division of Geology and Earth Resources,
Department of Natural Resources, pursuant to an interagency Agreement (FSM
2801.3 Exhibit 02).