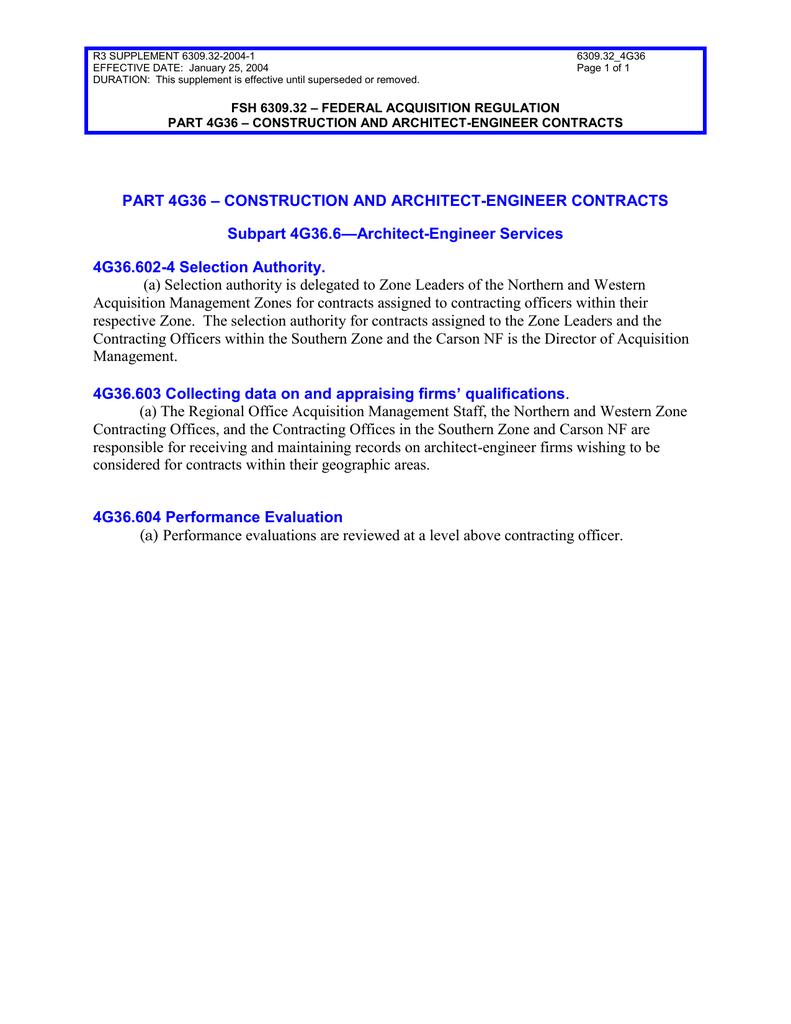 R3 SUPPLEMENT 6309.32-2004-1
EFFECTIVE DATE: January 25, 2004
DURATION: This supplement is effective until superseded or removed.
6309.32_4G36
Page 1 of 1
FSH 6309.32 – FEDERAL ACQUISITION REGULATION
PART 4G36 – CONSTRUCTION AND ARCHITECT-ENGINEER CONTRACTS
PART 4G36 – CONSTRUCTION AND ARCHITECT-ENGINEER CONTRACTS
Subpart 4G36.6—Architect-Engineer Services
4G36.602-4 Selection Authority.
(a) Selection authority is delegated to Zone Leaders of the Northern and Western
Acquisition Management Zones for contracts assigned to contracting officers within their
respective Zone. The selection authority for contracts assigned to the Zone Leaders and the
Contracting Officers within the Southern Zone and the Carson NF is the Director of Acquisition
Management.
4G36.603 Collecting data on and appraising firms' qualifications.
(a) The Regional Office Acquisition Management Staff, the Northern and Western Zone
Contracting Offices, and the Contracting Offices in the Southern Zone and Carson NF are
responsible for receiving and maintaining records on architect-engineer firms wishing to be
considered for contracts within their geographic areas.
4G36.604 Performance Evaluation
(a) Performance evaluations are reviewed at a level above contracting officer.