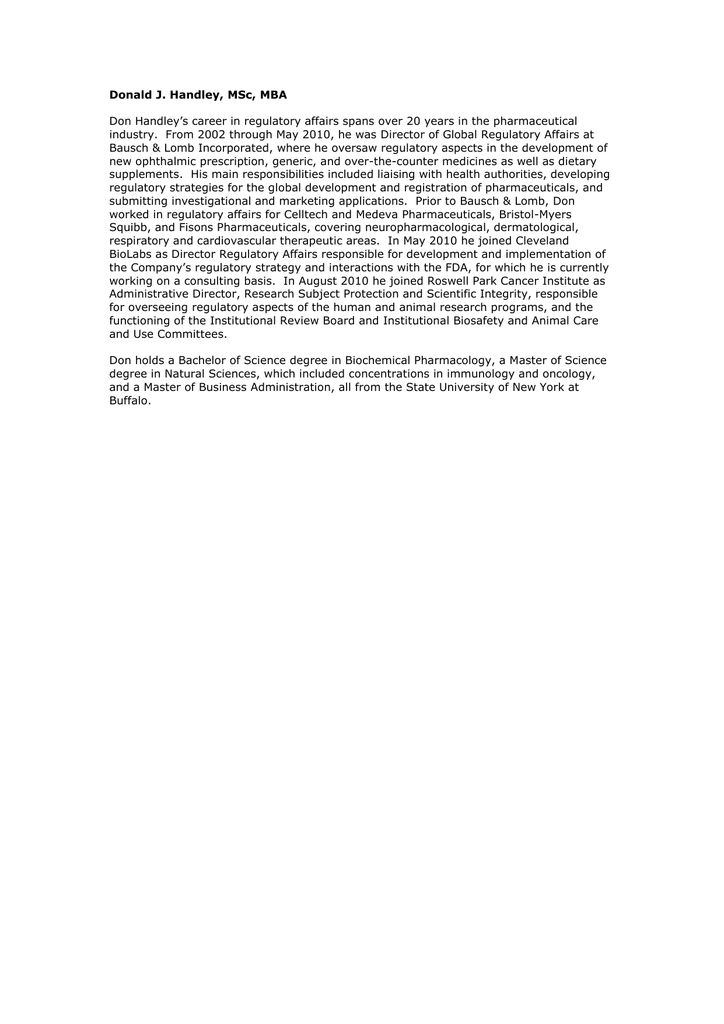 Donald J. Handley, MSc, MBA
Don Handley's career in regulatory affairs spans over 20 years in the pharmaceutical
industry. From 2002 through May 2010, he was Director of Global Regulatory Affairs at
Bausch & Lomb Incorporated, where he oversaw regulatory aspects in the development of
new ophthalmic prescription, generic, and over-the-counter medicines as well as dietary
supplements. His main responsibilities included liaising with health authorities, developing
regulatory strategies for the global development and registration of pharmaceuticals, and
submitting investigational and marketing applications. Prior to Bausch & Lomb, Don
worked in regulatory affairs for Celltech and Medeva Pharmaceuticals, Bristol-Myers
Squibb, and Fisons Pharmaceuticals, covering neuropharmacological, dermatological,
respiratory and cardiovascular therapeutic areas. In May 2010 he joined Cleveland
BioLabs as Director Regulatory Affairs responsible for development and implementation of
the Company's regulatory strategy and interactions with the FDA, for which he is currently
working on a consulting basis. In August 2010 he joined Roswell Park Cancer Institute as
Administrative Director, Research Subject Protection and Scientific Integrity, responsible
for overseeing regulatory aspects of the human and animal research programs, and the
functioning of the Institutional Review Board and Institutional Biosafety and Animal Care
and Use Committees.
Don holds a Bachelor of Science degree in Biochemical Pharmacology, a Master of Science
degree in Natural Sciences, which included concentrations in immunology and oncology,
and a Master of Business Administration, all from the State University of New York at
Buffalo.