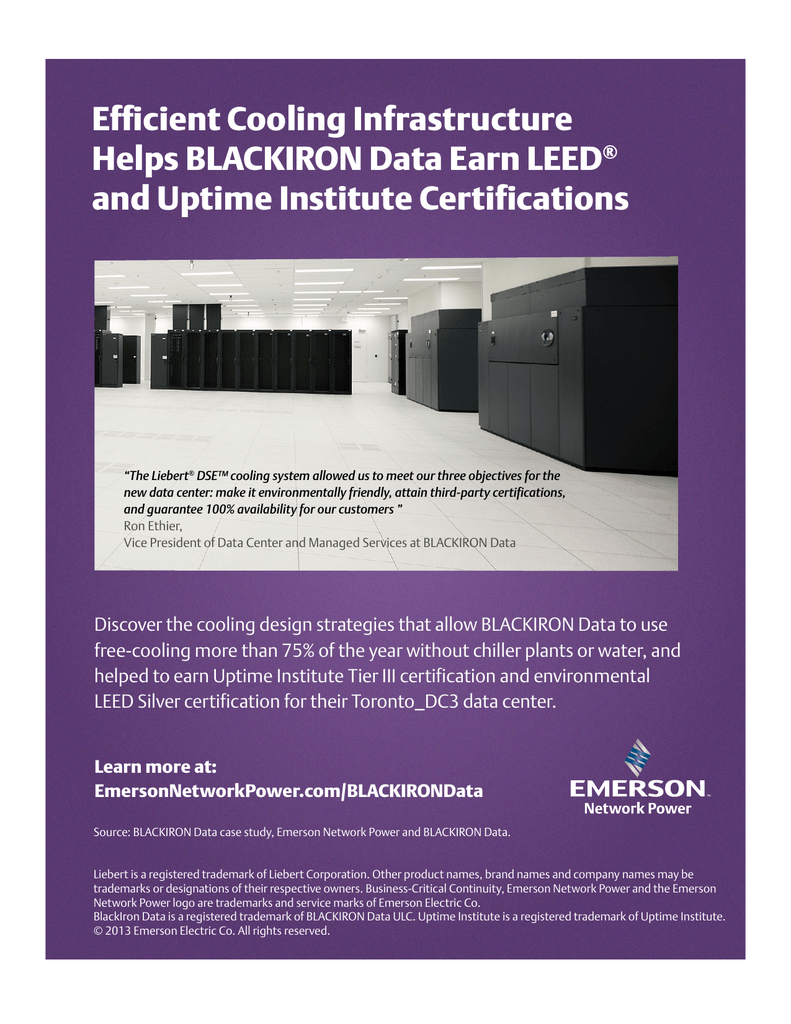 Efficient Cooling Infrastructure
Helps BLACKIRON Data Earn LEED®
and Uptime Institute Certifications
"The Liebert® DSE™ cooling system allowed us to meet our three objectives for the
new data center: make it environmentally friendly, attain third-party certifications,
and guarantee 100% availability for our customers "
Ron Ethier,
Vice President of Data Center and Managed Services at BLACKIRON Data
Discover the cooling design strategies that allow BLACKIRON Data to use
free-cooling more than 75% of the year without chiller plants or water, and
helped to earn Uptime Institute Tier III certification and environmental
LEED Silver certification for their Toronto_DC3 data center.
Learn more at:
EmersonNetworkPower.com/BLACKIRONData
Source: BLACKIRON Data case study, Emerson Network Power and BLACKIRON Data.
Liebert is a registered trademark of Liebert Corporation. Other product names, brand names and company names may be
trademarks or designations of their respective owners. Business-Critical Continuity, Emerson Network Power and the Emerson
Network Power logo are trademarks and service marks of Emerson Electric Co.
BlackIron Data is a registered trademark of BLACKIRON Data ULC. Uptime Institute is a registered trademark of Uptime Institute.
© 2013 Emerson Electric Co. All rights reserved.