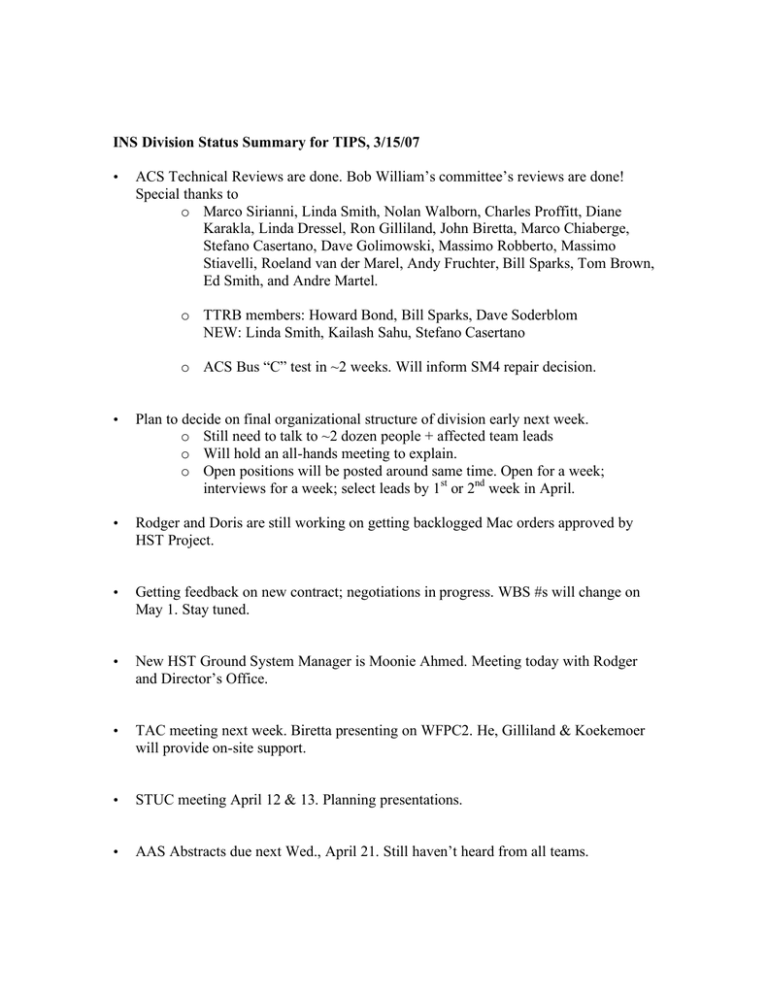 INS Division Status Summary for TIPS, 3/15/07
•
ACS Technical Reviews are done. Bob William's committee's reviews are done!
Special thanks to
o Marco Sirianni, Linda Smith, Nolan Walborn, Charles Proffitt, Diane
Karakla, Linda Dressel, Ron Gilliland, John Biretta, Marco Chiaberge,
Stefano Casertano, Dave Golimowski, Massimo Robberto, Massimo
Stiavelli, Roeland van der Marel, Andy Fruchter, Bill Sparks, Tom Brown,
Ed Smith, and Andre Martel.
o TTRB members: Howard Bond, Bill Sparks, Dave Soderblom
NEW: Linda Smith, Kailash Sahu, Stefano Casertano
o ACS Bus "C" test in ~2 weeks. Will inform SM4 repair decision.
•
Plan to decide on final organizational structure of division early next week.
o Still need to talk to ~2 dozen people + affected team leads
o Will hold an all-hands meeting to explain.
o Open positions will be posted around same time. Open for a week;
interviews for a week; select leads by 1st or 2nd week in April.
•
Rodger and Doris are still working on getting backlogged Mac orders approved by
HST Project.
•
Getting feedback on new contract; negotiations in progress. WBS #s will change on
May 1. Stay tuned.
•
New HST Ground System Manager is Moonie Ahmed. Meeting today with Rodger
and Director's Office.
•
TAC meeting next week. Biretta presenting on WFPC2. He, Gilliland & Koekemoer
will provide on-site support.
•
STUC meeting April 12 & 13. Planning presentations.
•
AAS Abstracts due next Wed., April 21. Still haven't heard from all teams.