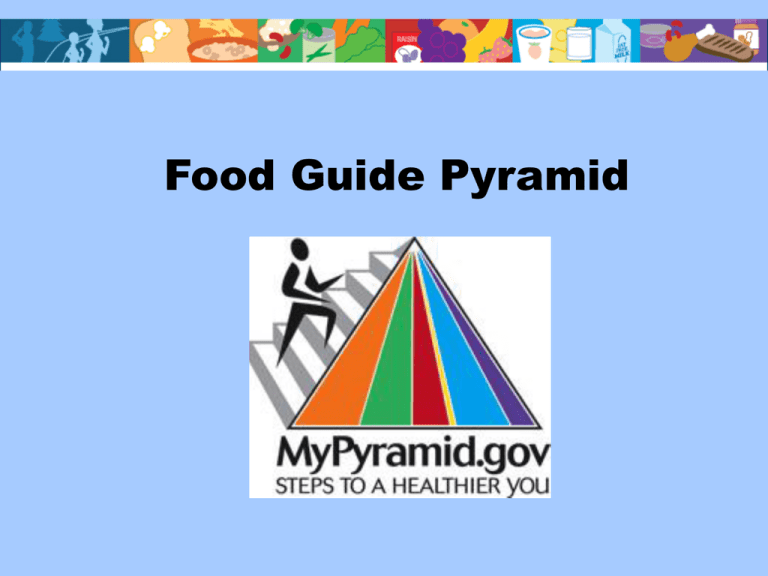 Food Guide Pyramid
Using the Pyramid
• Make smart choices
from every food
group.
• Find your balance
between food and
physical activity.
• Get the most
nutrition out of your
calories.
Make half your grains
whole!
• Use an
unsweetened whole
grain cereal instead
of croutons.
• To eat more wholegrains, substitute a
whole grain for a
refined grain.
– Whole wheat bread
instead of white
Vary your veggies!
• Try a main dish
salad for lunch, go
easy on salad
dressing.
• Plan meals around a
vegetable main dish.
• Include veggies in
pasta sauce or
lasagna.
Focus on fruit!
• Keep a bowl of
whole fruit on the
counter.
• Make most of your
fruit whole or cut up,
limit amount of
juices.
• Top your cereal with
fruit.
Get calcium rich foods!
• Add fat-free milk to
oatmeal instead of
water.
• Use fat-free yogurt
as fruit an veggie
dip.
• Calcium fortified
juice, cereal, or soy
beverages.
Go lean with Protein!
• Choose lean meat
products.
• Try to incorporate as
much fish rich in
omega-3 fatty acids.
• Choose beans as
part of meal.
– Kidney beans in chili.
Balance food & physical
activity
• Physical activity
should be moderate
and at least 30
minutes a day.
• Many good
examples other than
traditional exercise.
Food Guide Pyramid
• Find additional information at
www.mypyramid.gov
• Any Questions?