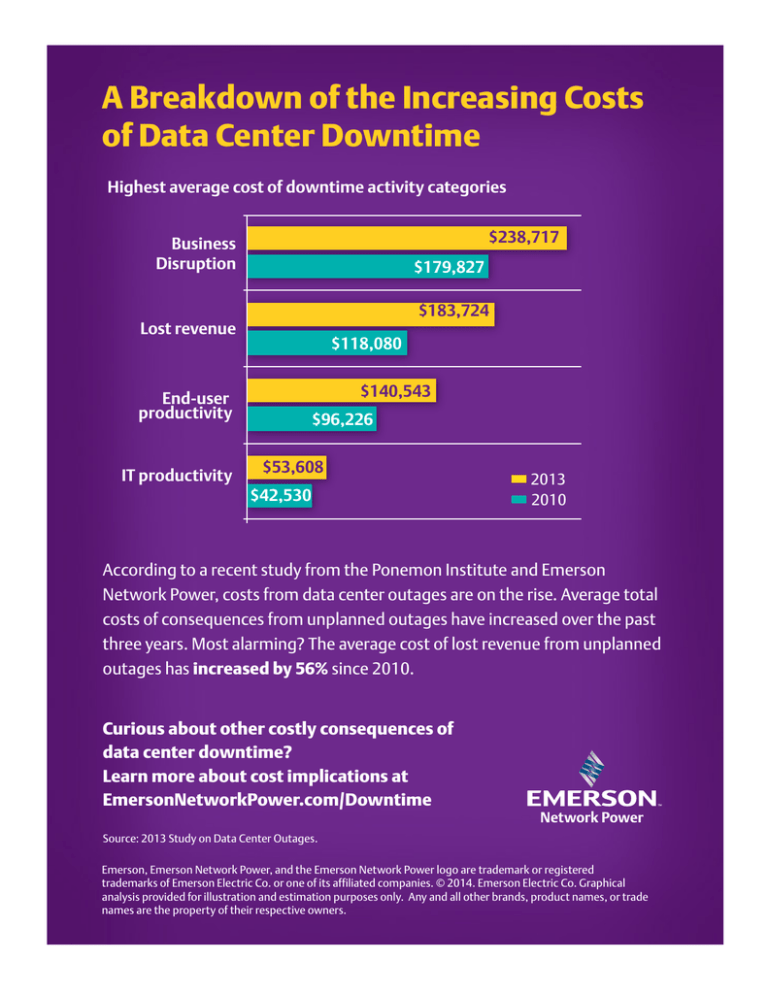 A Breakdown of the Increasing Costs
of Data Center Downtime
Highest average cost of downtime activity categories
$238,717
Business
Disruption
$179,827
$183,724
Lost revenue
$118,080
$140,543
End-user
productivity
IT productivity
$96,226
$53,608
$42,530
2013
2010
According to a recent study from the Ponemon Institute and Emerson
Network Power, costs from data center outages are on the rise. Average total
costs of consequences from unplanned outages have increased over the past
three years. Most alarming? The average cost of lost revenue from unplanned
outages has increased by 56% since 2010.
Curious about other costly consequences of
data center downtime?
Learn more about cost implications at
EmersonNetworkPower.com/Downtime
Source: 2013 Study on Data Center Outages.
Emerson, Emerson Network Power, and the Emerson Network Power logo are trademark or registered
trademarks of Emerson Electric Co. or one of its affiliated companies. © 2014. Emerson Electric Co. Graphical
analysis provided for illustration and estimation purposes only. Any and all other brands, product names, or trade
names are the property of their respective owners.