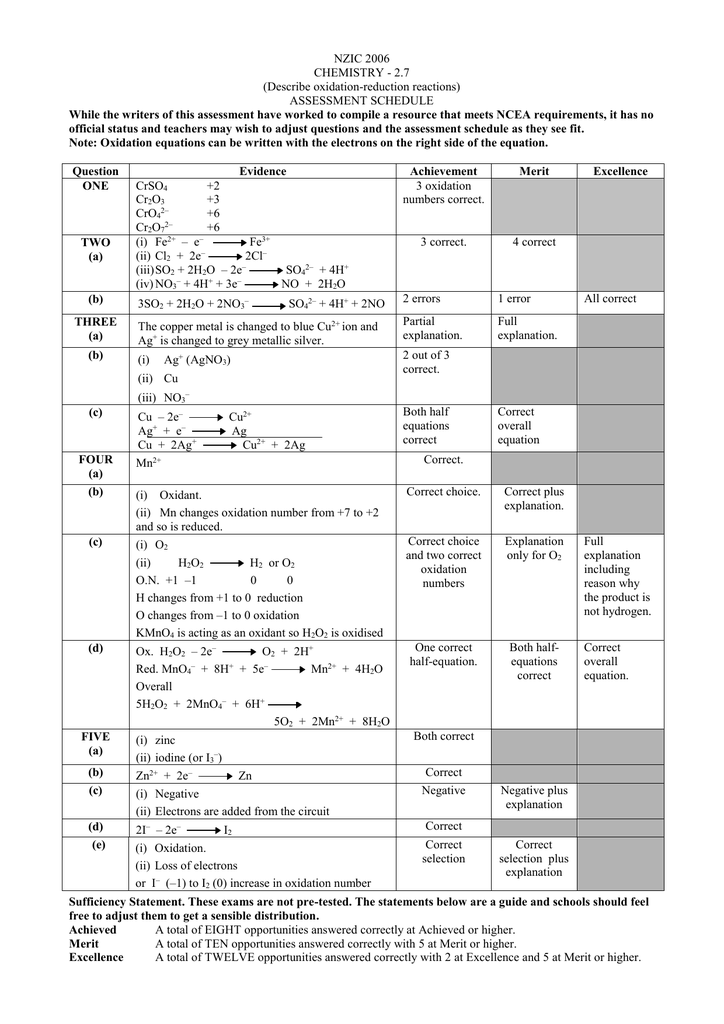 NZIC 2006
CHEMISTRY - 2.7
(Describe oxidation-reduction reactions)
ASSESSMENT SCHEDULE
While the writers of this assessment have worked to compile a resource that meets NCEA requirements, it has no
official status and teachers may wish to adjust questions and the assessment schedule as they see fit.
Note: Oxidation equations can be written with the electrons on the right side of the equation.
Question
ONE
TWO
(a)
(b)
THREE
(a)
(b)
Evidence
CrSO4
+2
Cr2O3
+3
CrO42–
+6
Cr2O72–
+6
(i) Fe2+ – e–
Fe3+
–
(ii) Cl2 + 2e
2Cl–
–
(iii) SO2 + 2H2O – 2e
SO42– + 4H+
–
+
–
(iv) NO3 + 4H + 3e
NO + 2H2O
Achievement
3 oxidation
numbers correct.
Merit
3 correct.
4 correct
3SO2 + 2H2O + 2NO3–
2 errors
1 error
Partial
explanation.
Full
explanation.
SO42– + 4H+ + 2NO
The copper metal is changed to blue Cu2+ ion and
Ag+ is changed to grey metallic silver.
(i)
Excellence
All correct
2 out of 3
correct.
Ag+ (AgNO3)
(ii) Cu
(iii) NO3–
(c)
FOUR
(a)
Cu – 2e–
Ag+ + e–
Cu + 2Ag+
Cu2+
Ag
Cu2+ + 2Ag
Both half
equations
correct
Correct
overall
equation
Correct.
Mn2+
(b)
(i) Oxidant.
(ii) Mn changes oxidation number from +7 to +2
and so is reduced.
Correct choice.
Correct plus
explanation.
(c)
(i) O2
(ii)
H 2O 2
H2 or O2
O.N. +1 –1
0
0
H changes from +1 to 0 reduction
O changes from –1 to 0 oxidation
KMnO4 is acting as an oxidant so H2O2 is oxidised
Correct choice
and two correct
oxidation
numbers
Explanation
only for O2
(d)
Ox. H2O2 – 2e–
O2 + 2H+
Red. MnO4– + 8H+ + 5e–
Mn2+ + 4H2O
Overall
5H2O2 + 2MnO4– + 6H+
5O2 + 2Mn2+ + 8H2O
One correct
half-equation.
Both halfequations
correct
FIVE
(a)
Correct
overall
equation.
Both correct
(i) zinc
(ii) iodine (or I3–)
(b)
Zn2+ + 2e–
(c)
(i) Negative
(ii) Electrons are added from the circuit
(d)
2I– – 2e–
(e)
Full
explanation
including
reason why
the product is
not hydrogen.
Zn
I2
(i) Oxidation.
(ii) Loss of electrons
or I– (–1) to I2 (0) increase in oxidation number
Correct
Negative
Negative plus
explanation
Correct
Correct
selection
Correct
selection plus
explanation
Sufficiency Statement. These exams are not pre-tested. The statements below are a guide and schools should feel
free to adjust them to get a sensible distribution.
Achieved
A total of EIGHT opportunities answered correctly at Achieved or higher.
Merit
A total of TEN opportunities answered correctly with 5 at Merit or higher.
Excellence
A total of TWELVE opportunities answered correctly with 2 at Excellence and 5 at Merit or higher.