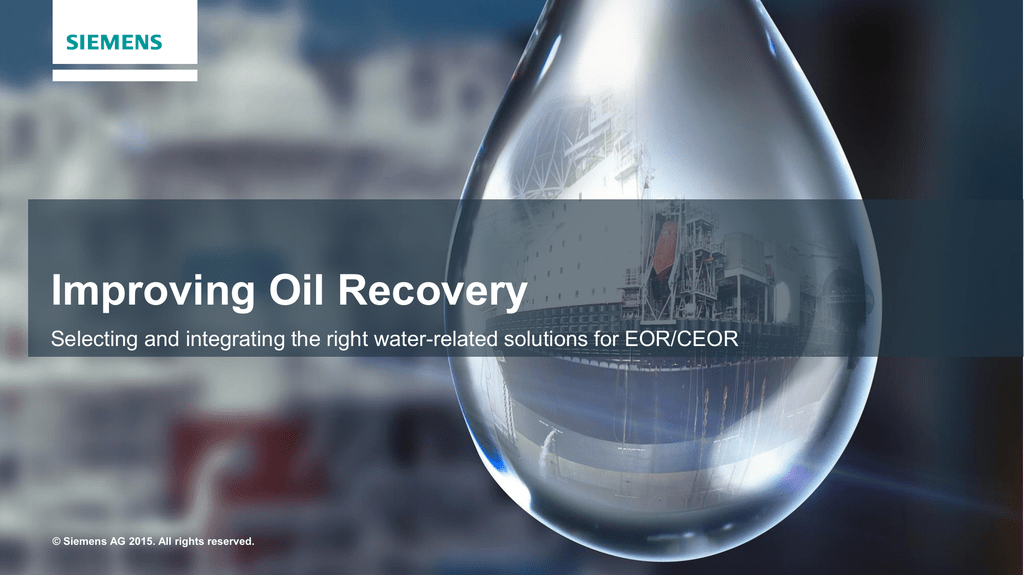 Improving Oil Recovery
Selecting and integrating the right water-related solutions for EOR/CEOR
© Siemens AG 2015. All rights reserved.
Challenges & opportunities with low salinity systems
• Water based EOR/CEOR price is substantial (5-20% more OOIP recovery)
• Water flooding mechanisms are well known, but each reservoir case is unique.
• Technologies are available and mature, but low salinity system is technically
complex with few references in operation
• System know-how and experience in the oil & gas industry is limited.
• Offshore retrofitting is very challenging
© Siemens AG 2015. All rights reserved.
Build on experience with Sulphate Removal Systems (SRP)
Lessons learned with Sulphate Removal System installations:
• 20 years operation with SRP's / > 80 systems in total
• Average system availability < 90% (global market)
• Roughly 70% of operation troubles caused by inadequate
pre-treatment (scaling/fouling) and wrong chemical
handling
• Number of start up / shut downs correlates with number of
failures
• Inferior materials, equipment, lack of plant operation knowledge
of personnel causing downtime
• Interface issues (lack of holistic seawater treatment design)
100k bwpd Seawater SRP module.
18m x 8m x 18 m size / 320 MT dry weight
© Siemens AG 2015. All rights reserved.
EOR / Low salinity system is to 40% larger and more expensive
than a sulphate removal system
Pre-treatment capacity
increase with 25-30%
Two different sets of
pumps for NF/RO
Energy Recovery System
Parallel operation of NF and RO
systems. NF permeate is mixed
with RO permeate to meet
specified product water.
Pressure class
from 300# to 600#
Quantity of valves
increases
Larger feed pumps
© Siemens AG 2015. All rights reserved.
Design parameters and consideration
• The NF and RO membranes dictates system
design, being highly sensitive and subject
to fouling by suspended materials, and not
tolerant to hydrocarbons, chlorine and
miscellaneous gases.
• Pretreatment is critical factor for system
integrity, uptime and membrane lifetime.
• Feed water temperature impacts flux, energy,
size, and permeate
• Design product / permeate (blend system)
• Design flow / pressure (no variations)
• Metallurgy (non-corroding higher grade materials)
© Siemens AG 2015. All rights reserved.
Membrane pre-treatment is key factor for success
Ultrafiltration is the best available pre-treatment for NF/RO membranes
Desalination (SWRO) 100,000
BPD
Membrane projections and
system design
MMF Cartridge
Ultrafiltration
MMF
Cartridge
Ultrafiltration
198 / 1386
160 / 1120
168 / 1008
144 / 864
Chemical wash frequency [per
year]
4-6
1
4-6
1
System availability [planned]
89-92%
97%
89-92%
97%
42%
50%
75%
75%
3
6+
3
6+
No of pressure
vessels/membranes
System recovery
Membrane lifetime
SCUF – Ultrafiltration system for oil & gas
offshore operation
© Siemens AG 2015. All rights reserved.
Sulfate Removal (SR)
150,000 BPD
Typically a SRP or Low Salinity Module with Ultrafiltration will
be 20% less size/weight than with MMF and Cartridge filters,
and 50% less OPEX.
Implementing an EOR / Low Salinity System
Key messages:
• Do it right at the beginning!
Invest in early design phase. Involve operation personnel in the
Feed, RFQ and Supplier evaluation
• No compromise on quality of pretreatment, material
and equipment – must be reflected in the RFQ
• Quality of maintenance.
Proactive, accurate readings, regular calibration, and strategic
spares
• Quality in operation.
Continuous operation at design capacity, operator training,
accuracy in testing and trends, correct chemicals
• Net present value approach when selecting
technologies/suppliers
© Siemens AG 2015. All rights reserved.
Looking ahead…
Emerging technology solutions:
• Digitalization (fully automated operation and remote
controlled maintenance tasks).
• Compact membrane solutions (to 40% reduction
in size and weight)
• Tailor made water chemistry - more ion specific
technologies
• Advanced produced water technologies enables
safer produced water re-injection
• Sub sea EOR/CEOR water flood systems
Produced water
Produced
water
treatment
Seawater
treatment
•
•
•
•
•
•
•
•
•
•
•
Oil
Particles
TDS
Hardness
Sulfate
Gases
Particles
TDS
Hardness
Sulfate
Oxygen
Injection
Producing
reservoir
Make up
water
Injection
The Vision: Produced water recycle loop with ideal fluid properties for IOR/EOR at the seabed
© Siemens AG 2015. All rights reserved.
We are happy to answer your questions!
© Siemens AG 2015.
2013. All rights reserved.