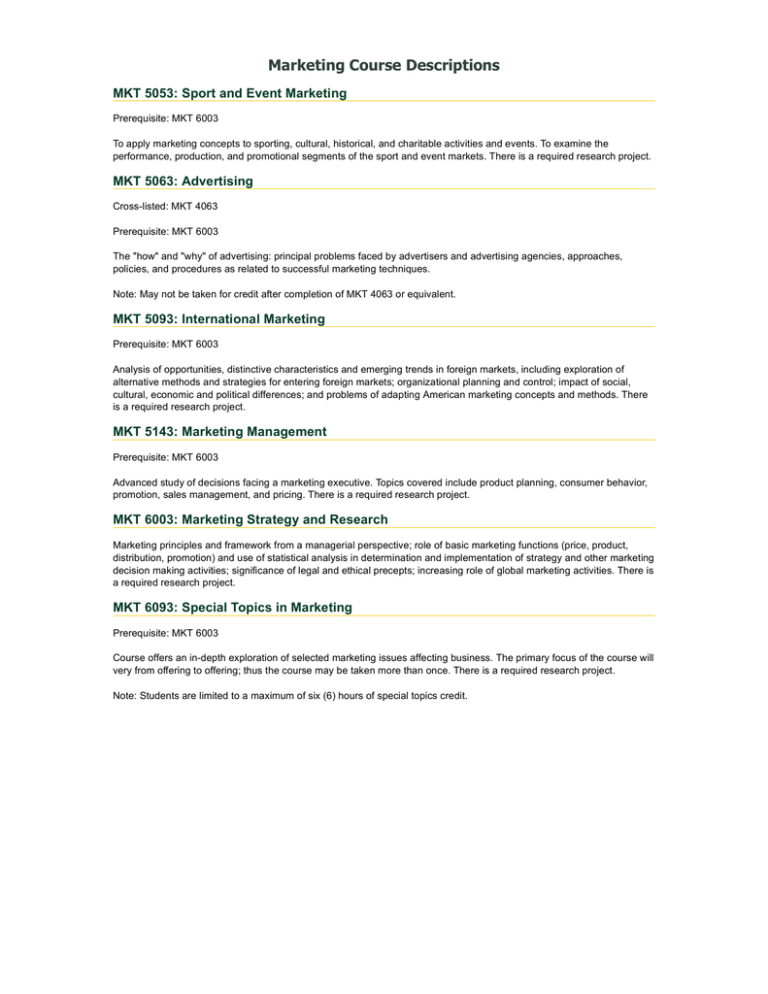 Marketing Course Descriptions
MKT 5053: Sport and Event Marketing
Prerequisite: MKT 6003
To apply marketing concepts to sporting, cultural, historical, and charitable activities and events. To examine the
performance, production, and promotional segments of the sport and event markets. There is a required research project.
MKT 5063: Advertising
Cross-listed: MKT 4063
Prerequisite: MKT 6003
The "how" and "why" of advertising: principal problems faced by advertisers and advertising agencies, approaches,
policies, and procedures as related to successful marketing techniques.
Note: May not be taken for credit after completion of MKT 4063 or equivalent.
MKT 5093: International Marketing
Prerequisite: MKT 6003
Analysis of opportunities, distinctive characteristics and emerging trends in foreign markets, including exploration of
alternative methods and strategies for entering foreign markets; organizational planning and control; impact of social,
cultural, economic and political differences; and problems of adapting American marketing concepts and methods. There
is a required research project.
MKT 5143: Marketing Management
Prerequisite: MKT 6003
Advanced study of decisions facing a marketing executive. Topics covered include product planning, consumer behavior,
promotion, sales management, and pricing. There is a required research project.
MKT 6003: Marketing Strategy and Research
Marketing principles and framework from a managerial perspective; role of basic marketing functions (price, product,
distribution, promotion) and use of statistical analysis in determination and implementation of strategy and other marketing
decision making activities; significance of legal and ethical precepts; increasing role of global marketing activities. There is
a required research project.
MKT 6093: Special Topics in Marketing
Prerequisite: MKT 6003
Course offers an in-depth exploration of selected marketing issues affecting business. The primary focus of the course will
very from offering to offering; thus the course may be taken more than once. There is a required research project.
Note: Students are limited to a maximum of six (6) hours of special topics credit.