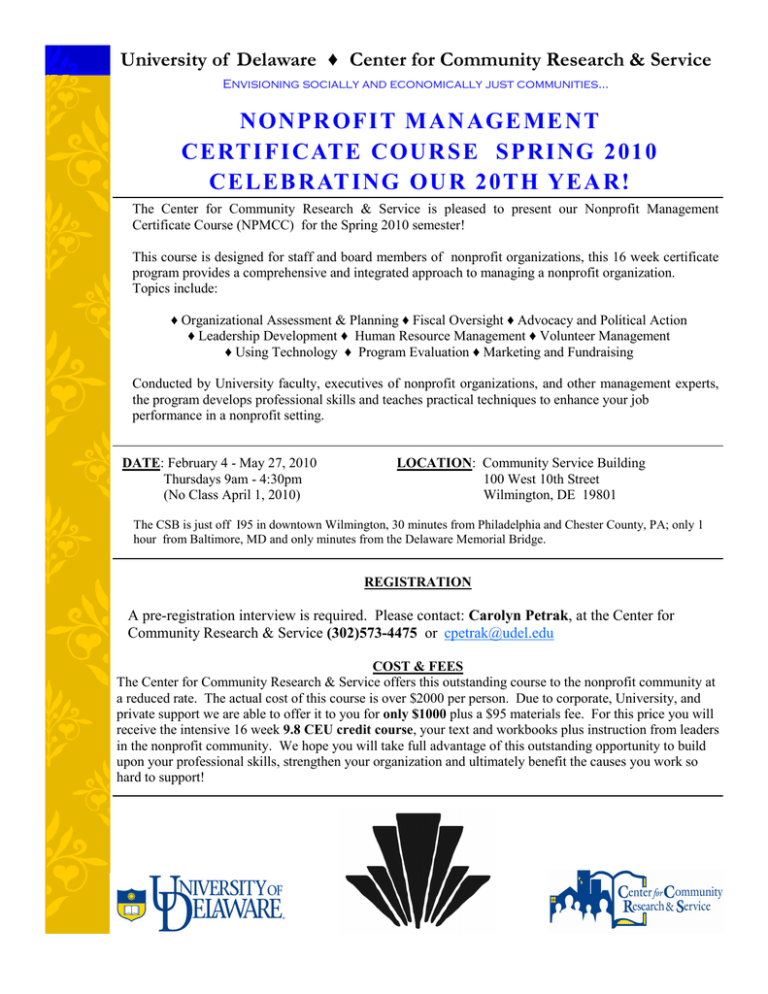 University of Delaware ♦ Center for Community Research & Service
Envisioning socially and economically just communities...
NONPROFI T MANAGE MENT
CERTI FI CATE COURSE SPRI NG 201 0
CELEBRATING OUR 2 0TH YEAR!
The Center for Community Research & Service is pleased to present our Nonprofit Management
Certificate Course (NPMCC) for the Spring 2010 semester!
This course is designed for staff and board members of nonprofit organizations, this 16 week certificate
program provides a comprehensive and integrated approach to managing a nonprofit organization.
Topics include:
♦ Organizational Assessment & Planning ♦ Fiscal Oversight ♦ Advocacy and Political Action
♦ Leadership Development ♦ Human Resource Management ♦ Volunteer Management
♦ Using Technology ♦ Program Evaluation ♦ Marketing and Fundraising
Conducted by University faculty, executives of nonprofit organizations, and other management experts,
the program develops professional skills and teaches practical techniques to enhance your job
performance in a nonprofit setting.
DATE: February 4 - May 27, 2010
Thursdays 9am - 4:30pm
(No Class April 1, 2010)
LOCATION: Community Service Building
100 West 10th Street
Wilmington, DE 19801
The CSB is just off I95 in downtown Wilmington, 30 minutes from Philadelphia and Chester County, PA; only 1
hour from Baltimore, MD and only minutes from the Delaware Memorial Bridge.
REGISTRATION
A pre-registration interview is required. Please contact: Carolyn Petrak, at the Center for
Community Research & Service (302)573-4475 or cpetrak@udel.edu
COST & FEES
The Center for Community Research & Service offers this outstanding course to the nonprofit community at
a reduced rate. The actual cost of this course is over $2000 per person. Due to corporate, University, and
private support we are able to offer it to you for only $1000 plus a $95 materials fee. For this price you will
receive the intensive 16 week 9.8 CEU credit course, your text and workbooks plus instruction from leaders
in the nonprofit community. We hope you will take full advantage of this outstanding opportunity to build
upon your professional skills, strengthen your organization and ultimately benefit the causes you work so
hard to support!