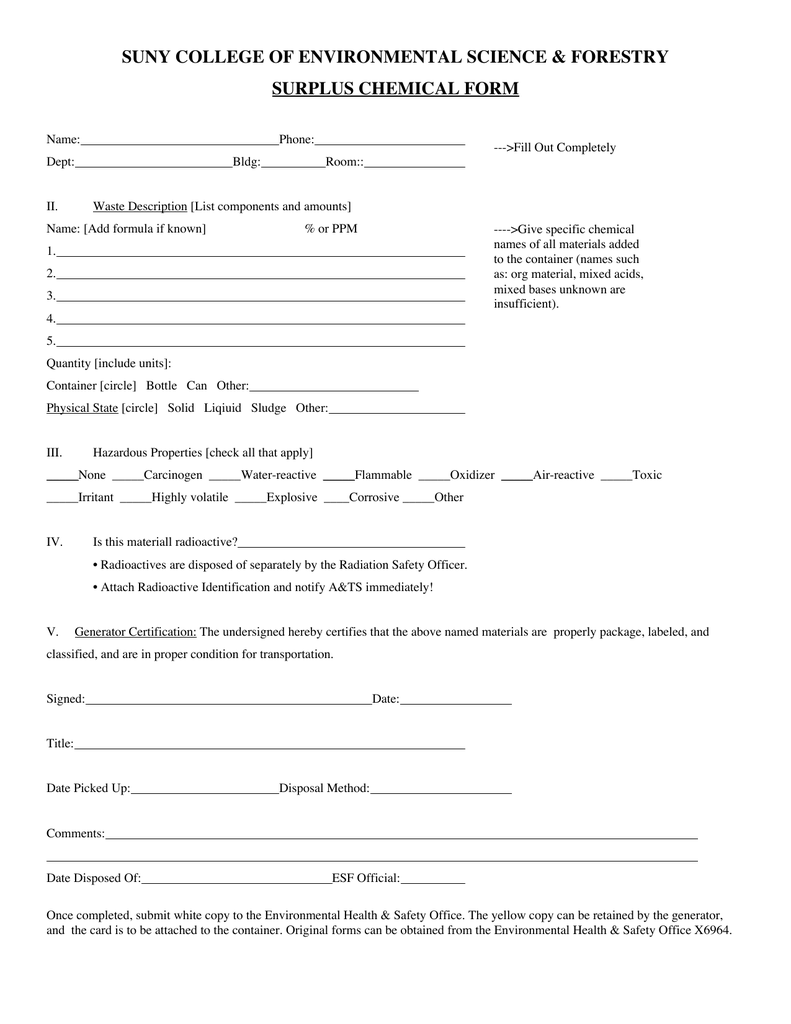 SUNY COLLEGE OF ENVIRONMENTAL SCIENCE & FORESTRY
SURPLUS CHEMICAL FORM
Name:
Phone:
Dept:
II.
Bldg:
--->Fill Out Completely
Room::
Waste Description [List components and amounts]
Name: [Add formula if known]
% or PPM
---->Give specific chemical
names of all materials added
to the container (names such
as: org material, mixed acids,
mixed bases unknown are
insufficient).
1.
2.
3.
4.
5.
Quantity [include units]:
Container [circle] Bottle Can Other:
Physical State [circle] Solid Liqiuid Sludge Other:
III.
Hazardous Properties [check all that apply]
_____None _____Carcinogen _____Water-reactive _____Flammable _____Oxidizer _____Air-reactive _____Toxic
_____Irritant _____Highly volatile _____Explosive ____Corrosive _____Other
IV.
Is this materiall radioactive?
• Radioactives are disposed of separately by the Radiation Safety Officer.
• Attach Radioactive Identification and notify A&TS immediately!
V.
Generator Certification: The undersigned hereby certifies that the above named materials are properly package, labeled, and
classified, and are in proper condition for transportation.
Signed:
Date:
Title:
Date Picked Up:
Disposal Method:
Comments:
Date Disposed Of:
ESF Official:
Once completed, submit white copy to the Environmental Health & Safety Office. The yellow copy can be retained by the generator,
and the card is to be attached to the container. Original forms can be obtained from the Environmental Health & Safety Office X6964.