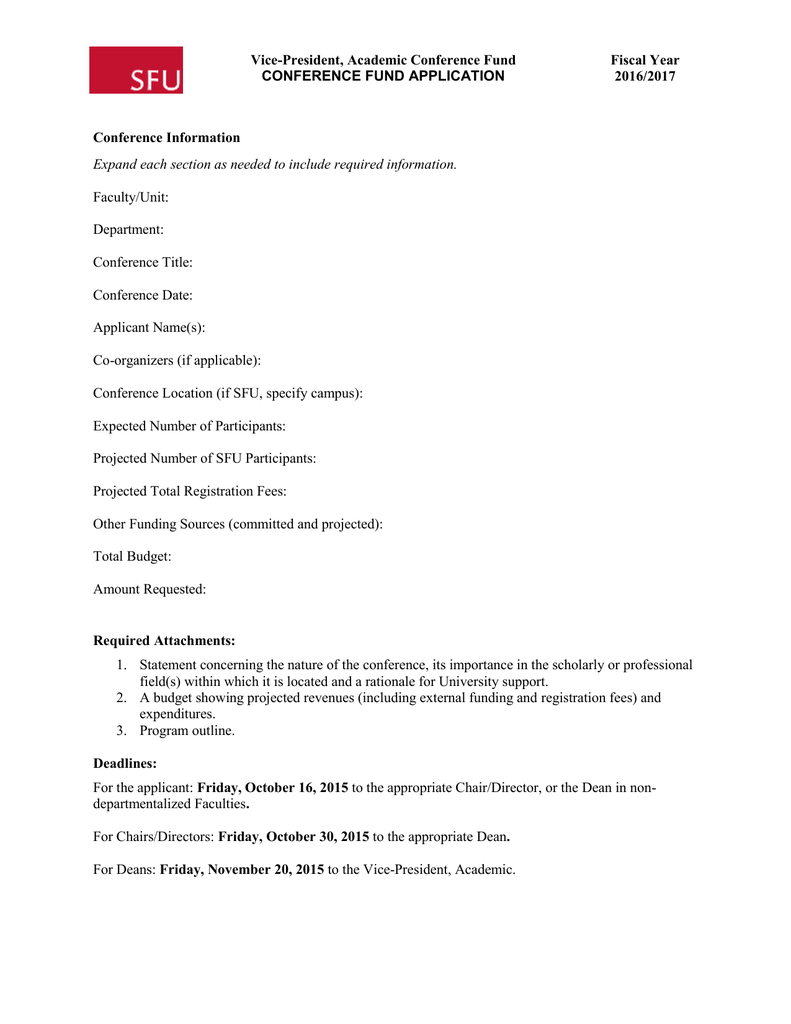 Vice-President, Academic Conference Fund
CONFERENCE FUND APPLICATION
Fiscal Year
2016/2017
Conference Information
Expand each section as needed to include required information.
Faculty/Unit:
Department:
Conference Title:
Conference Date:
Applicant Name(s):
Co-organizers (if applicable):
Conference Location (if SFU, specify campus):
Expected Number of Participants:
Projected Number of SFU Participants:
Projected Total Registration Fees:
Other Funding Sources (committed and projected):
Total Budget:
Amount Requested:
Required Attachments:
1. Statement concerning the nature of the conference, its importance in the scholarly or professional
field(s) within which it is located and a rationale for University support.
2. A budget showing projected revenues (including external funding and registration fees) and
expenditures.
3. Program outline.
Deadlines:
For the applicant: Friday, October 16, 2015 to the appropriate Chair/Director, or the Dean in nondepartmentalized Faculties.
For Chairs/Directors: Friday, October 30, 2015 to the appropriate Dean.
For Deans: Friday, November 20, 2015 to the Vice-President, Academic.