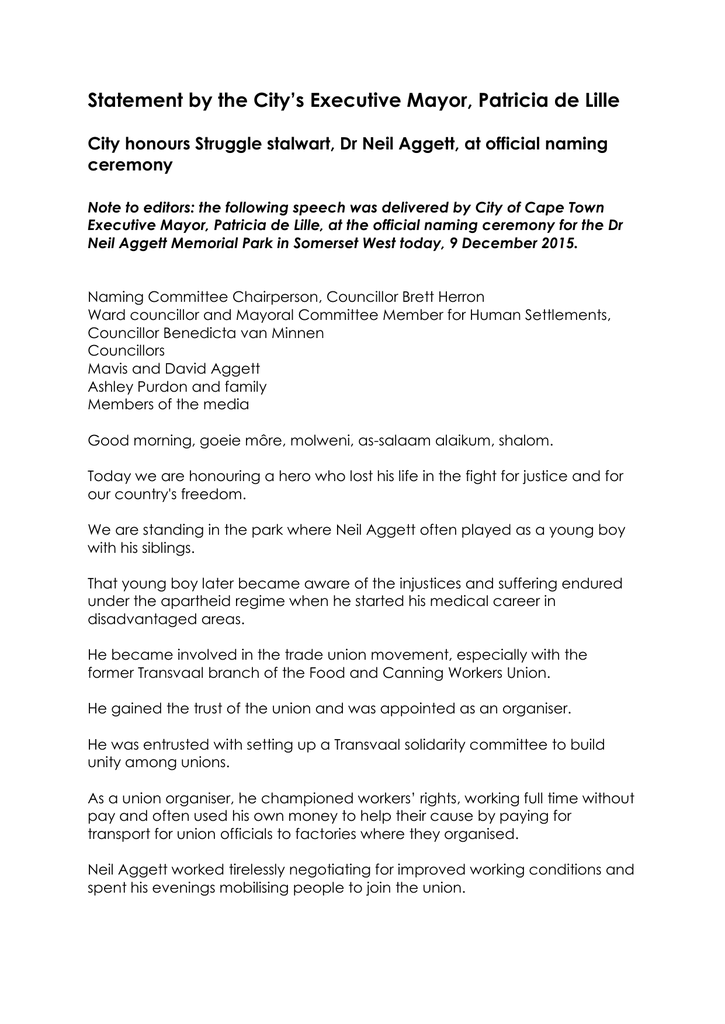 Statement by the City's Executive Mayor, Patricia de Lille
City honours Struggle stalwart, Dr Neil Aggett, at official naming
ceremony
Note to editors: the following speech was delivered by City of Cape Town
Executive Mayor, Patricia de Lille, at the official naming ceremony for the Dr
Neil Aggett Memorial Park in Somerset West today, 9 December 2015.
Naming Committee Chairperson, Councillor Brett Herron
Ward councillor and Mayoral Committee Member for Human Settlements,
Councillor Benedicta van Minnen
Councillors
Mavis and David Aggett
Ashley Purdon and family
Members of the media
Good morning, goeie môre, molweni, as-salaam alaikum, shalom.
Today we are honouring a hero who lost his life in the fight for justice and for
our country's freedom.
We are standing in the park where Neil Aggett often played as a young boy
with his siblings.
That young boy later became aware of the injustices and suffering endured
under the apartheid regime when he started his medical career in
disadvantaged areas.
He became involved in the trade union movement, especially with the
former Transvaal branch of the Food and Canning Workers Union.
He gained the trust of the union and was appointed as an organiser.
He was entrusted with setting up a Transvaal solidarity committee to build
unity among unions.
As a union organiser, he championed workers' rights, working full time without
pay and often used his own money to help their cause by paying for
transport for union officials to factories where they organised.
Neil Aggett worked tirelessly negotiating for improved working conditions and
spent his evenings mobilising people to join the union.
Back then, unions recognised that they could not detach themselves from
the struggle and the problems in their communities.
They became a force to be reckoned with.
Sadly, today, our major unions are embattled as a result of divisions, factions,
political allegiances, and politicking instead of strengthening their unity in
advocating for the rights of workers.
Neil Aggett's work made him a target of the government's security forces
and eventually led to his arrest and detention towards the end of 1981.
He was interrogated and tortured. On 5 February 1982, he died in police
custody.
Although initially ruled as a suicide, an inquest into his death by the Truth and
Reconciliation Commission (TRC) found that his treatment at the hands of the
apartheid police at John Vorster Square was directly responsible for his
death.
His untimely death was a blow not only to those who knew and loved him,
but to the entire country.
He is mentioned alongside fellow stalwarts Nelson Mandela, Victoria Mxenge
and Steve Biko in Johnny Clegg's protest anthem, 'Asimbonanga'.
In order to preserve his legacy, in April this year Council approved a proposal
to rename the park in Quinan Road to: Dr Neil Aggett Memorial Park.
During the public participation process, this proposal was overwhelmingly
supported, and I quote from some of the submissions:
'Dr Aggett contributed to our democracy. Naming the park after him would
be a reminder of the great price that was paid for our freedom,' said one
person.
Another said: 'Fighting injustices, bringing unity amongst the unions, and
offering his time for the underprivileged and disadvantaged. He did it with
passion'.
Our naming and renaming process enables us to build an inclusive city that
belongs to all who live in it, and honours the brave men and women who
played a role in obtaining the freedoms we have today.
Over the past four years, we have honoured many struggle heroes through
renaming such as Tata Madiba, Chief Albert Luthuli, Helen Suzman, Jakes
Gerwel, Steve Biko, Dulcie September, Joe Marks, Robert Sobukwe, Govan
Mbeki, Walter Sisulu, Imam Haron and many others.
Our Naming Policy seeks to strengthen our work of redress and reconciliation,
and ensures that our children remember the names of those who helped
shape our country.
In closing, as we pay homage to Neil Aggett today, let us remember that we
are still in the process of building a mature democracy, and reconciliation is
an integral part of this process that we need to commit to every day.
It is my hope that this park will serve as a reminder to all of us to emulate the
principles and values that Neil Aggett and our other heroes embodied.
As a country, we are poorer without these heroic leaders, but we are also
richer in our rights and freedom because of their work and sacrifices.
Let our past and our heroes guide us in shaping a better future for our
country.
Thank you, baie dankie, enkosi.
God bless.