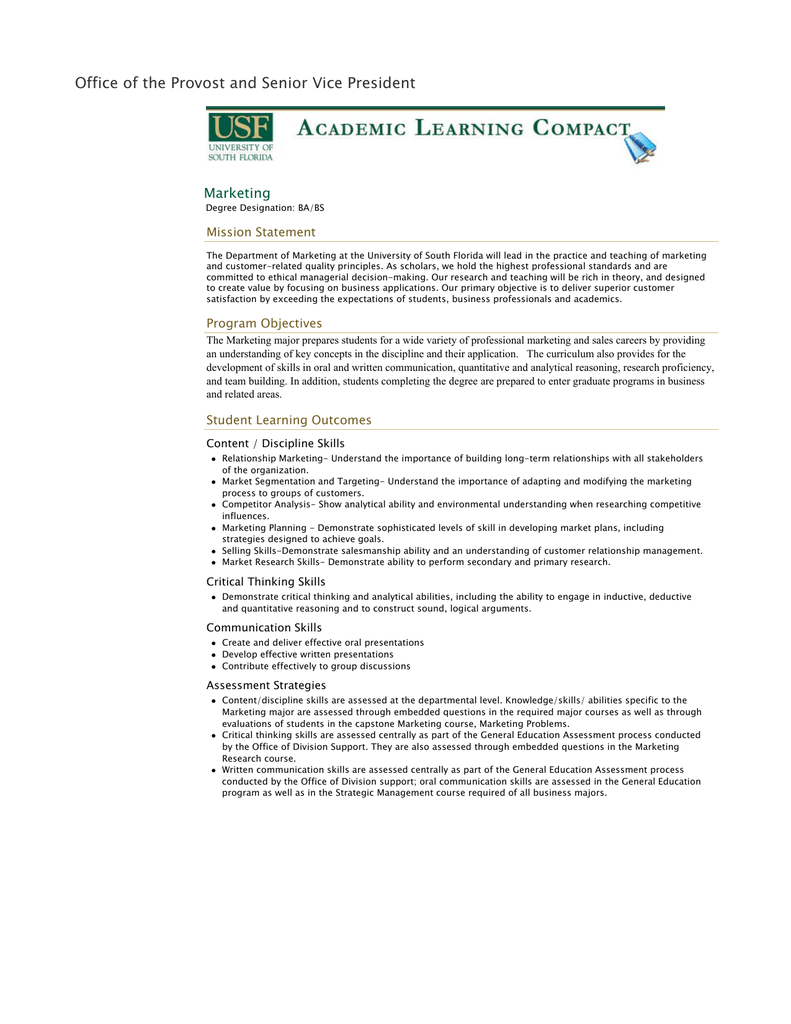 Office of the Provost and Senior Vice President
Marketing
Degree Designation: BA/BS
Mission Statement
The Department of Marketing at the University of South Florida will lead in the practice and teaching of marketing
and customer-related quality principles. As scholars, we hold the highest professional standards and are
committed to ethical managerial decision-making. Our research and teaching will be rich in theory, and designed
to create value by focusing on business applications. Our primary objective is to deliver superior customer
satisfaction by exceeding the expectations of students, business professionals and academics.
Program Objectives
The Marketing major prepares students for a wide variety of professional marketing and sales careers by providing
an understanding of key concepts in the discipline and their application. The curriculum also provides for the
development of skills in oral and written communication, quantitative and analytical reasoning, research proficiency,
and team building. In addition, students completing the degree are prepared to enter graduate programs in business
and related areas.
Student Learning Outcomes
Content / Discipline Skills
z
z
z
z
z
z
Relationship Marketing- Understand the importance of building long-term relationships with all stakeholders
of the organization.
Market Segmentation and Targeting- Understand the importance of adapting and modifying the marketing
process to groups of customers.
Competitor Analysis- Show analytical ability and environmental understanding when researching competitive
influences.
Marketing Planning - Demonstrate sophisticated levels of skill in developing market plans, including
strategies designed to achieve goals.
Selling Skills-Demonstrate salesmanship ability and an understanding of customer relationship management.
Market Research Skills- Demonstrate ability to perform secondary and primary research.
Critical Thinking Skills
z
Demonstrate critical thinking and analytical abilities, including the ability to engage in inductive, deductive
and quantitative reasoning and to construct sound, logical arguments.
Communication Skills
z
z
z
Create and deliver effective oral presentations
Develop effective written presentations
Contribute effectively to group discussions
Assessment Strategies
z
z
z
Content/discipline skills are assessed at the departmental level. Knowledge/skills/ abilities specific to the
Marketing major are assessed through embedded questions in the required major courses as well as through
evaluations of students in the capstone Marketing course, Marketing Problems.
Critical thinking skills are assessed centrally as part of the General Education Assessment process conducted
by the Office of Division Support. They are also assessed through embedded questions in the Marketing
Research course.
Written communication skills are assessed centrally as part of the General Education Assessment process
conducted by the Office of Division support; oral communication skills are assessed in the General Education
program as well as in the Strategic Management course required of all business majors.