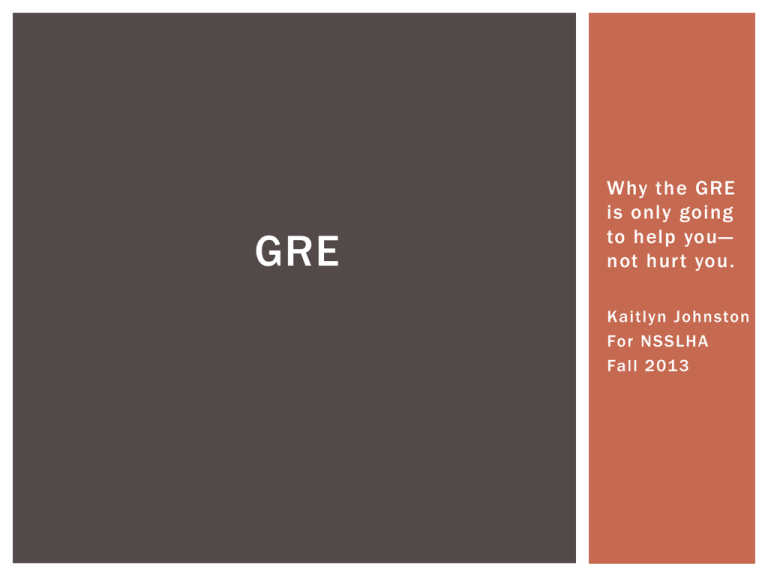 GRE
Why the GRE
is only going
to help you—
not hurt you.
Kaitlyn Johnston
For NSSLHA
Fall 2013
WHAT IS IT?
 GRE: Graduate Record Examination, a standardized test that
is an admissions requirement for most graduate schools
 What are the scored components?
 Quantitative (scored 130-170)
 Verbal (scored 130-170)
 Analytical Writing (0.0 – 6.0)
 What does it take?




Six sections
~ 4 hours
$100-$200
Updated in 2011
GRE FACTS
 You can sign up with a testing center through ETS.org
 You can take the exam multiple times and still only send the
scores you want (but no " superscoring")
 What is a good score? Look at the 25 th to 75 th percentile
scores for the schools you want to apply to.
 The GRE does not define your success in life or in grad school
 Validity coefficients are only from .30 and .45 between GRE scores
and 1 st year graduate school GPA (Kancel, 2001).
 Most grad schools look at applications holistically.
 But the GRE can and does help an already excellent application.
THE GRE IS A MARATHON – NOT A SPRINT
OVE RA LL T I P S & T RI C KS
 Take practice tests (online, from
books, etc.)
 Set aside a certain amount of
time each day to "do the GRE" —
and make your self a list of what
is going to happen during that
time
 Do not be ashamed to take the
test a second (or third) time
 Don't wait until the last minute to
take your first test
 Eat a good breakfast, sleep, etc.
before the exam
 Treat it like an endurance test –
use your breaks wisely
GO BACK TO HIGH SCHOOL
QUA N TI TATI VE T I P S & T RI C KS
 The math section is about
combining two things: math skills
and critical thinking skills.
 The goal is to be good at both of
these skills, but at least get good
at one!
 To get better at math skills,
practice math. As in, real math.
 To get better at (math) critical
thinking skills, practice strategy.
 Consider taking the same sections
over again while practicing.
 Don't forget about zero, negatives,
or fractions!
READ ALL ABOUT IT!
VE RBA L T I P S & T RI C KS
 The verbal section has text
completion, sentence equivalence,
and reading
comprehension/critical reading
questions.
 Do practice tests, and...
My roommate gets upset over
minutiae—like when I left my
dishes in the sink for a
minute past our one-hour
rule.
 When you read passages, ask
yourself: what does this mean?
 Look up the definitions to words you
don't know, and then make yourself
a completely goofy sentence that
implies the meaning
 Remember that all things have to be
true for the multi-word sentence
completions.
WRITING? MORE LIKE ORGANIZING
A N ALY TI CAL W RI T I NG T I P S & T RI C KS
 The writing section has two
sections: a 30 minute "Analyze an
Issue" and a 30 minute "Analyze
an Argument" task
 Do practice at least one of each to
get used to that 30 minute time
limit
 Value both quantity and quality
 Read the pool of topics online
(ets.org), and make a list of
common themes
 Organize your thoughts early on
 Develop a clear line of thought
THANK YOU
Reference:
Kuncel, N. R.,
Hezlett, S. A., &
Ones, D. S. (2001).
A comprehensive
meta-analysis of
the predictive
validity of the
graduate record
examinations:
implications for
graduate student
selection and
performance.
Psychological
bulletin, 127(1),
162.