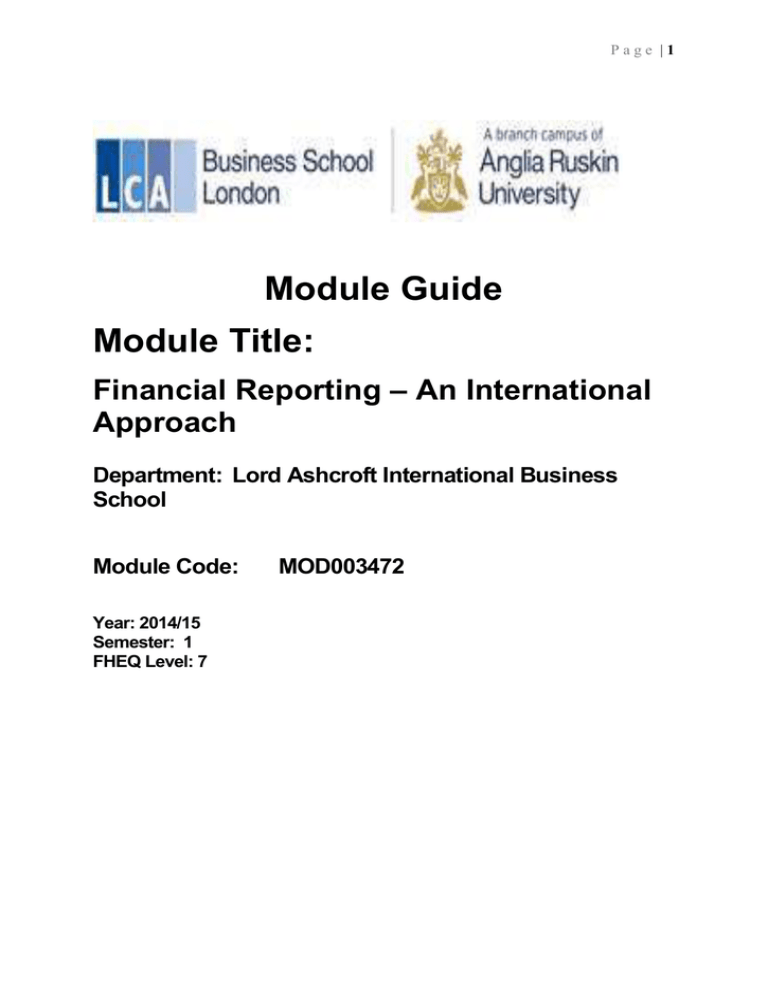 Page |1
Module Guide
Module Title:
Financial Reporting – An International
Approach
Department: Lord Ashcroft International Business
School
Module Code:
Year: 2014/15
Semester: 1
FHEQ Level: 7
MOD003472
Page |2
Contents
Section Topic
1
Key Information
2
Introduction to the Module
3
Intended Learning Outcomes
4
Teaching Schedule
5
Assessment
6
Learning Resources
7
Module Evaluation
Page |3
1. Key Information
Module Title: Financial Reporting – An International Approach
Module Lecturer: Feroz Kassam-Kanji
Module Tutors:
N/A
Every module has a Module Definition Form (MDF) which is the officially validated
record of the module. You can access the MDF for this module via MyLCA. MDFs
is located in the Learning and Teaching section of MyLCA..
All modules delivered by Anglia Ruskin University at its main campuses in the UK
and at Associate Colleges, such as LCA Business School, are governed by the
Academic Regulations. You can view these at www.anglia.ac.uk/academicregs.
Alternatively a copy can be found in the Student Support section of MyLCA.
In the unlikely event of any discrepancy between the Academic Regulations and any
other publication, including this module guide, the Academic Regulations, as the
definitive document, take precedence over all other publications and will be applied
in all cases.
2. Introduction to the Module
This module is designed to develop the students understanding of financial reporting
in an international and strategic context; it considers financial reports from the
perspective of the external reader of this information.
The module places the accounting environment in an international context and looks
at the context of which accounting rules have evolved in order to meet the needs of
globalisation for both organisations and financial markets.
Companies, whether operating in a domestic or international environment, must
ensure the financial statements fairly reflect the corporate position so that external
observers can draw reasonable conclusions from their critical review of the
company's results. The information used by external observers is not restricted to the
annual financial statements; in many countries large companies must publish interim
financial reports and companies regularly publish data to inform the range of
stakeholders.
A focus of stakeholder interest is the company share price and investment potential.
The module will introduce the operational aspects of the financial markets, market
ratios and how investors evaluate data.
The globalisation of International Accounting Standards provides the foundation for
effective cross boundary financial comparisons in terms of liquidity, efficiency,
profitability and investor return. Additionally the level of analysis undertaken in this
module will extend to the Operational and Financial Review commentary required in
the UK which is similar to the Management Discussion and Analysis required by the
SEC and the Management Commentary project led by the New Zealand Financial
Page |4
Reporting Standards Board on behalf of the International Accounting Standards
Board. Students will be aware of reports not normally subject to statutory or
professional regulation such as Environmental, Employment and Value Added
reports.
Whilst the module considers contemporary reporting and analysis such as multivariant analysis, off balance sheet financing and the Global Reporting Initiative we
do not ignore the historic influences upon the design and content of financial
statements.
This module will also be on the MA CG (DL) course delivered by blended learning.
The content, assessments and outcomes content will be identical between the two
courses delivery paths.
Multiculturalism has been considered during the design of this module and will be
considered when the assessment brief is written.
Outline content
-Conceptual and international regulatory framework of accounting.
-Historical and theoretical influences on international financial reporting.
-International Accounting Standards Board Framework / Statement of Principles and
the needs of users.
-Usefulness of financial statements from the perspective of different user groups.
-International accounting standards and their impact on entity's assets, liabilities,
revenues and expenses
-Impact of financial statements on international resource allocation decisions at both
a primary and secondary level.
-Interpretation of performance, incorporating KPI's, segmental reporting, substance
over form.
-Use of investor ratios and integrated ratios
-Introduction to the operation of stock markets and the interpretation of market data
-Examination and appraisal of key interpretational issues surrounding use of ratio
analysis in inter-firm comparison, e.g. depreciation, asset valuation, intangible
assets, cash flow management, off balance sheet financing, reporting value and
value added, structure and strategy.
-Consideration of optional reports: Environmental, Employment and Value Added
reports.
Page |5
3. Intended Outcomes
3.1
Learning Outcomes
A learning outcome is what a student is assessed against. The table below indicates
the learning outcomes for this module.
No Type
1
Knowledge and
understanding
2
Intellectual, practical,
affective and
transferable skills
On successful completion of this module the
student will be expected to be able to:
Critically appraise the validity of financial reports
from a user's perspective in a variety of global
organisational settings;
Appraise the context, uses and limitations of all
published financial information provided to a range
of international stakeholders;
Analyse numerical information in a systematic
manner;
Draw conclusions from such analysis and critically
appraise the validity of such conclusions from the
perspective of different financial stakeholders
Page |6
3.2 Employability Skills Developed by this Module
It is important that we help you develop employability skills throughout your course
which will assist you in securing employment and supporting you in your future
career. During your course you will acquire a wide range of key skills. In this module,
you will develop those identified below:
Skill
Communication (oral)
Communication (written)
Commercial Awareness
Cultural sensitivity
User focus
Data Handling
Decision making
Enterprising
Flexibility
Initiative
Interpersonal Skills
Leadership/Management of
others
Networking
Organisational adaptability
Project Management
Problem Solving and Analytical
skills
Responsibility
Team working
Time Management
Other
Skills acquired in this module
Developed through in class discussions
Ability to prepare reports and papers
Ability to cope with changes in financial reporting
Ability to understand/prepare corporate social reports
Ability to respond to users' changing requirements
Make/help financial recommendations
Use group activities in class
Ability to work with other financial discipline's and
management
Ability to multitask
Analysis and interpretation of financial statements
Use group activities in class
-
Page |7
4. Teaching Schedule
This Module comprises 12 x 1/2 day sessions (am or pm) comprising 2 hours of
theory/principles/mini case study
The morning or afternoon session will be mainly theory/principles/mini case study.
Session
Date
2014
Topic
Classwork
Additional
Reading before
the session
1&2
17 &
18
Sept
24 &
25
Sept
Accounting
Framework:
Theory &
Regulation
Chapter 1 &
2/3/8/9/10/11/
Class hand-outs
3
1&2
Oct
Accounting
Framework:
Theory &
Regulation
4/5
8&9
Oct
The Statement
of
Comprehensive
Income &
Statement of
Financial
Position - further
considerations:
theory &
practice
Basic ideas About
Financial Reporting:
 Objective of financial
reporting
 Usefulness of financial
statements and different
user groups
 Elements of financial
statements
 Recognition of Assets &
Liabilities
 Recognition of Income
and Expenses
 The income statement
(SOCI), balance sheet
(SOFP) and statement
of cash flow (SOCF)
 The accounting equation
 Accounting concepts
Framework for Financial
Reporting:
 The role of the
International
Accounting Standards
Board (IASB)
 Accounting
standards(IASs &
IFRSs)
 Stock exchange
 Companies Act (UK)
 Non-current assets(IAS
16/38
 Impairment (IAS36)
 Inventory (IAS2)
 Liabilities and
Provisions(IAS37)
 Revenue (IAS18)
Chapter 9/Class
hand-outs
Chapter
12/13//Class
hand-outs
Chapter14/Class
hand-outs
Chapter 16/Class
handout
Chapter 19/Class
hand-outs
Chapter 18/Class
hand-outs
Page |8
Session
Date
2014
Topic
6/7
15
&16
Oct
The Statement
of
Comprehensive
Income &
Statement of
Financial
Position - further
considerations:
theory &
practice
8
22 &
23 Oct
Cash Flow
Statements
9
29 &
30 Oct
Consolidated
(Group)
Financial
Accounts
10/11
5&6
Nov
12 &
13 Nov
Interpretation of
Financial
Statements
12
19 &
20 Dec
Optional
reports: need for
additional
reports
Classwork




Leases (IAS17)
Financial
Instruments(IFRS9)
Income tax(IAS12)
Employee
benefits(IAS16)
Measuring, Reporting and
interpretation of Cash Flows

Additional
Reading before
the session
Chapter 15/Class
hand-outs
Chapter 17/Class
hand-outs
Chapter 20/Class
hand-outs
Chapter 21/class
hand-outs
Chapter 23/Class
hand-outs
Basic consolidation
principles
 Subsidiaries/Associate/
Joint
Arrangements(IFRS10/
11)
Ratio Analysis:
 Profitability & Efficiency
Ratios
 Working Capital Ratios
 Investor Ratios
 Earnings per Share
 Performance Indicators
 Report writing
Chapter
25/27/28/Class
hand-outs



Chapter 10/Class
hand-outs
Management commentary
Employee reports
Corporate Social
Responsibility reports
Chapter
11/30/31/Class
hand-outs
Page |9
4.1 Attendance Requirements
Attending all your classes is very important and one of the best ways to help you
succeed in this module. Research has identified a clear correlation between student
attendance and academic performance. In accordance with the Student Charter, you
are expected to arrive on time and take an active part in all your timetabled
classes. If you are unable to attend a class for a valid reason (e.g. illness), you
must contact the Academic Advisory team at LCA.
LCA will closely monitor the attendance of all students and will contact you if you
have been absent without notice for two weeks. Continued absence will result in
various consequences with the possibility that you will be withdrawn from your
studies.
International students who are non-EEA nationals and in possession of entry
clearance/leave to remain as a student (student visa) are required to be in regular
attendance at LCA. Failure to do so is considered to be a breach of national
immigration regulations. LCA is statutorily obliged to inform the UKVI of the Home
Office of significant unauthorised absences by any student visa holders.
Further details of this requirement can be found in the Student Handbook.
5. Assessment
5.1
There is a single assessment for this module.
Part
Type of assessment
1
Assignment
Word
Submission method
or time
limit
3,000
Turnitin
words
Submission Date
This will be inserted by
the Academic Office
All assignments are, unless otherwise directed by the module lecturer, to be
submitted via Turnitin. You must refer to the Students' Guide to Turnitin which can
be found in the Learning and Teaching section of MyLCA.
You must keep an electronic copy of any submitted assignment. Do NOT rely on
Turnitin as a place to save your assignments.
5.2
Mitigating Circumstances and Late Submission
There are occasions where students cannot, for legitimate reasons, submit an
assignment. It is also possible for students to be granted a short extension, up to
five working days for assignments, where the exceptional circumstances have
presented a temporary problem.
Where a student has evidence of these exceptional circumstances they must present
such evidence and discuss their situation with an Academic Advisor.
P a g e | 10
Students not submitting the assignment on time will have their record annotated
accordingly. This will result in either a re-sit of a different assignment related to this
module's content and outcomes, or a retake of the module.
Examples of legitimate reasons are;

Illness of the student or a close family member for whom the student has
caring responsibility

Death or serious illness of a close family member.
Examples of reasons which will not be accepted are;
5.3

A student has lost his/her laptop/memory stick (it is suggested students use
Dropbox or Skydrive or other similar facility to store their material and
assignment drafts)

A student has to attend work on the day of submission (the submission
deadline is the latest; plan ahead).
Assessment Feedback
Students are entitled to individual written feedback on their performance for all
assignments. This will be automatically generated by Turnitin once the marking and
quality assurance process has been completed. Further details can be found in the
Programme Handbook. In addition a Student Performance Review will be available
on MyLCA. This report provides a holistic view of students who have submitted the
assignment for this module.
LCA is committed to providing you with feedback on all assessed work in a timely
and effective manner. LCA is also committed to providing assessment grades within
20 working days of the submission deadline or the date of an examination. This is
extended to 30 working days for feedback related to a Major Project module
(please note that working days excludes those days when LCA is officially closed;
e.g. between Christmas and New Year). Personal tutors are available to discuss any
trends which you identify.
This module has a mid-term assessment. You will receive feedback and marks for
the assessment which you completed in the earlier stages of the module. LCA
provide you with this feedback as part of your learning experience and to help you
prepare for other assessment tasks that you have still to complete. It is important to
note that, in these cases, the marks for these assessments are unconfirmed. This
means that, potentially, marks can change, in either direction!
5.4
Assessment Offences
As an academic community, LCA recognises that the principles of truth, honesty and
mutual respect are central to the pursuit of knowledge. Behaviour which undermines
P a g e | 11
those principles weakens the community, both individually and collectively, and
diminishes our values. LCA is committed to ensuring that every student and member
of staff is made aware of the responsibilities s/he bears in maintaining the highest
standards of academic integrity and how those standards are protected.
For assignments, you are reminded that any work that you submit must be your own.
When you are preparing your work for submission, it is important that you
understand the various academic conventions which you are expected to follow in
order to make sure that you do not leave yourself open to accusations of plagiarism
(e.g. the correct use of referencing, citations, footnotes etc.) and that your work
maintains its academic integrity.
Further, more in-depth, information on assessment offences can be found in the
Programme Handbook.
5.5
How is my assessment marked?
After you have submitted your assignment LCA undertakes a series of activities to
assure its marking processes are comparable with those employed at other
universities in the UK and that student's assessments have been marked fairly,
honestly and consistently. These include:

Anonymous marking – your name is not attached to your work so, at the point
of marking, the lecturer does not know whose work he/she is considering. When
you undertake an assessment task where your identity is known (e.g. a
presentation or Major Project), it is marked by more than one lecturer (known as
double marking)

Internal moderation – a sample of all work for each assessment task in each
module is moderated by other LCA academic staff to check the standards and
consistency of the marking

External moderation – a sample of student work for all modules above level 4 is
moderated by external examiners – experienced academic staff from other
universities (and sometimes practitioners who represent relevant professions) who scrutinise your assessments and provide LCA academic staff with feedback,
advice and assurance that the marking of the assessment is comparable to that
in other UK universities. Many of LCA's academic staff act as external examiners
at other universities.

Modular Board (MB)) – performance by all students on all modules is discussed
and approved at the appropriate MB which are attended by all relevant Module
Leaders and external examiners. LCA has fopur MBs each academic year
The following external examiner is appointed to this module and will oversee the
assessment of this and other modules within the MB's remit:
To be inserted by the Academic Office.
P a g e | 12
6. Learning Resources
6.1.
Library Facilities
The Resource Centre which is located in room 406 provides onsite library, internet
and study space for students to access.
LCA is fortunate to be located close to the British Library and other local libraries.
Students should make use of these facilities to support their studies.
Students can also access the resources of other universities as if they were a
student of that university. This is through the SCONUL scheme. Information on this
scheme can be found through this link.
P a g e | 13
6.2
Module Specific Resources
The following resources are available to support your studies;
Resource
Key Textbook
Notes
Essential textbook with (with CourseMate
and eBook Access)
Alexander, D., Britton, A., and Jorissen, A.
(Fifth edition) International Financial
Reporting and Analysis. London: Thomson
Additional Textbooks
Ryan, B. (latest edition) Finance and
Accounting for Business, London, Thomson
Sutton, T. (latest edition) Corporate Financial
Accounting and Reporting. London: Prentice
Hall
McBarnet, D, Whelan, C. (latest edition)
Creative Accounting and the Cross Eyed
Javelin Thrower. Chichester: Wiley
Walton, P. (latest edition) Financial
Statement Analysis, London:Thomson
Black, G. (latest edition) Students' Guide to
Accounting and Financial Reporting
Standards, London: Prentice Hall
Riahi-Belkoui, A. (latest edition) Accounting
Theory. London: London
Corporate Reporting
These textbook will give you a wider
understanding of all aspects of financial
reporting: theory and application with its
associated shortcomings. They will help you
to acquire the knowledge necessary for this
module:
Journals
FT, Times, Economist, Investors
Chronical
Websites
www.IASplus
IASB and foundation
Specific Research Papers
Professional Bodies
Other Resources
7.
IFRS e- learning
Ifrs.org
Australian and Canadian institute's
research foundations
ACCA, ICAEW
TBA in class
Module Evaluation
During the second half of the delivery for this module, you will be asked to complete
a module evaluation questionnaire to help LCA obtain your views on all aspects of
the module.
This is an extremely important process which helps us to continue to improve the
delivery of the module in the future and to respond to issues that you bring to LCA's
attention.
Your questionnaire response is anonymous.
P a g e | 14
Please help us to help you and other students at LCA by completing the Module
Evaluation survey. LCA very much values its students' views so it is very important
to LCA that you provide feedback to inform improvements.