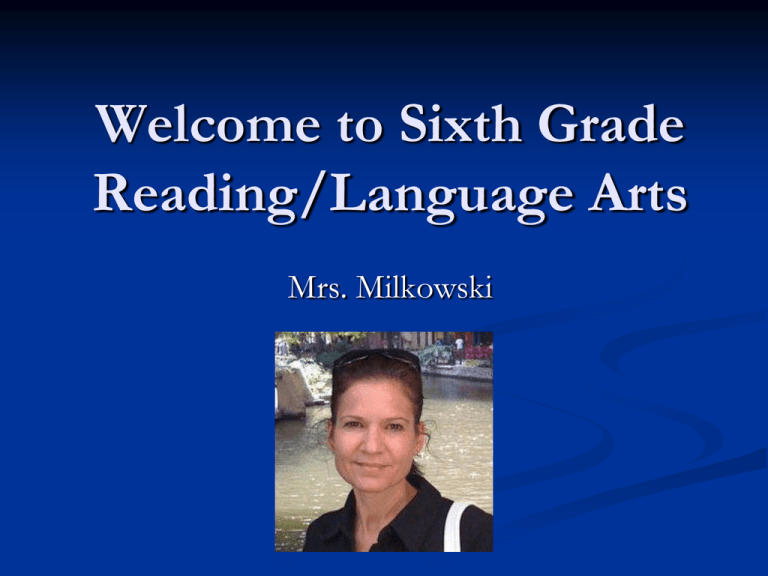 Welcome to Sixth Grade
Reading/Language Arts
Mrs. Milkowski
About Me
Reader's and Writer's Workshop:
A Student Choice Approach

Integrated Reading and Writing 90 Minute Block.

A workshop approach to teaching Language Arts,
allows the student to learn the objectives through
material in which the student is interested. This
means that students choose the books for their
reading activities and they generate their own ideas
for writing topics.
Benefits of a Workshop Approach

Time


Students have large chunks of time and the opportunity to
both read and write during each workshop rather than trying
to squeeze and rush both workshops in on a daily basis.
Choice

Students have ownership of their learning through
self selection of books they read and topics for
writing.
Benefits of Workshop Approach

Response
Students respond to books they are reading in
Interactive Student Notebooks, class discussions,
and Good Reads.
 Students become actively engaged in the writing
process using the Six Traits of Writing which they
house in a personal Writer's Portfolio.

Structure
 Independent
 Read
Reading (20 minutes)
Alouds
 Mini Lesson
 Guided Reading/Writing Practice
 Independent Reading, Writing and
Conferencing
Novels for Read
Alouds
The Cay by Theodore Taylor
Gathering Blue by Lois Lowry
Red Kayak by Priscilla Cummings
Where the Red Fern Grows by Wilson Rawls
Homework

Emphasis on Reading





30 minutes of reading every night
Independent Reader's Log posted on Good Reads
Vocabulary Practice
Study for tests/quizzes
All late homework is automatically assigned a 20
pt. reduction
Grades



45% - major work such as tests, projects and
book reports and the reading logs.
40% - minor work such as quizzes and daily
grades
15% - other work such as participation and
completion activities.
Rules and Procedures


Students have a guide in their binders that
outlines classroom rules and procedures.
I have also posted the attachment on the
website.
Behavior – Two Things



Be Nice
Work Hard
I remind students that not only are they
choosing their behavior, they are choosing the
consequences.
Library Day



Students need their Student ID cards to check out
books.
It is required that students bring reading material to
class for Reading Workshop, Self-Selected Reading
Assignments and Advisory Period.
I take a participation grade while we are in the library.
We always have a purpose while in the library, even if it
is to simply select books of interest and enjoy reading
time.
Class Websites



The class webpage allows students and parents
access to all kinds of important classroom
information, handouts and resources.
tmilkowski.pbworks.com
Assignments will be posted on a regular basis in
Edmodo.com
Conference Period





My conference period is from 9:10 – 9:55 a.m.
I am also available to meet with you by
appointment before or after school hours.
My phone is 281-234-0871.
**Email: theresammilkowski@katyisd.org
Please call or email to communicate your
concerns or ask questions.