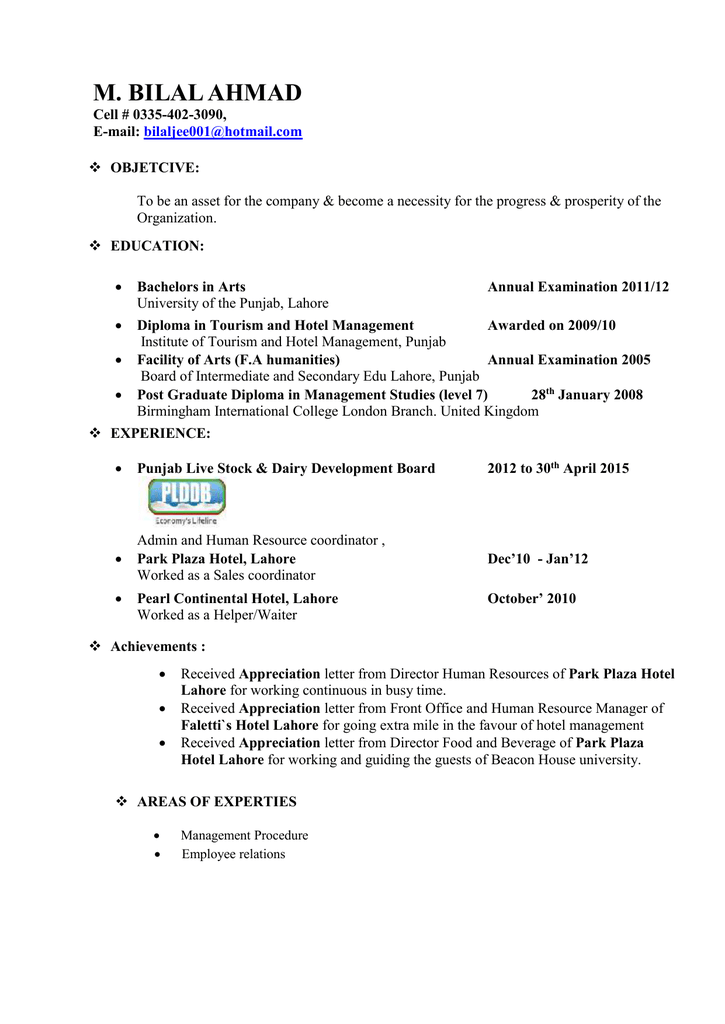 M. BILAL AHMAD
Cell # 0335-402-3090,
E-mail: [email protected]
 OBJETCIVE:
To be an asset for the company & become a necessity for the progress & prosperity of the
Organization.
 EDUCATION:

Bachelors in Arts
University of the Punjab, Lahore

Diploma in Tourism and Hotel Management
Awarded on 2009/10
Institute of Tourism and Hotel Management, Punjab
Facility of Arts (F.A humanities)
Annual Examination 2005
Board of Intermediate and Secondary Edu Lahore, Punjab
Post Graduate Diploma in Management Studies (level 7)
28th January 2008
Birmingham International College London Branch. United Kingdom


Annual Examination 2011/12
 EXPERIENCE:

Punjab Live Stock & Dairy Development Board
2012 to 30th April 2015

Admin and Human Resource coordinator ,
Park Plaza Hotel, Lahore
Worked as a Sales coordinator
Dec'10 - Jan'12

Pearl Continental Hotel, Lahore
Worked as a Helper/Waiter
October' 2010
 Achievements :



Received Appreciation letter from Director Human Resources of Park Plaza Hotel
Lahore for working continuous in busy time.
Received Appreciation letter from Front Office and Human Resource Manager of
Faletti`s Hotel Lahore for going extra mile in the favour of hotel management
Received Appreciation letter from Director Food and Beverage of Park Plaza
Hotel Lahore for working and guiding the guests of Beacon House university.
 AREAS OF EXPERTIES


Management Procedure
Employee relations
 Languages




English
Urdu
Hindi
Punjabi
 Computer Skill
 Windows XP, Vista, Windows 8
 Ms office 2000,XP
 SKILLS & ABILITIES











Management and Hospitality Skills
Training/leading a team, providing discipline and performance feedback.
Scheduling workload to meet priorities and targets.
Involving un the recruitment and mentoring of new staff
Undertaking staff performance review.
Skilled in Front Desk Operations escorting and Guest Relating responsibilities
Experience in Hospitality and Security Industry
Administration skills can manage the staff and also worked as Human Recourse Officer.
Good communication and Customer service Skills
Good organisational skills possess team spirits and work well in a team
Proficient working knowledge of MS OFFICE, Windows 7, 8 and all kind of
software's.
REFERENCES:
Will be furnished upon request.